Twitter Follow and Unfollow Utility Tools To Make Your Life Easy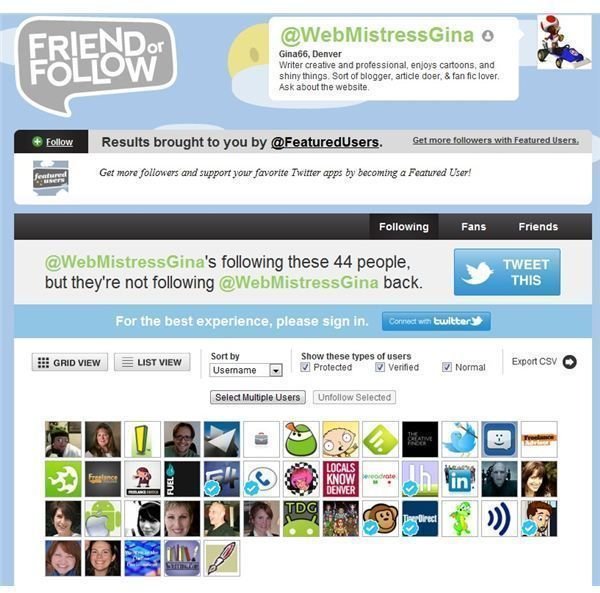 The Twitter Basics
For many people, Twitter represents an easy way to keep up with friends and family in a quirkier answer to popular Facebook. With its texting-like ability, Twitter is considered a 'micro-blogging' site because of its quick stream of updates and 140 character limit. Tweeting has become an essential part of not only our daily lives, but our news coverage as well.
The upside to Twitter is the ability to follow someone, anyone, and their ability to choose to follow or not follow you. While this is a great way of meeting new friends and even new business contacts, at some point, you're going to need to manage it all. But how? How do you trim down 100 followers? How do you figure out who's more important in the 200 or more that you're following?
Here, we'll take a look at some Twitter follow and unfollow utility apps and tools to make your Twitter account easier to read and manage.
Friend or Follow
Friend or Follow is a great online utility that pinpoints those followers that you are following but are not following you. It can also help you discover who's following you, but that you're not following, as well as your mutual followers (those that you are following and that are following you). It's a simple and free service; you only need to supply your Twitter user name to get stats on your followers, though signing in to Twitter will give you more options.
ReFollow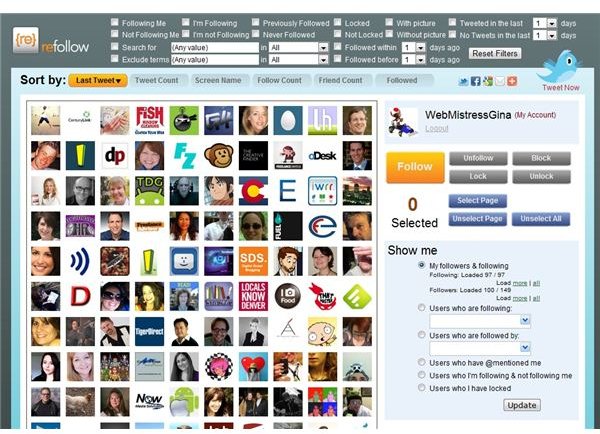 Similar to Friend or Follow, ReFollow is an entire management suite that can help you group your followers together (such as friends, celebrities, business, etc.), as well as sort, follow, unfollow, and blocking facilities. It can show you which people are following you and you can break that statistic down into who's following you, but that you're not following, plus who you're following but aren't following you!
You can also use the site to unfollow people, as well as following those that are following you (if you aren't following them) or block them from following you period. Unfortunately, changes to Twitter have turned the free service into a paid service, though you can still use the free version to see some information. The paid versions allow for more unfollows and follows (40 per day), however, the free version still gives you ten freebies when you first sign up.
Twitilla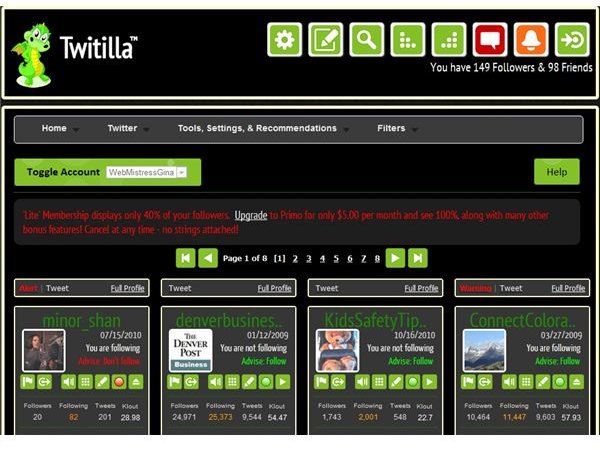 A fun little site that, like ReFollow, helps to manage your Twitter account. Not only can you see your followers, as well as who you're following, but you can search Twitter, and even send messages and Tweets from the site. One of the many features the site offers is the ability to see who you should and shouldn't follow; while great to determine if a follower is a spambot, it doesn't do a good job of separating people. For instance, a follower that the site said not to follow happens to be a friend of mine.
With that said however, Twitilla does offer warnings and alerts that can help decide if you should follow or unfollow someone. It can identify someone who maybe sends out a lot of messages (which could border on spam), as well as if the person sends offensive content (which is the case with the friend). While it is of course your decision on who is the best suited follower for you, Twitilla does do a good job of adding pros and cons to that decision.
Tweeter Karma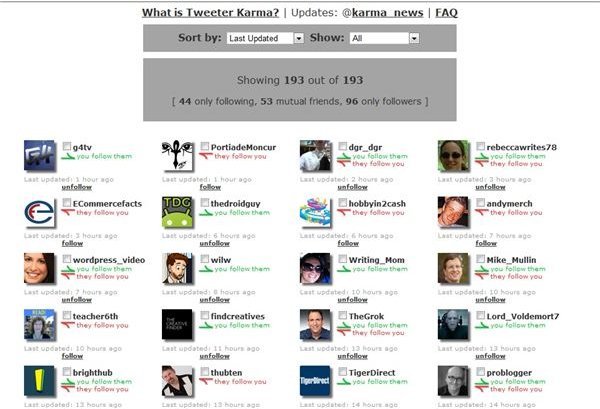 Tweeter Karma, like the others, is a Twitter follow and unfollow utility program that allows you to see who's following you and who you're following. From the site you can follow or unfollow these folks and that's pretty much it. The site is pretty bland, without some of the appeal of say Twitilla or ReFollow, but if you're just looking to see your mutual follows at a glance and go from there, then this is a good place to start.
While these types of tools are great to get a handle on your Twitter account, there are some drawbacks to using them.
Access to Twitter Account - in most cases, these types of applications will need access to your Twitter account in order to get the information you are looking for. For some people this can be a touchy issue as they don't really want another program to access their data and information.
Inaccurate Information - sometimes, information gained from these utilities can be inaccurate. For example, in using Friend or Follow, I did find a few people listed in the not following section when they actually are following me and I am following them.
Short Life Span - as mentioned above, with changes that Twitter will make to their platform, some of these programs will be rendered inoperable and thus force users to find other means of getting the information they request. In some cases, the program is able to come back, either under a new version or new name, but sometimes these changes (and donations that are made in order to keep the program free) are too much and the program never returns.
Tweet Knowingly
The thing with Twitter is to be selective of the people you follow, though this really depends on what you plan to use Twitter for. Obviously, if you want to use it as a way of getting your name or business out to the public, you should try to keep your account as professional as possible; on the other hand, if you want to use it for fun, you should still follow those individuals that will provide entertainment on a daily basis.
If you want to use the site for both, consider making two accounts - one for business and one for pleasure - and then utilize an all in one program, such as TweetDeck or HootSuite to manage them.
Luckily, you don't have to follow people who are following you and you can block them and report them if they are just sending you spam.
References
Friend or Follow, http://www.friendorfollow.com/

ReFollow, http://refollow.com/refollow/index.html

Twitilla, http://www.twitilla.com

Tweeter Karma, dossy.org/twitter/karma

Image Content: Friend or Follow/author, ReFollow/author, Twitilla/author