Planning a Website: Free Website Development & Design Checklist You Can Work With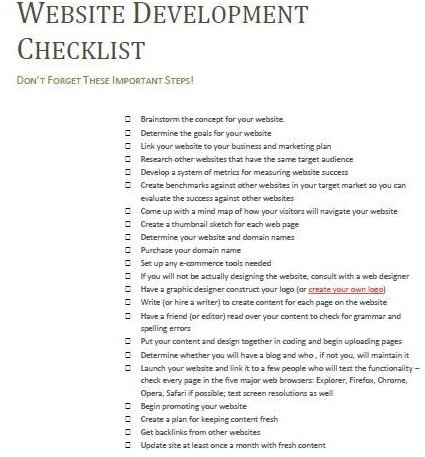 Preparing to Build the Website
So, you want to build a website. Take a breath. I'm here to warn you that it will be a rewarding venture, but it will also be extremely frustrating. You may even cry. I hate to break it to you like that, but when you build your first website, you'll realize that—wait, there's an easier way.
If you know what you're getting into and you spend time planning your website before you start actually creating it, then you can minimize the frustration associated with website development. I've put together a website development checklist to help you figure out what you will need to do in order to prepare for a successful website launch. Go ahead and download it now and then come back to learn more about the steps you'll want to take to launch a successful website.
The first thing you need to do, before you design or even write a single word is determine what kind of website you'd like to build, who your audience is, and who owns your competitor websites. How will your new website fit into your overall goals and business goals? What is the purpose of your website? Are you trying to sell a service or product, or are you trying to get traffic to your website to capitalize on affiliate marketing money? Your website goals will largely determine your design and the type of content you will need.
Before you get into the designing phase, you'll also want to take time to determine what kind of metrics you will use for measuring the success of your website. Another thing you will want to do is set benchmarks. Revisit those competing websites. Where do they fall in the search engine results? You can then create some primary goals that you'd like to meet with your website.
Designing the Flow and Layout of the Website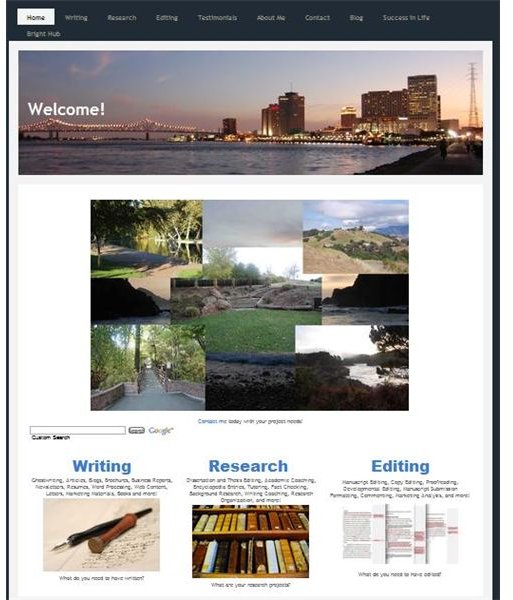 The next step in creating your website is to determine how you would like your website to flow and figure out the web pages you will need to create for the site. One helpful tool for doing this is a mind map. You can use a sheet of paper, a program like Microsoft Word, or even a free mind mapping utility like FreeMind. Use one node for each page. You can demonstrate logically how your page will flow by creating new levels for each node and each page embedded further in the website.
Once you have a basic schema for how you will create the different levels of your website, you can then do a thumbnail sketch of how you'd like your website to appear. Look at other websites. How can you make your site stand out amid the many sites that are out there?
In the website pictured in this section, my personal website, I used a template provided by my web hosting service. You might want to consider using such a service if you don't have a lot of web building experience and if you don't have the budget to hire a professional designer. I then replaced elements with my own images and built the site as I learned more about web design.
In fact, I will be updating the website again to reflect new services and products. It's important to update your website often to gain new visitors and so that repeat visitors will come back. For many, you might want to consider a blog—especially if your website will be service based. Post on a regular basis so you can develop a following. Make a plan now about how often you will be updating the website. This is especially important if you might be outsourcing for graphic design, web design, coding, or content writing. If you know how often you would like updates to occur, you can let the contractor know when you get your quote.
Once you have an idea of what you want, you'll be ready for the design and layout stage. You might want a graphic designer to create a logo for your business if you don't already have one. If you do, great! Depending on how artistically inclined you are, you might design your website on your own, or you might outsource. Make sure that the website looks clean and has clean lines. It shouldn't be too cluttered or readers might mistake you for a spam peddler.
Create the Content
Your website will also need to have content. If you're not outsourcing for a writer, you'll want to create content to go on your beautifully designed pages. You'll need to at least have information talking about who you are, what your business does, your products or services, your pricing, and how clients or customers can find you. You'll also need to include anything for pages you've decided you needed during your flow and layout phase.
At this point, if you will be selling goods, you'll need to figure out how to handle transactions on your website. As being equipped to handle any business transactions is an important part, you'll want to do your homework. While PayPal works great for some things, it might not work for you and you might want ot go with a more robust program such as OSCommerce or ZenCart.
You'll also want to think about whether you will be monetizing your account. This may be tricky for California residents, as many of the big affiliate marketers have pulled out of those blogs and websites. If you're interested, you'll want to find products and services that relate to the content on your website and contact those companies.
Create the Code and Start Uploading Your Website
By this point, you've purchased your domain name. If you're running a business, it will be far more professional if you purchase a custom domain. Now, it's very possible you're either using a web designer or you're using one of the CSS website generators available where you can use templates to easily create a website. Either way, you're going to start putting your content text together with your images.
As you upload content and build your page, you'll need to test your website. You're going to want to test the website on a variety of browsers, computers, devices, and screen resolutions. Enlist friends or employees to help with this. Before you officially launch and start marketing your website, you need to be sure it works and there are no bugs.
Market and Update Frequently
Once you've created your website, you'll need to market the website and update it frequently. As I mentioned earlier, you'll get more visitors if you're offering new products, services, information, or specials on your site. List your website on all of your marketing materials, and keep a common theme between marketing materials. Nothing's worse than a website and set of brochures that do not match. Make sure you consistently use your brochures.
Finally, because businesses and individuals evolve over time, in addition to updating your website once a month (at minimum) you'll want to look at your website as a whole and overhaul it periodically to make sure you're offering the most up to date information to your potential customers and clients.
References:
Bowlby, S. M. (March 20, 2008) "6 Phases of the Web Site Design and Development Process." Hello! My Name is Selene M. Bowlby.
Marvilla, S. & Reyna, S. "7 Steps to Successful Web Development." PowerHomeBiz
Matt. "12 Steps to Creating a Professional Web Design." Chromatic.
Images are screenshots courtesy of Ronda Roberts. Second image is a screenshot of Roberts' website at https://www.writingresearchediting.com/.