How to Set up a Facebook Page for Your Business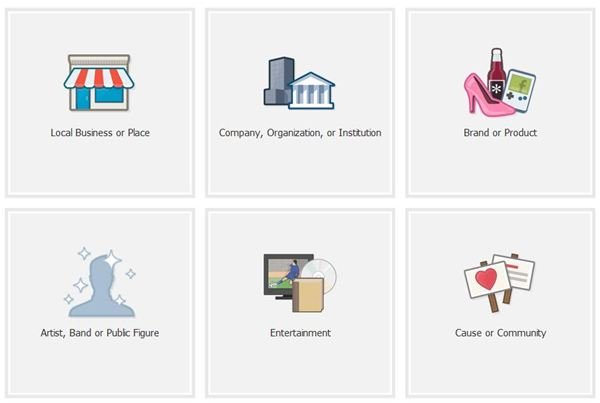 Choosing the Type of Page to Set Up
The first step is signing up for the Facebook page. If you don't already have a personal page, you'll want to sign up for one. Next, you can scroll to the bottom of the page and select "Create new page." When you select the option, you'll be taken to a page that looks like the one to the right. From there you can select:
Local Business or Place - Choose if you have a brick and mortar store or office.
Company, Organization, or Institution - Choose if you're representing any of these.
Brand or Product - If you want to represent a specific brand or product on Facebook, you will choose this option.
Artist, Band, or Public Figure - Freelancers, you can choose this or you can choose local business. I'd choose this category if you work from home or the coffee shop and the local business or place, if you're working out of an actual building.
Entertainment - If you're wanting to create a page for a product that would be considered to be entertainment, you'll want to choose this option.
Cause or Community - If you want to raise awareness about a cause you're involved with, you'll want to choose this option.
Think about what kind of page would best suit you and your purpose. If you're trying to promote a book, you could choose either "author" under "Artist, Band, or Public Figure" or "book" under "Entertainment." If this is the only book you will ever write, I'd choose "book." However, if you're like many authors, if you have this book and other publications, you will want to choose "author." But wait! Don't overlook creating a Facebook page for your book as well. The same thing applies if you're running a company that produces software. You can have both a company page and a software page.
Choosing the Best Image for Your Page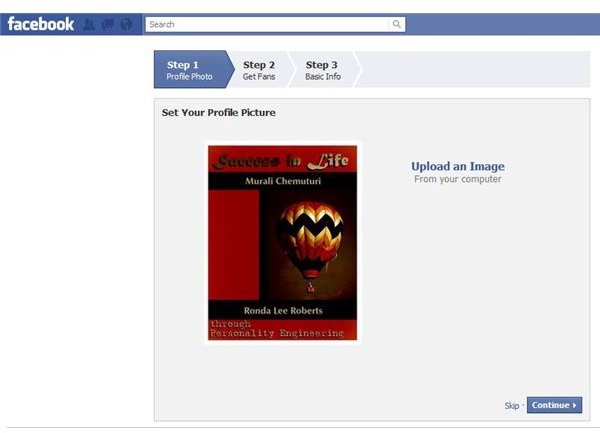 Like any of the more traditional marketing methods (which you shouldn't overlook), you need to have an enticing image to draw people to your Facebook page. To continue with the examples I've been using, if you're creating a local business page, you might want to have either a good-quality image of the outside of your business or one of the inside of your business. If you are the sole proprietor or you're creating an artist page, you'll want to have a picture of yourself or your work. For entertainment pages, have pictures of the album, book or other product you are promoting. The same can be done with a brand page. The image should be close up with good resolution so visitors can clearly see what the image is.
Invite Fans to Your Page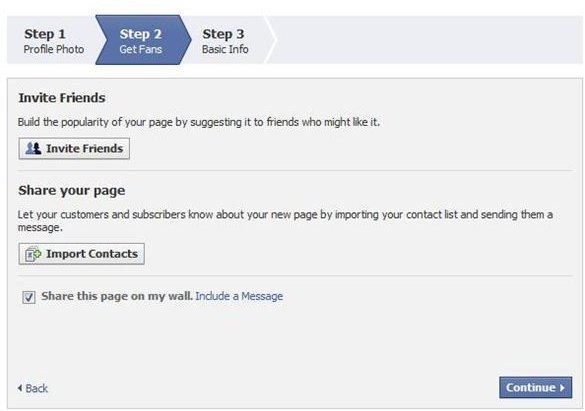 The next thing you'll be asked to do is send an invitation to potential fans to come connect with you on Facebook. Select all the friends that you have on your Facebook page and upload your contacts. This way, you'll get the page out to a good number of people to begin with. When inviting people to join your page, send the invites once. If people do not accept the invites, do not fret, just move on. Don't harass them with invites. Instead, focus on recommendations from those who already have "liked" your page.
Fill in the Information on Your Page
When you fill in your page information, I'd suggest that you write the drafts for the "about" and the "description" in your word processor. I'd also suggest hiring an editor for a short time to take a look at what you have written. You'll be surprised at how well a professional blurb on your Facebook page helps to promote you and reflect upon your professionalism. You should not try to represent yourself with grammatical and spelling errors - it doesn't matter what your industry is, it will turn off potential clients and customers.
You should fill in as much information as necessary to get people interested in your business, product, or service. The more information you fill out, the more comfortable people will feel with your page. The more comfortable people are, the more likely they will be to contact you about your services or products. You can also set preferences - do you want potential customers to have the opportunity to post on your page? If not, you can select that you only want administrators to be able to post.
Your Dashboard Controls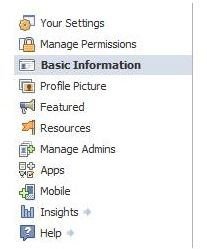 Now that you have your page created, you can take a moment to explore the dashboard controls. Click on the pencil at the top of your page. You'll be taken to a page where you can edit your basic information. If you need to further tweak the information available, this is a good place to do it. You can change the profile picture, determine who can access your page, and choose who you'd like to have featured on your page.
Under the "Resources" tab, you can find a list of best practices for engaging potential customers and clients, the advertising tool, the ability to create a special user name once you reach 25 fans, and the option to link your page to Twitter.
Engage Your Audience!
The most important thing for you to do on your Facebook business page - and this is what will keep your customers coming back for more - is engage your audience. It is absolutely vital that you use the wall and you respond to the comments on your page. If you create a page and never use it, you won't be getting your name in front of potential customers. If, on the other hand, you post at least one thing per day and you interact with followers, you'll have greater success at building a platform.
Remember that any marketing effort requires just that - effort. If you do not use Facebook to market your services and products, you're missing out on a platform. Have fun with it, but don't have too much fun! You want to be productive so you can keep your customers.
References:
Ronda Roberts has a Facebook page for her editorial consulting services and one for the book she recently co-authored with Murali Chemuturi.
All screenshots courtesy of Ronda Roberts