Seven Ways You Can Drive Traffic to Your Website with Twitter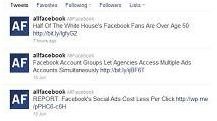 7 Ways Twitter Can Transform Your Website
Most Internet marketers understand the basics of Pay Per Click (PPC) and Search Engine Optimization (SEO.) But what if there is a way to drive traffic to your website with Twitter for free? Of course, free is a relative term. There might not be any monetary output, yet your time, energy and intuition will be needed for seven ways Twitter can transform your website marketing efforts.
Don't believe it? Well, allow you're mind to be blown.
Since 2006, Twitter has offered a micro-blogging service for users to blast out their thoughts in 142 characters or less. Unlike their evil nemesis, Facebook, users can "follow" profiles and opt in to view your tweets in real time.
Still hanging on? Good.
Check out the seven ways one can use Twitter for website traffic
1. Expose valuable content
Look at the screen shot of All Facebook's Twitter profile. They are avid writers and proud of it. Despite their SEO, Tw
itter is used strategically to put content in front of the masses. Scroll down and look at the daily updates. Every article is tweeted and promptly re-tweeted by followers. Keep in mind, this isn't a "if you build it, they will come," type of formula. Produce garbage? Garbage is what you'll get. 2003 is long gone. Users aren't merely happy searching all day for information. Social media is transforming the way users engage and organize content.
Screenshot provided by author.
2. Twitter is not a bullhorn. You must engage.
Recent political drama in the United States should teach everyone how not to use Twitter. Surprisingly, Congressman Anthony Weiner (D-N.Y) is the epitome of how to get users to respond. Replace the lewd photos with something related to your site and this example should be fit for all ages.
Congressman Weiner was very prompt in responding to users he was interested in engaging in "dialogue" with. Not only for extracurricular purposes. Most fans of the Congressman liked the fact that he tweeted his constituents directly and did not simply blast out typical political fodder.
Again, the message is important. Even more important is fostering a permission style of marketing where your visitors become part of the development process.
3. Use every function to your advantage. Maximize opportunity.
Once a Twitter account is set up, even if you're follower count is at zero, make it look like a million bucks (more in depth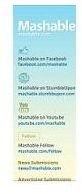 on this next.) Charity Water does a great job of this. Not only do they hand out backgrounds for other users, their main account screams professionalism and opportunity. Here in lies the keyword. Repeat. . .Opportunity. If Twitter had a spot in the English Lexicon, this word should be the top definition. Leverage every single part of you're profile to capture the visitors interest. 1.) Background. 2.) URL in the top left information section. Why did the bright Silicon Valley minds put it there? For ascetics? Of course not.
Develop a background with all of the important information highlighted on the left hand side: website URL (or course), Facebook ID, website purpose - a few characters about what you're trying to do. . .i.e, Mashable. "Breaking social media, tech and digital news and analysis from Mashable.com, the top resource and guide for all things web." Also, check out the Mashable screenshot for a perfect example.
Screenshot provided by author.
4. Want to be worth a million bucks? Then look like it.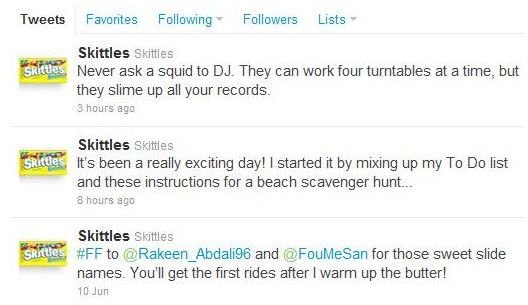 As they saying goes, "dress for the job you want." The same goes for design, writing and driving traffic to your website with Twitter. Out of all seven ways Twitter can transform your website, pay close attention to this one.
What if Charity Water created simple word documents with all of the necessary contact info and a small mission statement, then distributed these at backgrounds? Most users would chalk the organisation up as another group asking for bank account info on Craigs List. You get the point.
Yes, Twitter can help transform your website. Start by acting like you belong there.
Screenshot provided by author.
5. Third party apps are the secret receipt.
Don't judge a book by it's cover. Don't you love the quotes so far? The same goes for Twitter. There will be nothing transforming about you're efforts if there's no desire to go beyond the existing application.
Apps like TweetMeme, TwitterFall and Monitter allow you to watch trends and mentions about your brand in real time. These tools don't substitute for using due diligence on the already in place tools. . .however, these are great once your brand expands and time is of the essence. In fact, there's probably no reason to use these if you're just getting started. Nail down steps one through four and then come back to five.
6. Fall in love with hashtags. Seriously.
Don't worry, this kind of love isn't cheating. Actually, go see an Internet marketing therapist if you don't implement this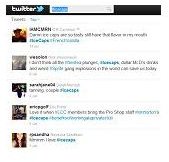 suggestion. Number six in the seven ways you can drive traiffc to your website with Twitter, starts to kick things into overdrive.
If you haven't lived under a rock the past few years, then the term "hashtag" shouldn't be too utterly confusing. In marketing terms, a hashtag is the user-generated form of organizing information on Twitter. These are great for conferences and spur of the moment conversations. . .not just for #winning and #tigerblood - as some have been led to think.
If you wrote an article on your blog about why the ice caps really aren't melting. . .a hashtag such as #icecapsarentmelting would be ideal. Note: just because you're hashtag sounds cool doesn't mean it's the best one to use. Use Twitter search function and type in, #meltingicecaps or #icecaps and check out the conversations. Keep in mind, you can use multiple hashtags. Get to work!
Screenshot provided by author.
7. Don't wait for followers to come. Seek and you shall find.
As mentioned earlier, Twitter is great because users can follow what you have to say without making a more formal "friend" commitment. Even better, you can seek out followers and interesting users. There are rules against churning (following and un-following), so this technique is not suggested. Since Twitter is supposed to be a mutual community where people follow each other, most users will follow back if there's a common interest. Beware of bots and and spam users who steal pictures and try to post as someone else. If you spend any considerable amount of time on Twitter, you'll soon run into this.
Summary
Keep in mind, this isn't a "get rich quick," type of marketing scheme. Also, there's more then seven ways to transform your website marketing efforts with Twiter. As you begin to implement these suggestions. . . other techniques and tricks will soon manifest themself.
As you continue to research ways to drive traffic to your website with Twitter, keep the following in mind:
Never escape the concepts of value and consistancy. Despite the seven ways to use Twitter for website traffic, these two ideas will carry you far in the long run.
Learning the details and correctly applying them is another element of value. Yes, having a clever plan like Skittles is important. But developing your own detail pattern and nailing down specifics, is key to all elements of Twitter sucess.
Finally, keep the message relavent. No matter how consistant or "valuable" you think the info is, always keep an eye on "what" you are putting in front of viewers. Value only remains constant if the market demands it.
References
Author's own experience.