10 Free Clock Widgets for Your Website or Blog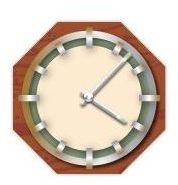 Every operating system includes a built-in clock and most people are never far from a cellphone, watch or wall clock when browsing the Internet. That does not mean that you can't include an attractive and functional clock on your webpage. That is why I have scoured the Internet, looking for the best free clock widgets to include on your website, blog, social networking site and more. This collection includes digital and analog clock widgets in traditional and modern designs so you are sure to find something you will enjoy.
01. Nostalgic
If you are looking for something classy and sentimental, check out Nostalgic by Clock Widgets. This attractive analog clock boasts a nautical feel and an eye-pleasing color scheme of cream, teal and chrome against wood, appropriate for professional websites or anyone looking for a more grown-up clock. Use the included embed code and paste into the area on your website where you would like your clock to appear.
02. Plastic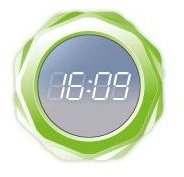 For those seeking a modern quality, Plastic by Clock Widgets is a fantastic digital clock with a contemporary feel. A green plastic-look shell houses a neutral blue background with a white time display. This one is fitting for personal or professional sites and you can use it by simply copying and pasting the embed code into the spot on your blog where you would like it to appear.
03. Digital Flash Clock

The ultimate in simple yet fun, Xorbin has created a digital clock widget for commercial and personal use. Its streamlined design makes it easy to install onto any website or blog, where it will look fantastic. This clock comes bundled in a .zip package, which includes all of the needed information to upload it onto your web space and embed it into your blog or web page. If you are not into the orange, blue and green default color scheme, more advanced Flash users will appreciate the fact that you can easily change the clock digit colors or even provide your own numbers to work with the provided code.
04. Analog Flash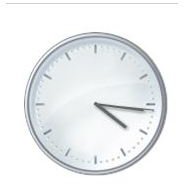 If you love a more traditional design, Xorbin has created the perfect analog clock for you. This widget is packed in a .zip file, including all of the code you need to upload it to your web space and install it into your web page. By default, this clock face is white with black hands and grey markings indicating the hour and minutes. The outside of the clock is surrounded by an attractive silver outline, giving it a subtle 3D effect. If you are not a fan of the default look and you are a bit more adept at Flash, you can use the included code to create your own clock face.
05. World News Analog

If you are looking for something with a professional feel for a news blog or website, the World News Analog Clock by Widgipedia might just be exactly what you are looking for. This gold analog clock face has a very newsworthy feel, making it ideal for any professional blog. Simply paste the code where you would like this clock to display, and you are good to go.
06. Clock - Calendar - Calculator

What happens when the standard clock is not enough? If you love multitaskers, check out the Clock/Calendar/Calculator widget from Widgipedia. With a fully functional calculator and a calendar that users can scroll through, this clock earns its keep on your blog or website. This unassuming widget with a clean look can fit on most any website with no trouble at all. Just copy and paste the provided HTML code where you would like your widget to display.
07. Digital Clock

If you are craving a bit of web 2.0 style and easy customization options, check out Digital Clock by Free Flash Toys. This digital clock looks snazzy with its reflection and you can quickly customized to any color you would like with the included color-picker. Simply pick your color, generate your code and paste right onto your web page!
08. Countdown/Countup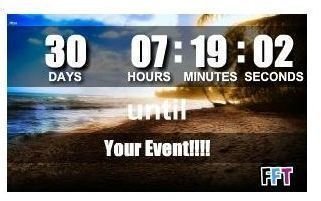 What if what you need is not a digital or analog clock, but a countdown clock? Free Flash Toys provides a playful widget that you can customize with the time and date of your event and your event's name. You can even pick from the hundreds of backgrounds they have included.
09. Cuteki Clocks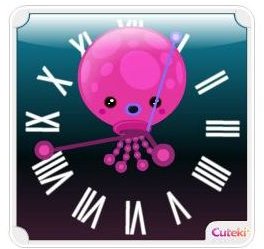 Instead of featuring a specific clock from Cuteki, I thought I would simply mention that they offer a great selection of adorable options for those of you who want to put a pinch of cuteness on your social networking page, blog, or website. They may not be something you would want on a business website, but they do make a great addition to personal pages.
10. Date & Time Clock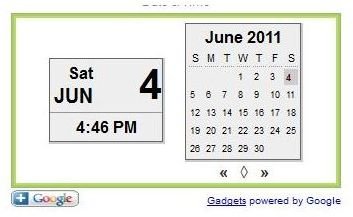 Google has supplied its own widgets under the name of gModules. Among the lists of great community-developed widgets is Date & Time Clock. This simple widget comes with a few customizable borders and features a handy calendar alongside the date and current time. This widget will fit in well on any kind of website or blog, and pastes easily into any website with the included HTML code.
References & External Links
Nostalgic by Clock Widgets
Plastic by Clock Widgets
Digital Flash Clock by Xorbin
Analog Flash Clock by Xorbin
World News Analog Clock by Widgipedia
Clock - Calendar - Calculator by Widgipedia
Digital Clock by Free Flash Toys
Countdown/Countup Clock by Free Flash Toys
Date & Time Clock from gModules