Why Doesn't Anyone Comment on My Blog? 10 Tips to Help You Get Readers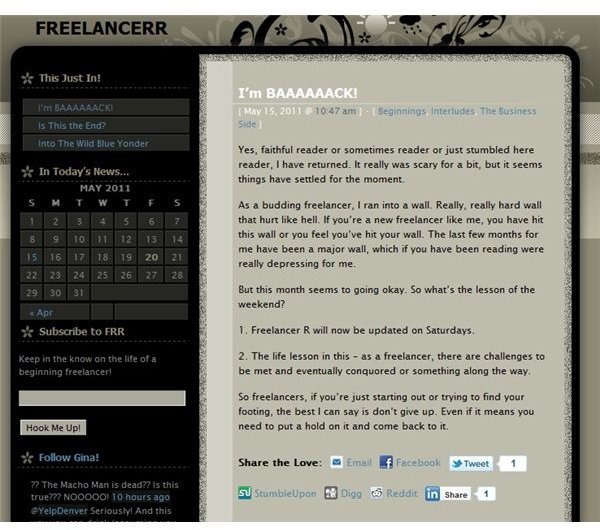 Blogging is a popular medium on the Internet, with many high profile blogs and bloggers around on the Internet. Sites like ProBlogger, CopyBlogger, Freelance Folder, and others are professional blogs, in that they bring informative content to readers on a variety of different topics; these blogs may also sell their own products, which helps to fuel the blog.
Many people will start a blog, but for a blog to be successful you need to have readers. But what happens when you aren't seeing any comments from people? What does a blog do to get some respect?
What Makes a Blog Popular?
Having a popular blog isn't a trade secret and can actually be done by even the most beginning blogger. There are several different ways in which you can more readers to your blog, steps that can not only information, but help readers.
1. Interesting Content - one issue that new bloggers have is that their blog isn't centralized. The reason people read blogs is for information on a particular subject or idea. Having a blog that addresses something, such as being unemployed or being a writer, wil engage readers who may have a similar interest or career.
As many of the pros will say, "Content is King", meaning that what you post needs to be interesting to visitors. If your content isn't interesting, you won't get people to read, more less leave comments.
2. Promotion
No one will be able to read about your blog if no one knows about it. The Internet has made sharing websites even easier with buttons that can a blog to Facebook, Twitter, LinkedIn, Digg, StumbleUpon, and other social networks. Tell your friends and family that you have a blog and what it's about. Spread the word!
If people know you have a blog and enjoy what it's about, you'll get comments in no time.
3. Reading Other Blogs
Reading other blogs can help bring people to your blog. How? Well, if you're reading something that interests you, you might want to find other blogs that hold your interest, right? It also helps you view what other blogs are discussing; and don't let it stop there. Make sure that you comment on these blogs as well.
Commenting on other blogs - especially those that ask for your website/blog address - will enable other commenters to see your comment and maybe even head over to your blog.
4. Communication
When you read another person's blog, do you comment? Well, you should, especially if it's a topic you find interesting or disagree with.
This creates a dialogue, which can engage other readers as well. Why is this good? Because if you mention your blog - or for some sites, you've added your blog's address when leaving your name - others might want to check it out.
This also might give you ideas to follow up on the same topic. For instance, I came across a blog that was discussing fan fiction and whether or not it was good for writers. Not only did I comment - as a fan fic writer - but I also posted a blog on my own blog in regards to how I, as a writer, felt about it. Within a week, another blog had listed this particular update to their blog, in which they were discussing the same topic.
5. Frequent Updates
It should go without saying that you should update your blog on a regular basis. When you update is up to you - some bloggers update daily, while others do a weekly schedule. Either way, you should be updating. Why? Readers want to see new information, not information from several months ago.
Frequent updates not only allow for new information, but it can lead readers to give comments, especially if the post is new and relevant. Readers won't comment if they think you don't plan on responding.
6. Connect with Readers
As with communicationing with other bloggers, you should also connect with your readers. Even if you only have that one person comment, reply to it. Thank them for commenting or answer any question that they may have. This shows that you aren't just posting a blog to post a blog.
7. Link Back
As with tip numbers 4 and 6, when another blog links one of your topics to their site, link back! Trackbacks can be helpful for everyone, as it gives exposure for the blog you enjoy, while bringing in new readers from the blog that linked to you.
8. Avoid Negative Posts
Some blogs are good at stirring controversy or bringing up varying opinions. This is good, but don't let it lead the blog itself. Sometimes you'll have a bad day, but if every blog post is filled with a dreary existance, it will just depress your audience. They might think your blog is just a self loathing ramble and you don't want that if you want people to stop by, read, and comment.
9. Guest Blog
Guest blogging means that another person writes a special blog post for the day or week. Think of it like a guest host who fills in for the main host on a TV show. Guest blogging for another blog can help promote you and your blog; and certainly return the favor by having guest bloggers on your blog as well. Readers like variety and while the topics might be the same, different bloggers have different perspectives.
10. Show Yourself
Readers sometimes like having a face on the person they're following or reading about. In this day and age where communication mostly takes place behind some sort of electronic screen, it's nice to put a face to a name. So put up a picture of yourself on your blog; some people may not want to have their face online, so if you decide not to go for a self portrait, pick something that describes you.
For example, if you are or were a musician, show a picture of the instrument you played or if you're an artist, put up one of your renditions. This goes for putting in pictures in your posts, too. Readers like pictures, especially those that are funny, but relevent.
It Takes Time
These ten tips can only get more readers to your blog, but get them to leave comments for you. The more relevent and interesting content that you have on your blog, readers will not only enjoy reading your content, but responding to that content by leaving comments. By interacting with your readers and other blog readers, you'll show that you're engaging and interesting and isn't that what you want your readers to know?
References
Why Doesn't Anyone Comment on Your Blog from Associations Now, https://www.asaecenter.org/Resources/anowdetail.cfm?itemnumber=36272
Image by author, via Freelancer R