A Must Have for Any Web Developer: Clicky

Clicky is the web analyzer of your dreams. If you are a web developer and have been looking for a way to monitor your site's traffic in real time, look no further than Clicky. It's by far, one of the best usability toolkits on the market. It combines several different tools to allow you to know exactly what a visitor is doing on your site. Here's how Clicky beats its competition.
It's Free
Well, there are different account levels. The free account is more than adequate for a beginner. With the free account, you can track one site, with up to 3,000 daily page views. If you viewership is less than 3,000/per day, this is the account for you. It also allows you to store up to 30 days of data history. A few drawbacks to the free account is that you see ads (not a big deal), you can't track which files are downloaded and you can't determine your bounce rates. Clicky does offer this in paid packages if you're interested in those tools.

Monitor Your Traffic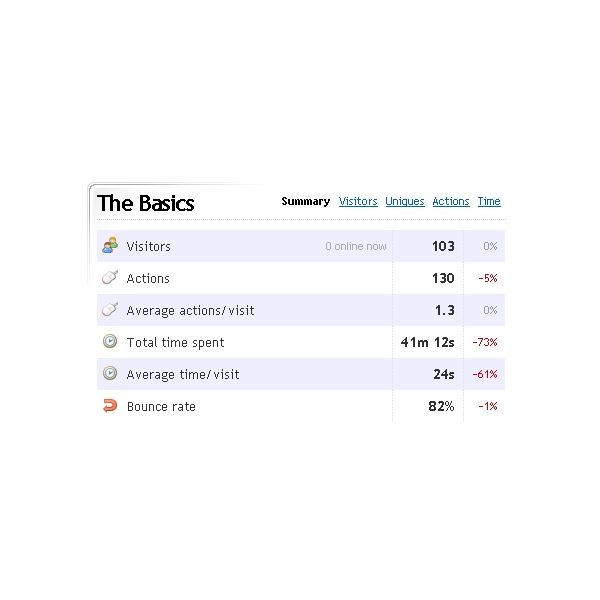 The secret to creating a successful website is knowing your visitor base. Clicky gives you details on your visitors. You'll find out a visitor's location, operating system, web browser, and screen resolution. In regards to your site, you'll find out how many actions were performed by a specific visitor, and how long that visitor stayed on your site.
These tools help you recognize trends, and enable you to develop a site that is tailor-made for your visitors, which is what it's all about, anyway. If you notice that the majority of your visitors use Firefox as their browser, you'll want to spend extra time making sure your site runs optimally in Firefox. If trends point to a specific page as an exit page, you'll know to isolate that page for analysis.
Access From Anywhere
An exciting feature that Clicky offers is the ability to check your site's data from anywhere. You can definitely check it from any browser connected to the internet, but with Clicky, you can also check your stats from your cell phone. It's easy to set up, and it isn't only for iPhones. Any cell phone with internet connection can access Clicky's dashboard. Over your cell phone, data is broken down into traffic, browsers, daily and monthly visitors, and top pages. This is an excellent option for those on the go, but who still need to stay connected.
If you are a web developer who wants to offer these services to your client, Clicky has a white label. A white label is basically a program developed by someone else, but re-branded as your own. You can rename this as a service that you provide, and sell it to your clients.
Overall, Clicky is definitely worth getting. It's free, and it's useful for any web developer.