TweetDeck Chrome Guide - Using TweetDeck With Google Chrome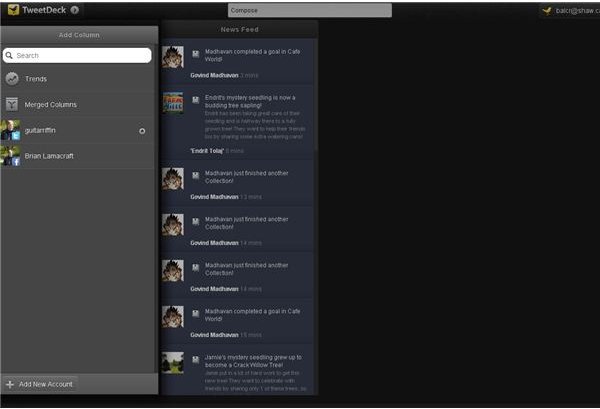 Social Network With TweetDeck
This TweetDeck Chrome guide will show you how you can manage multiple social networking accounts with one simple application. Twitter is one of the leading social networking sites on the Internet but many people use other sites such as Facebook at the same time. When you have multiple accounts you end up switching back and forth between applications and lose your productivity in the process. TweetDeck allows you to manage multiple accounts such as Facebook, Twitter and Google Buzz, all within one application. You can send messages to one site or multiple sites at the same. TweetDeck can be used on your desktop, with mobile devices, and from within your Chrome Web browser.
Installing TweetDeck with Chrome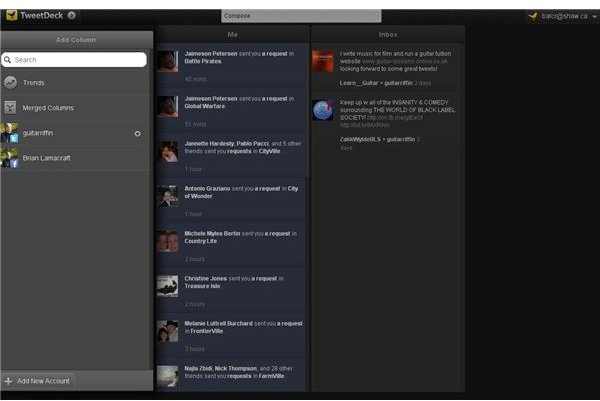 To install TweetDeck with Chrome visit the applications website and click on the Chrome icon at the top of the screen. Log into your Goggle account and then click the install button to get TweetDeck up and running. Once you have installed the program you can access it by creating a new Chrome browser window, which makes TweetDeck a clickable application. You'll need to create a TweetDeck account before you can use it with an Email address and password. Once you have logged into TweetDeck it becomes a webpage within your Chrome browser.
The TweetDeck Screen
Click the TweetDeck icon at the top of the screen and then add account. You'll want to add your Facebook, Twitter, and other accounts here so your messages appear in the application. The application has three main columns including home, me, and the inbox. The "home" column shows you all messages from your social networking friends. To scroll through the list just use your mouse wheel, or the scroll bar. The next column labeled "me" displays message directly to you such as requests in Facebook or direct messages to you in Twitter. The inbox displays a listing of any private communications from your accounts. Click the TweetDeck logo to easily add new columns if you need them. Sort your messages from one account by clicking the logo and then the account you want to see. If you are one to follow the latest Twitter trends, click the trends icon. At the top of the screen you'll find the compose window. Click the account or accounts you need to send your message. You have several options from the window including adding your location, or sending a direct message to someone if you know the Twitter user name. For Facebook you can post regular wall update messages from within the application.
Working with Columns
One of the main features of TweetDeck is the ability to add multiple columns to the application. Click the main icon and then select the account you want to work with. For Twitter, you can add all friends, mentions, direct messages, and favorites' columns. If you are working with Facebook, you have news feed and notifications columns. So for example, if you just need to see direct messages to you in Twitter you can just add that column to your desk. Add the three main columns back by clicking on merged columns and the tabs you want back. You can add as little or as many columns as you need and see only what you need which gives you some flexibility when working with TweetDeck.
Keep up to Date With Chrome TweetDeck
TweetDeck Chrome makes it easy to keep up to date with all your social networking contacts on Facebook, Twitter and other sites. Use the column feature to sort through your accounts and display only what you want to see besides the three default columns. Be sure to check the TweetDeck website for updates as the program tends to offer new features on a regular basis.
References
Tweetdeck: https://www.tweetdeck.com
Images are author's personal screeshots.