Professional Blog Backgrounds Legal & Law-Related Website Owners Can Use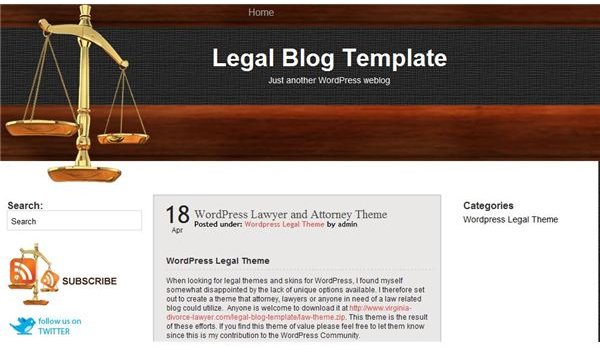 How many law blogs have you read recently that have one of the following backgrounds: A border in a neutral color, A banner of books, or the justice scales? While the study of the law and legal practice is serious stuff, your blog does not have to compromise interest for the sake of professionalism. For example, when you click on a legal blog you will most likely see something that looks similar to the image at the right. While this is well and good, and the way the designer created the RSS feed button is novel, it's a bit typical.
That's not to say you can't do typical when designing your law or legal blog, but why should you? Take inventory of what you want to talk about on your blog? Do you deal with divorces? Do you deal with social justice? Do you handle environmental law topics? By taking inventory of the types of topics you would like to cover on your blog, you can be sure that your blog design will better target your audience.
What Not to Do

While it's good to be innovative, there are certain things you should never do when it comes to producing a professional looking legal blog. Here's a brief list:
Do not use bright colors
Do not use cartoon characters
Do not use offensive images
Avoid garish designs
Do not post anything or have anything in your background that you would feel uncomfortable with in your office
In the example to the right, a popular blog thrives on its cartoon designs - but it's a humor blog! The same sort of design scheme would not work for a blog that is trying to convey serious information to the public. There's one exception to this rule: If your blog deals with legal humor, then by all means use a cartoon-style background!
Civil Law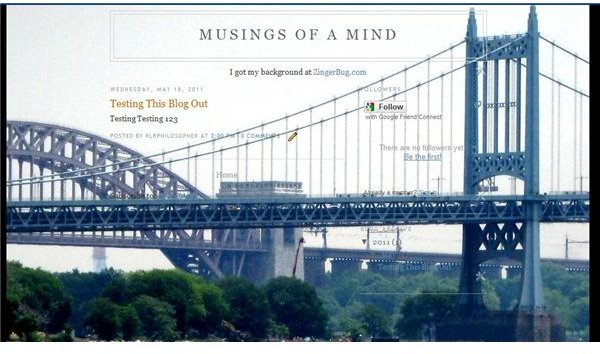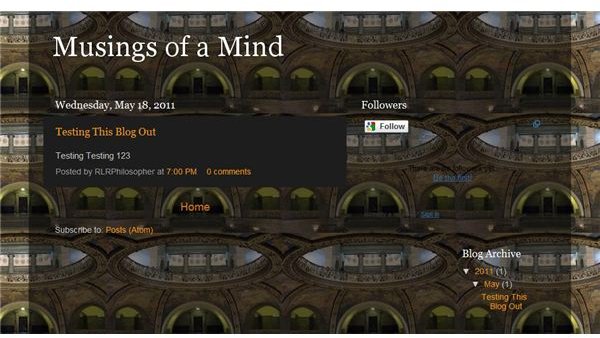 When creating a civil law blog site, depending upon what you're focusing on in your blog, you might want to have a civic building featured on your website. For example, if you are writing about issues relevant to your city, perhaps you would want a photograph of your local city hall in the background.
While you could use a modern city hall or capitol building in your background, you could also use a photograph of the city or a state landmark. If you do use this strategy, you should be careful that you choose an image that will not compete with your text. In the example to the left, while the background could work, it is a bit busy and bright for the content that would normally appear in a blog discussing civil law.
The image on the right, on the other hand features a repeating, tiled image with an overlay. This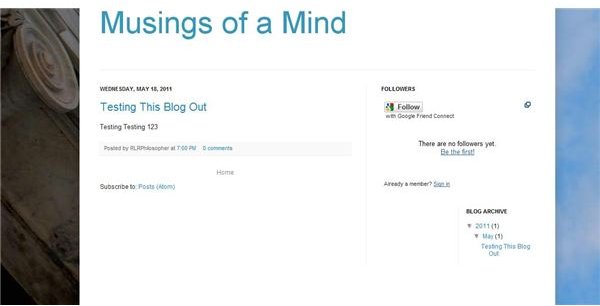 blog background was created using an image from Stock.xchng and the "Picture Window" template included in Blogger. Don't be afraid to get creative with elements.
One more idea is to use classic Greek columns or classical architecture for the background of your blog. To the left, again, you can see that the Jefferson Memorial peaks out from behind the white background. You can configure this idea a number of ways. While I used the Blogger template called "simple," you could use any other Blogger template to create your background.
Criminal Law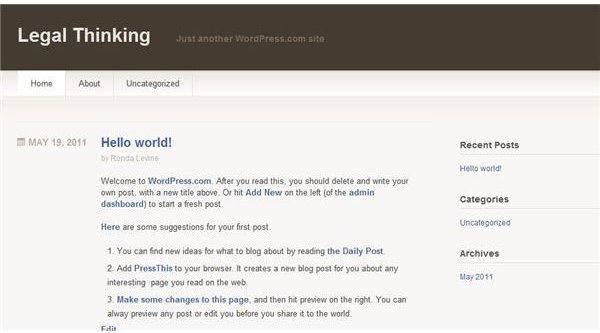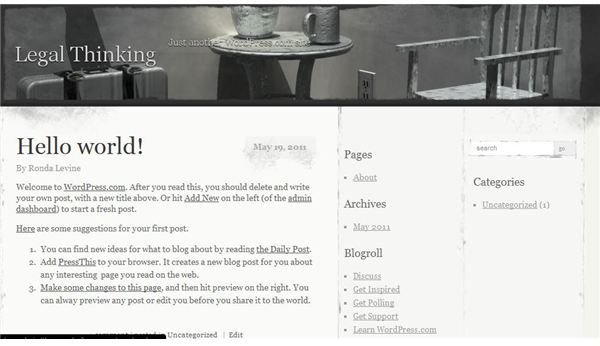 When you think of criminal law, two things come to mind: handcuffs and bars. While you could use such a background, keep in mind that unless it's done really well, you run the risk of having your blog look like the back of a Yellow Pages telephone directory. Instead, you should go for classy, but down to business. While you could go with simple, like in the example to the left (just a standard WordPress theme - Titan), you could also get a little more creative. In the image to the right, I used the WordPress theme called "Elegant Grunge" and I cropped and used an image titled "The Room" as the banner.
Environmental Law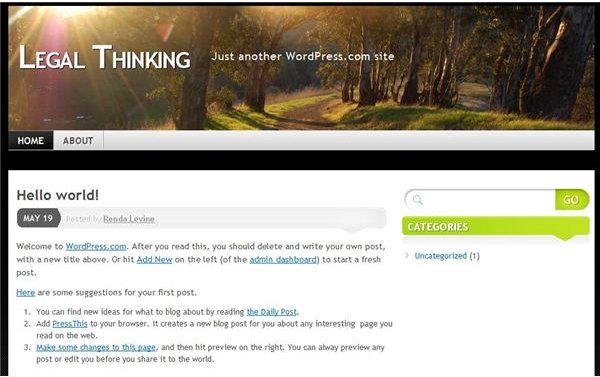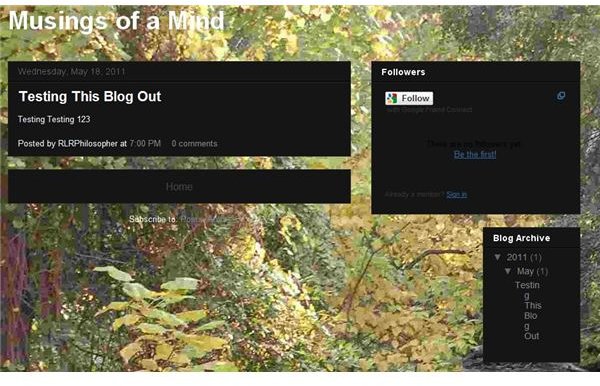 Chances are, if you practice environmental law, you have lots of really nice photographs from hiking and camping trips. This is the place where you should use these! If you keep the rest of the blog elements simple, an outdoor scene can be an outstanding part of your blog devoted to environmental law. In the site to the left, I used a personal photograph as a background for Blogger's "Awesome Inc." Template. In the blog to the right, I used a personal photograph with the WordPress theme called "Mystique."
When using a photograph for a legal blog, the rule is always to keep it simple. Be sure, also, when you use your image that the color scheme compliments the image.
Human Rights Law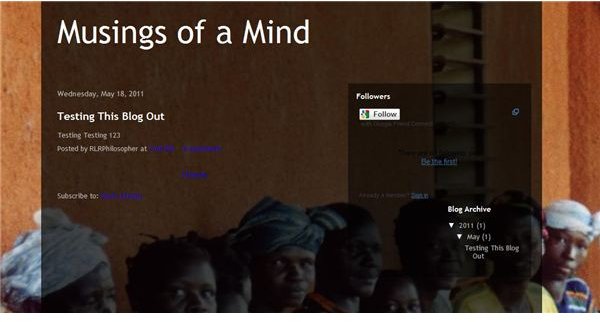 Human rights law can touch on a variety of topics. Recent trends involve human rights and development policies, but you should focus on an image that would compliment your area of specialization for your blog. In the blog background sample to the left, I combined the "Travel" template at Blogger with an image I downloaded from stock.xchng. If you have photographs you'd like to use from travel to another country or volunteer work, by all means, you should use such images as a background for your blog. Again, it's important to keep the background simple, so if your image is brightly colored or if there's a lot going on in the background, you'll want to crop it first.
Family Law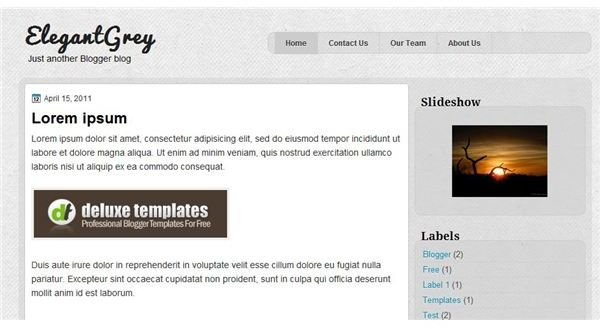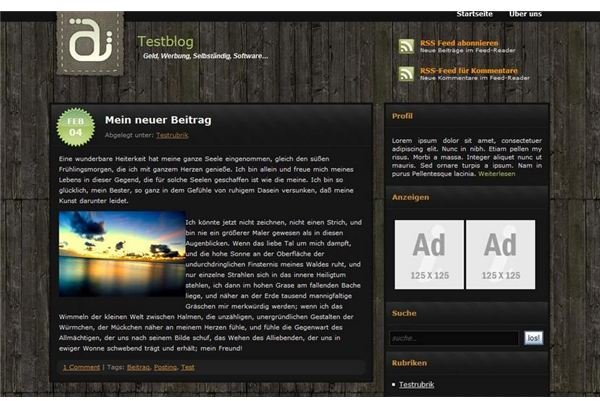 Family law, like criminal law, can be a tricky place to figure out a background for. While you could have pictures of children or families, often times lawyers dealing in family law deal in cases involving custody issues or divorce, so such images would not be appropriate. This is the area where you should keep it simple and professional - but it doesn't have to be boring!
In the template to the left, found at DeluxeTemplates, professionalism and elegance are captured in one place. Bloggers can download templates from this site for free. Alternatively, you can find some great templates like the one to the right over at DrWeb.
Corporate Law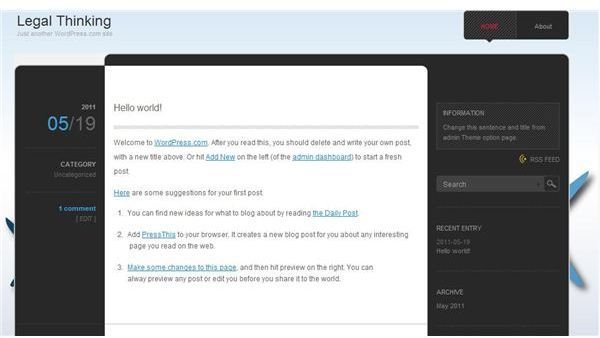 Corporate lawyers will want t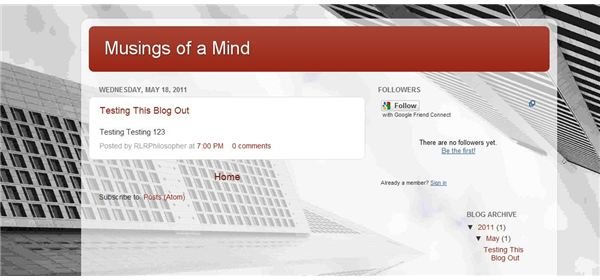 heir blogs to appear authoritative, powerful, and professional. There are a few ways to go about this. In the example to the left, you'll see a blue background while the rest of the template is a monochromatic scheme. This is one great way to convey to potential readers that you are talking about law. I used the WordPress theme "monochrome" and modified it using an image from Stock.xchange.
Alternatively, you could have an image of a skyscraper in your background. In the image to the left, I used an image of skyscrapers paired with the Blogger picture template.
Traditional Backgrounds Are Out There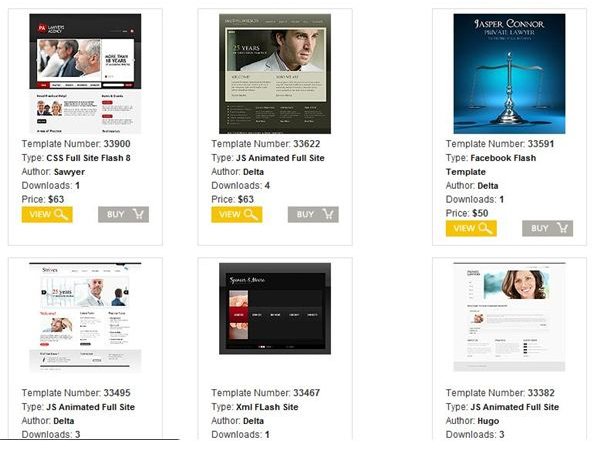 Finally, while the above blog backgrounds for legal law are extremely easy to create, you can use premade templates that are specifically law-related. There are many great websites that feature legal templates for blogs. The Blogger template to the left is available at BTemplates. The combination of blue and gold together make the template pop off the screen without distracting the reader from the content.
A second great resource, if you would like to purchase a template for around $65, is Entheos Templates. This website has hundreds of traditional templates for your blog, but you might also want to look into some of their non-traditional templates that would work for your field as well.
References:
WordPress.com
Blogger.com
"Legal Blog Template" screenshot from https://www.virginia-divorce-lawyer.com/legal-blog-template/
Hyperbole and a Half https://hyperboleandahalf.blogspot.com/
Civil Law - Background 1 (NYC Bridge), Background 2 Capitol Image (sxc.hu/gallery/linder6580), Background 3 Jefferson Memorial (sxc.hu/gallery/andrewatla)
Criminal Law - Background 1 (Titan) Background 2 (Elegant Grunge and sxc.hu/gallery/chrismoon)
Environmental Law - Photographs by Ronda Roberts Levine, Background 2 (Mystique)
Human Rights - Background courtesy of sxc.hu/gallery/silviadg
Family Law - Background 1 (https://www.deluxetemplates.net/2011/04/elegantgrey-blogger-template.html) Background 2 (https://www.drweb.de/magazin/wordpress-theme-modernoak/)
Corporate Law - Background 1 (monochrome and sxc.hu/gallery/nellart) Background 2 (sxc.hu/gallery/ryencx)
Traditional Templates - BTemplate https://btemplates.com/2008/blogger-template-nice-law/demo/ and Entheos Templates
All screenshots courtesy of Ronda Roberts Levine