Advertising with Social Networks - Facebook Advertising vs LinkedIn Advertising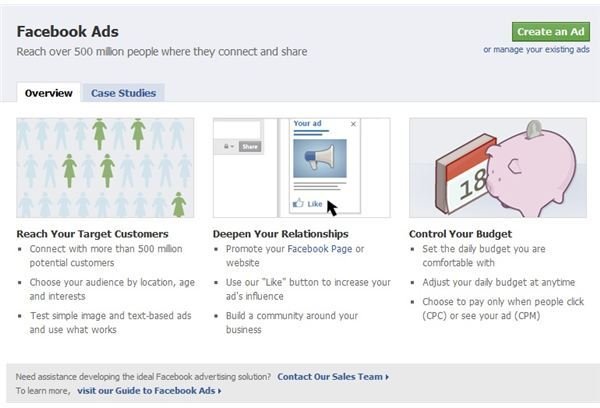 In Today's World…
Technology has been developed so much that nearly everything we use relies upon it. This is true with the emergence of the social network, websites that bring together friends, families, celebrities, etc from all around the world. Businesses are now finding social media as a beneficial tool for increasing their customer base, as well as building their brand name, by using the different advertising offered.
In the terms of advertisements, the social networks are each different and can of course bring about different types and rewards to using their campaigns. Here, we'll look at Facebook advertising vs LinkedIn advertising; how they each match up for a business, how to go about it, and which one is better.
Facebook Advertising
Facebook is currently the number one social network website, with over 500 billion users worldwide. For businesses,
Facebook now has the ability for them to sign up and even present their page in a more professional capacity than that of, say the regular users of the site.
Facebook advertising has started to follow a Google AdWords model, where sponsored links appear as highlighted ad within the site, however, these AdWords can be broken down by demographics of the company's clientele. Say a company wants to attract fans in the 25 to 40 age range and live in New York; this is based on the type of customers that a store or company has, such as those who walk in the door or the information provided if they are ordering products online.
This type of advertising is available for any member of the social network site and is relatively easy to set up and use. Interested companies just sign up for the ad, credit a daily budget, and the amount that is spent on the clicks that are received. Facebook even offers a guide that helps to explain how to set up your first ad - from the people you want to advertise towards to the differences in ad bidding.
Ad bidding comes in two different forms - that of click per person (CPC), where people click on an ad for something, usually a sale or special onetime deal and that of the click per impression (CPM), where a business wants to increase the exposure of their business, product, or awareness by placing ads. Currently, Facebook allows a business to set a median price that they will pay for users to click on their ads; the recommendation by Facebook is that of $1.25 per click.
This type of advertising is very customizable for the business, allowing them to set a price for the CPC or CPM. For most companies advertising a sale or that of a special event, the CPC option works well; for those businesses hoping to further their brand and keeping track of when it's shown, the CPM model is the best way to go.
Now that we've looked at what Facebook has to offer in terms of advertising, we'll next take a look at LinkedIn, the professional business social network and see what they have to offer.
LinkedIn Advertising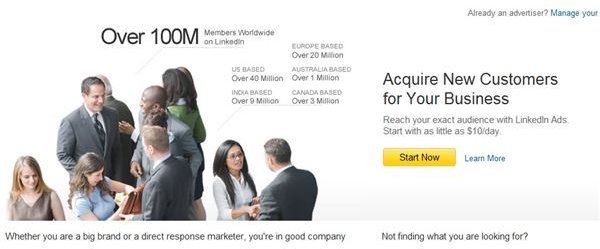 Built for the sole purpose of helping business professionals network with those in their fields, LinkedIn is often regarded as the social network for professionals, as the site caters to that of those invididuals or businesses that are looking to network with others, regardless of location. LinkedIn also has a way for businesses to advertise, called DirectAds, as well as the banner and media box ads that are featured on the site.
As with Facebook's advertising, LinkedIn also allows for businesses to chose what type of ad bid they'd like, either the CPC or CPM, as well as recommending which amount is the best to get better exposure. For most companies, the pay per click way of the DirectAds will probably be the better choice, as the banner and box are quite hefty in price (around $25,000). The banner and box ads, which are shown at the top and sides of a person's profile page, are a bit hefty ($25,000), but these could be considered the CPM method of getting the word out about a company or product.
While also allowing for customization, LinkedIn charges a onetime $5 sign up fee for the use of using their advertising model, as well as a 24 hour approval period before the ad will appear on the site.
Which One is Better?
Both social network sites are of course different, but you might be surprised to find out which one can bring about the most for your money. Both offer the opportunity for your company's ad to be shown on the various pages that people will frequent, such as their personal homepage, usually the profile page.
Both offer the ability for businesses to customize which groups of people can see their ads, based on location, gender, interests, age, etc.
The two main differences however are that of the price that a company pays and the exposure. Facebook is superior in this category, as the price that a company pays when someone clicks on their ad is much less than what you would pay using LinkedIn.
In LinkedIn's favor, however, the 24 hour approval period can ensure that only those serious ads are displayed on the website and thus, on a member's profile page. Facebook may have a screen that ensures that ads aren't too explicit, but there is no 24 hour approval period.
Then there is a matter of exposure - Facebook does have a better exposure for ads than that of LinkedIn, though for some users of the former social site, it is as issue of over exposure. In this case, a user may not see the ad or be using a means in which to block ads from showing.
In terms of the differences between CPC and CPM, it may do a business better in the long run by using Facebook, especially if offering different sales or that of a special event. The click per person option allows not only for fans of a business on Facebook to click on the ad or event, but to even RSVP to the event.
With the clicks per impression (usually a thousand), a business may want to go with LinkedIn, if just to be seen by other businesses and professionals. Because of the very purpose of LinkedIn, businesses may find that for exposure, even if on the pricey side, LinkedIn is the way to go.
References
Facebook Ads: https://www.facebook.com/advertising/?campaign_id=402047449186&placement=pf&extra_1=0
Holter, E. "NewFangled Web Developers - Facebook Advertising" https://www.newfangled.com/how_facebook_advertising_works
Bizcloud. "Essential Tips for Successful Facebook Marketing" https://bizcloudnetwork.com/2011/essential-tips-for-facebook-marketing-success/
Image content via author screenshots of Facebook and Linkedin