Can You Really Make Money Flipping Blogs? Find Out About Blog Flipping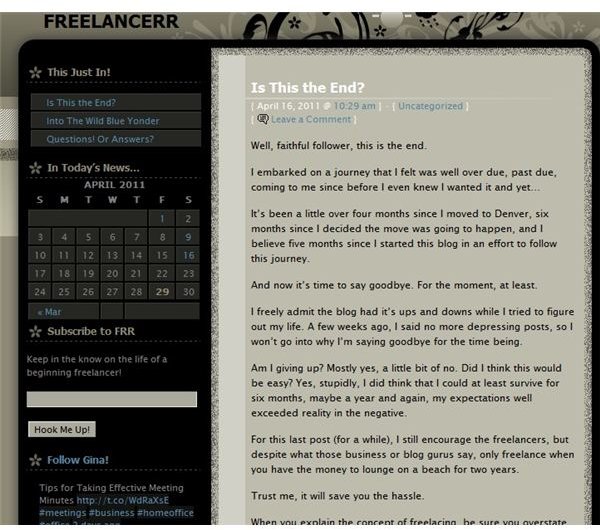 What Exactly is Blog Flipping?
The age of technology has given us many ways in which to get our thoughts, ideas, products, and other things out to the world at large. When websites became a big boom, so did a thing called a blog. A blog is a web log, a quick perspective of something or quick updates for a company's product. Usually a part of a website or used as a stand alone to promote an idea, blogs have become an essential part of being a business or even someone web savvy.
Many of these blogs can bring in a substantial amount of income to those that run it, however maintaining a blog can be a time consuming endeavor, especially if you are also maintaining a website or online business, along with real life. Should you just stop blogging? No! Flip it!
Like the idea of house flipping, blog flipping can be done to keep your blogging talents free, but can allow you to get the income you were looking for. In principle, of course; does this concept really work? Can you actually make money flipping blogs?
Can You Make Money Flipping Blogs?
The concept of blog flipping is similar to what we saw with the concept of house flipping - in house flipping, a individual buys a house,
fixes it up (in the case it is rundown), and then turns around and sells it, usually for a higher price than what they purchased it for. This of course allows for them to get a higher return on the value for the purchase of the house.
Blog flipping is a bit of the same - a person who is tired of writing their blog can essentially turn to an 'investor' to purchase the blog and thus make money on any revenue or ad stream that the blog had. In most cases, the idea of your blog and its message will stay intact and you, as the author, can receive up to two years of income without having to actually blog.
Can You Really Make Money?
The answer is, yes, usually. As with anything dealing with business, there are of course things that you need to know and prepare for in the event that you decide your blog is worthy of selling. There are of course things to keep in mind and tips to prepare -
Your Blog - obviously the money maker here is going to be your blog, so it's important that you consider how worthy the blog is. Long and interesting keywords, a clear focus, strong readership, and social media value are just some of the things that your blog must have in order to attract an investor.
The Investor - there are several websites where you can find someone interested in purchasing your blog (Craig's List, WebmasterTalk, Loot) and with anything, you should always have a dialogue with the investor before you just hand over your blog. As you give information about your blog, make sure to ask questions of the investor - what are their plans for your blog, will you be able to retain content rights, payment, etc.
Research - if the idea of making money flipping blogs sounds like a great idea, make sure that you do the research that is involved. Many people may find the idea of getting the income more fantasy than reality when money doesn't start rolling in from the word go. Also, don't just blindly jump in, expecting income.
Conclusion
The current trend of blog flipping can be an ease of burden and a money maker for those truly interested in doing it. As with any type of 'flipping', in which a buyer purchases something from a seller, there are ways to go about making sure that you get the best return on the value of what you're selling.
The potential for making money is there; however, it is the way a seller will go about selling that will ensure their blog is successfully flipped.
References
Rowse, Darren. "Tired of Promoting Your Blog? Flip It!", https://www.problogger.net/archives/2008/03/01/tired-of-promoting-your-blog-flip-it/
Image content via Freelancer R Blog, https://freelancerr.wordpress.com/