Designing a Questionnaire: Tips for Creating Web Questionnaires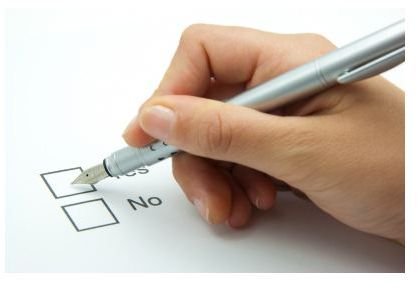 Do you know someone who loves filling out questionnaires? Few people do. Participation in surveys is entirely voluntarily. This is the main reason that gets designers inspired to create simple, intuitive and easy to complete questionnaires. Designing a questionnaire involves several basic steps and though creativity is a must, the key steps need to be followed.
Questionnaires should focus on simplicity and brevity. If the survey is too long or the questions seem to be too convoluted, people will be more unwilling to lose time working on the questionnaire.
These are the basics of designing a questionnaire. The tips focus on the most important steps and the best ways to implement those.
Simplicity and Clarity
Simplicity and clarity are often underestimated. Designs seem to be fancier and flashier when they contain many visuals and complex ornaments. When it comes to questionnaires, less is always more.
The design, as well as the questions has to be simple and easy to read. If readers have to struggle through large chunks of text, they will probably give up. The same applies to decorative fonts and bright colors that decrease readability.
White space will make the questionnaire look less obtrusive and more orderly. All unnecessary elements should be taken out.
Length of Questions and Answers
The manners in which questions and answers are written is another part of the design. Paragraphs and long words are difficult to read. On top of that, large quantities of text appear threatening.
Use short questions and even shorter answers. Substitute complex words for their simpler synonyms. A simpler way to formulate a thought exists every time.
Double spaces and bullets will make the design tidier. Use such elements to guide the direction of readers, to inform them where a question starts and how many answers it has.
Colors and Buttons
Remember that the primary function of questionnaire design is readability. Creativity and originality play a secondary role.
Fancy and bold colors will probably make their presence somewhere else. Shades can be used to solely direct the attention of readers and to hint about the most important aspects of the questionnaire.
The same applies to buttons and bullets. Keep those small and user-friendly. Bullets should be there to make the survey more organized rather than prettier. It is all about function rather than about creativity.
Fonts and Text Formatting
The selection of appropriate fonts will further facilitate the experience of individuals who are participating in the survey.
Keep decorative, italic and gothic fonts out of the questionnaire. If it is to be filled online, select sans-serif letters that are visible enough and legible enough. For printed surveys, it may be wiser to select on serif fonts.
Text formatting is also functional. Naturally, you need double spaces between questions, question numbers and pointers that direct participants from one part of the questionnaire to the next one.
How Many Questions, How Many Answers?
If you need to get five crucial questions answered, refrain from including 10 in the survey just to make it more impressive.
People have little time to dedicate to your survey. Respect the ones who are participating and offering help. The fewer questions you ask, the better. Think about the issues that interest you and focus solely on those.
The same applies to the answers. Refrain from including more than four or five options. In case you must include a question that features more options, design a drop-down menu. It looks more orderly and it will decrease the overall length of the survey.
Designing a questionnaire is relatively simple. Think about navigability and ease of use. Test it yourself and see how long it takes to get all questions answered. If you feel that the questionnaire is easy to complete, most participants will probably think the same.
Image source: freedigitalphotos.net, Author: Jeroen van Oostrom