Online Tools & Services for Creating a Questionnaire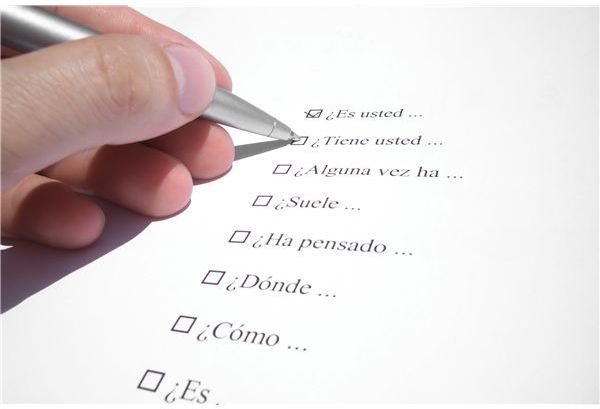 Why Would You Create a Questionnaire?
At some point in time, you've probably completed a questionnaire for someone or some company. Questionnaires can be helpful in regards to helping a person or a company understand what people are thinking or feeling on a particular subject. For instance, perhaps your business is considering making a new product and they want to know what the customers would think or like about it.
The growth of the Internet and technology have made not only giving questionnaires easy, but being about to create them as well. Not only can you do so within the confines of a computer program, but some online websites allow for creation of them as well.
Here, we'll look at creating a questionnaire, either offline or online.
What's In A Questionnaire?
What exactly is a questionnaire? Is it a survey? Questionnaires are in the same portion of surveys, in that they are question based
documents in which a user is asked to answer some general questions. Questionnaires might be a bit easier than that of a survey - most surveys will have some sort personal interaction, like a verbal survey done over the phone or where a person is asking the question to the user; questionnaires usually don't have to have the question taker involved.
Questionnaires will usually have some set of questions with a variety of different answers that a person can chose. For instance, a quesitonnaire might ask what political affliation the taker is with and the selection could include Democrat, Republican, independent, or No political affliation. The questionnaire could then expand on this, asking why a person is that affliation or not.
With the rise in the way we use technology, these distinctions may blurred together, as both of these types can be done through Internet based means. What does this mean for you or your company? It means that instead of sending out a bunch of employees to conduct a questionnaire, you can build our very own questionnaire on your company's website or have it go to a site that does questionnaires.
Creating a Questionnaire - Online
So how does one go about creating a questionnaire? Well that really all depends on how you would like to create it - do you want to use a website for the creation or do you want to create it yourself? There are several online websites that will create questionnaires for you, as well as those that allow for you to create your own.
One website is that of Survey Monkey, which offers professional survey and questionnaire software to build your own questions. Their packages range from free to that of a platinum membership of $64.95 per month for unlimited questions and responses. There is also the site Free Online Survey, which is similar to that of Survey Monkey, with a limited free account and then an Extra account. Their extra account is actually very appealing, with $19.95 a month and a $9.95 for students and academia personnel.
The choice between making free questionnaires versus paying all depends on what you plan on doing with your questionnaire - will it be an extensive document or one to a handful of people? Do you expect a small or large response from takers? There is certainly nothing that says you try the free version and then discover you will need to upgrade.
Creating a Questionnaire - Offline
Mentioned above are two websites that you can find for creating a questionnaire online, but what if you want to control everything, including the background of the questionnaire? In this situation, creating your own questionnaire to appear on say your company's website does take web form and HTML knowledge, but it is an easy enough task to perform.
You can use your choice of design creator, whether it be Adobe Dreamweaver or that of Microsoft's Front Page, website editors can give you the option you need to create a web form. You can even create a questionnaire within Microsoft Word or a spreadsheet and then make a link to it, so that it will show up from within your website.
Conclusion
There are many ways in which creating a questionnaire can help you achieve the information that you or your company require. Creating a questionnaire can now be done either websites that work with creating a questionnaire for someone, to making your own and then linking or uploading it to the website of your choice.
References
Survey Monkey, https://www.surveymonkey.com/
Free Online Surveys,https://hubstudio.brighthub.com/tools/freeonlinesurveys.com
Image content via Morgue File, https://mrg.bz/VIlL35