How Does LinkedIn Work? A Brief Overview of the Business Network

Introduction - Not What You Think
It may surprise you to learn that the very aspect of social networking didn't start or even begin with popular sites of MySpace and Facebook. In fact, social networking started in the late 1990's with websites cropping up for use with the continued growth of the Internet, for getting people to connect with their friends and family.
In 2003, the website of LinkedIn went about changing that. While social networking and its websites are still thought of as a magnet for the teen or college crowd, LinkedIn is one of the few popular social business network sites, completely catered to making connections with former or current co-workers, as well as making connections with new businesses and companies.
But how does LinkedIn work? Who is able to sign up with LinkedIn? How do you actually use it?
What is LinkedIn?
As mentioned earlier, LinkedIn began in 2003 as a social network site for business professional. The difference between LinkedIn and
say, Facebook, is the very fact that this website is primarily a website for the business professional, ages 25-65, who is looking to connect with other business professionals, either for the purpose of looking for a job, postings for employees, or even the prospect of working with others.
LinkedIn currently has about 90 million users, as of January 2011, with over 200 countries with profile and company listings, offered in several languages including English, Spanish, German, and French.
How Does LinkedIn Work?
Much like the typical social network sites, LinkedIn is based on users who know and trust others that they do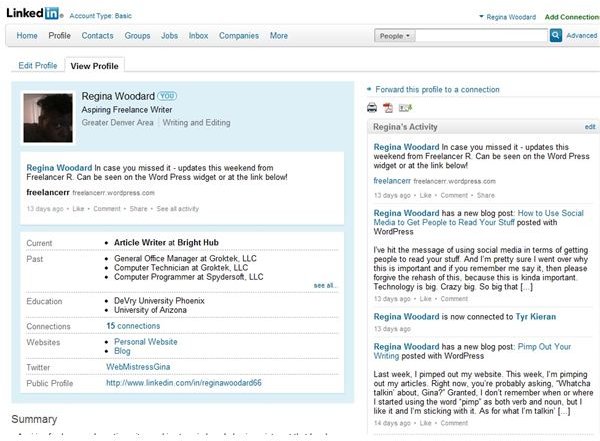 business with. These include current co-workers, past employees that you may know, companies that you've worked for, and of course others who might be in your same industry.
The first step is to of course sign up and create a professional profile. This profile will have your real name, your past experience, your current location, and contact information. It is recommended that you include your resume, as well as any type of portfolio that shows off the work you have done, such as articles (if a writer or editor), graphic design work (for graphic/web designers), any websites or blog that you update regularly, etc. This allows for not only people that know you, but those that would like to add to see what interests and qualifications you have. These are called your connections.
Along with this, you can also have the opportunity to join groups - groups that are based on interests that you have or would like to learn more about. For instance, as a freelane writer you might want to join several writing, freelancing, or freelance writing groups. These groups are laid out a bit like message boards or forums, with members posting or starting a topic and others commenting on them.
Should I Sign Up for LinkedIn?
You know a little more about it and how it works, but should you sign up for it? That depends on the individual. Certainly, if you are in a business or a business professional, having a LinkedIn profile is a must have these days, so that you can connect with other professionals, which could lead to new and more business ideas and deals. Having a link to your profile on say your resume or portfolio can make a good impression on potential employers, as they can see at a glance where you've worked and the things you've done.
Overall, LinkedIn is the networking site for the business person. The site is truly for those either in business, looking for a business, or with a business, in the hopes of connecting with others and of course, spreading the word of their own company. How does LinkedIn work is an important question to ask before randomly signing up for a profile; as with the other sites, it goes a long way to keep your profile up to date and having a presence on the website.
References
LinkedIn, https://www.linkedin.com
The History of Social Networking, https://www.digitaltrends.com/features/the-history-of-social-networking/
How LinkedIn Broke Through, https://www.businessweek.com/technology/content/apr2006/tc20060410_185842.htm
Image content via author profile on LinkedIn, https://www.linkedin.com/in/reginawoodard66