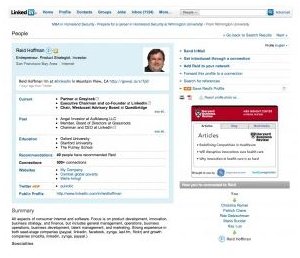 Out of all the ways to improve your LinkedIn profile, the single most important way is to try to get your profile to 100% completion. You can do this obviously by filling out every possible area of your profile. This however does not mean you have a good profile and therefore I will explain a few things you can consider to help improve it.
Photo
Don't just use any photo from your Computer but get a professional photo that is of high quality. By this I mean a photo that shows you clearly, is in focus and the content within the photo will not be of an embarrassment to you now or in future. Photos also give a degree of personalization and lets people that can barely remember you have a visual point of reference seeing in most cases it is easier for people to remember a face rather than a name.
Completing Basic Information
Fill in your real and full names as this is the beginning of your credibility and identity. Avoid using nicknames on your LinkedIn profile. You can also keep your profile fresh by posting status updates on anything that may be termed as useful information. The can be breaking news, event information, AN announcement that you have traveled overseas and so on. It is also best to provide your current and previous jobs titles and descriptions of what your duties were. Include the company name as well and the years in which you worked there. It is also important to include the schools you went to while including the degree and fields of study you took. Also do not forget to add any activities and societies you were in.
Other Information
Get your past and present workmates friends and family to recommend you for your work done at various companies, volunteer work or even your local church or prayer house. You can also add links to your personal or professional websites and RSS feeds. If you have any certifications, awards, achievements, you own any patents, have published any books, magazines, movies or any material, it will be a great boost to your LinkedIn profile to include all this information with information on how users can get copies of these media publications. Be sure to also include any specialties focus on, languages spoken and skills you have.
LinkedIn Applications
LinkedIn has a list of applications that you can add to your profile to improve it. These apps can be used to manage and share items such as your creative visual portfolio. There are also options for sharing your reading list which can also double as a wish-list. If you have WordPress blog you can also publish your blog articles on your LinkedIn profile. You can also take advantage of an application that lets you take and analyze surveys within your network. There are numerous applications with different roles that you can add to your profile. Only you can determine which applications suite you best. You can check out this article on Facebook apps to get a better idea of this concept.
LinkedIn Groups
LinkedIn Groups are a great way to network, share and discuss information with other like minded professionals. These allow you to take a breather from your regular network members and spend quality time on focus areas of interest. With LinkedIn Groups on your profile you can get insider information on jobs, events, product releases and many more by just joining or creating a group.
These are the most important ways on how to improve your Linkedin profile and to make it work for you.
References
LinkedIn Learning, https://learn.linkedin.com/
Image Credit: LinkedIn, https://LinkedIn.com