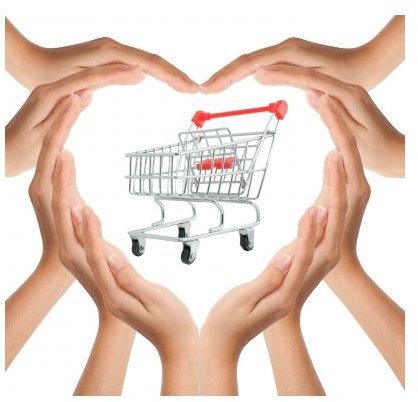 E-commerce With Ease
Over 875 million consumers have shopped online since 2008, buying everything from flowers to electronics to caskets. E-commerce buyers want a glitch-free and easy ordering process. It's annoying to have to search for a telephone number or a buy button when you've visited a site and decided to make a purchase. Glitch-pegged sites or ones that make buying difficult are the equivalent of being forced to go to the back of the line in a brick and mortar shop. ASP shopping carts streamline the online shopping experience. A review of Comersus, Expresslane and VP- ASP covers what shopping carts offer e-merchants.
Shopping Carts Make E-Commerce Easy
Comersus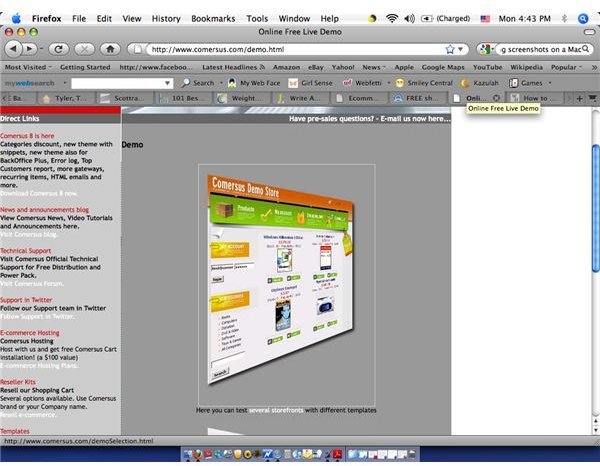 Free Shopping Cart from Comersus
Comersus shopping carts have been exclusively dedicated to e-commerce for over 10 years. The free, downloadable shopping cart allows businesses to sell unlimited products and allows merchants to run credit cards offline. The free version does not include Google Checkout, Sales Forecasting or Sell Stream Video–all features available with their paid software. You can go to the Comersus website to fill out a short form asking for your name, e-mail and country. After filling out the form, Comersus will send you a link to download the free version of their shopping cart.
ASP Shopping Cart From WMS Merchant Services–Expresslane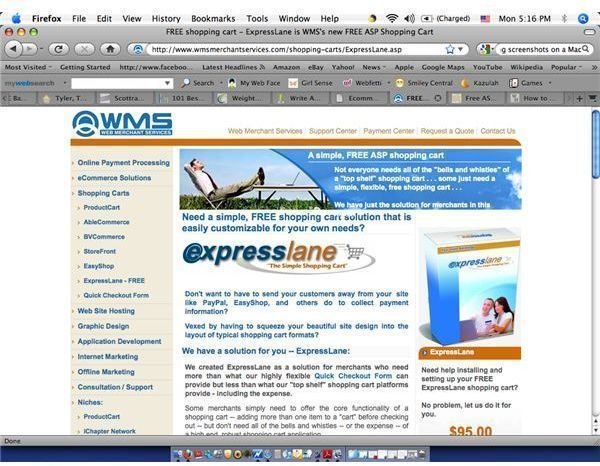 Free Expresslane ASP Shopping Cart
WMS, Web Merchant Services offers a free ASP shopping cart known as Expresslane. If you don't enjoy sending your customers away from your site to connect to sites like Paypal and Easyshop to purchase your wares, Expresslane can be integrated into any website. Your customers can fill out a Quick Checkout Form. Expresslane is built to be highly flexible and customizable. It has a quick two-step checkout allowing e-merchants to cut down on abandoned shopping carts and improve their conversion rates. You can download the free version of Expresslane by visiting wms.merchantservices.com.
VP-ASP Shopping Cart Demo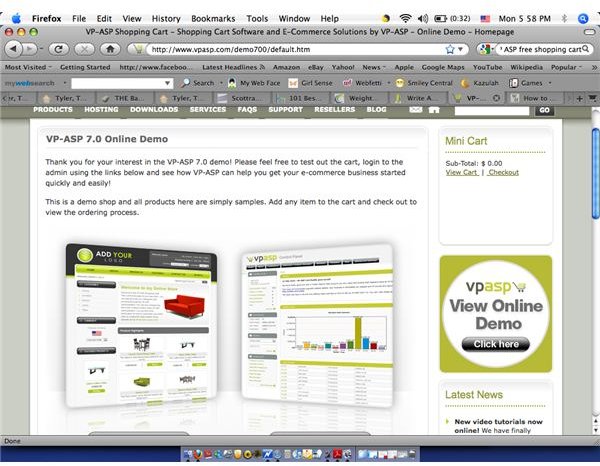 Free ASP Shopping Cart Demo
VP-ASP shopping carts can be used by small as well as large e-commerce businesses. VP-ASP offers a free demo of their software. It offers offline credit card processing and merchants can process any type of currency. VP-ASP integrates into any website and has a Set-Up Wizard for easy start-up. It also offers free upgrades for one year. You can download a free demonstration at vpasp.com.
Shopping Carts Create Buyer-Friendly Sites
While consumers were once wary about typing their credit card information into cyberspace, many now rely on the ease of shopping for what they want, whenever they want as quickly or as leisurely as they want. Starting with a free ASP shopping cart or reviewing a free demo allows you to discover what applications work best for your business. Utilize the help desk of the software you choose and evaluate their response time and helpfulness. The right shopping cart will help make your e-commerce shopper's experience fast, easy and reliable.
References
Nutdanai Apikhomboonwaroot, https://www.freedigitalphotos.net/images/Retail_and_Sales_g195-Love_Shopping_p29308.html
Achille, Sante, World Statistics on the Number of Internet Shoppers, https://www.multilingual-search.com/world-statistics-on-the-number-of-internet-shoppers/28/01/2008/
WMS, https://www.wmsmerchantservices.com/shopping-carts/ExpressLane.asp; screenshot provided by writer
Comersus, https://www.comersus.com/; screenshot provided by writer
VP ASP, https://www.vpasp.com/demo700/default.htm; screenshot provided by writer