Top 5 Free FTP Programs: A Comparison of the Best FTP Freeware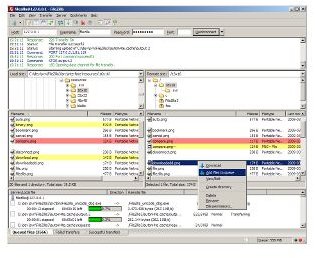 Overview of FTP Programs
A website comprises of many web pages, images, script files, etc. They are maintained in one or more directories on a web server. These files are uploaded directly to server which is not always the case. In cases when files cannot be uploaded directly to the web server, FTP programs are used to remotely upload the files to the web server by using remote connections.
FTP stands for File Transfer Protocol. Just like Hypertext Transfer Protocol (HTTP) and several other protocols used on the Internet, File Transfer Protocol (FTP) is used to transfer files from a machine to a web server using a FTP program. Let us proceed to review some of the popular free FTP programs.
FileZilla FTP (5 out of 5)
FileZilla is a really robust free FTP program and probably the best FTP program available. Not only is it available for all the major operating systems, making it cross platform compatible, it is also available in various languages. IPv6 support and the ability to transfer files of sizes more than 4 GB (in one go) makes FileZilla one of the best FTP programs available. Controlling multiple directories and their contents on the server using the drag and drop option available on FileZilla makes you feel like you are sorting files on your PC.
Support for FTP, FTPS (FTP over SSL - Secure Socket Layer), SSH FTP, make sure that your files are transferred securely over the network.
Latest Version: 3.3.5.1
License: GNU General Public License.
Platforms: Windows XP, Windows Vista, Windows 7, Linux, Mac OSX
FireFTP (4 out of 5)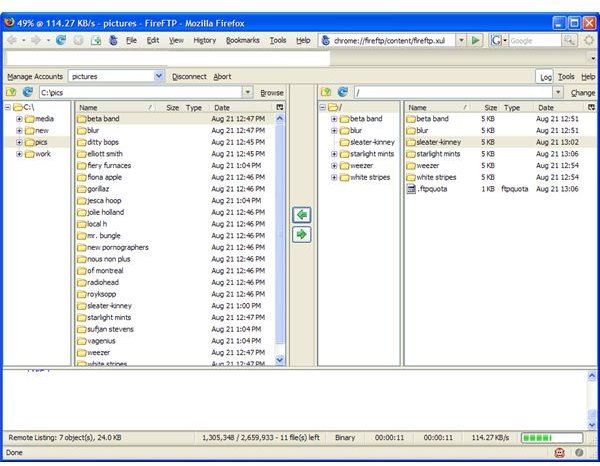 FireFTP has been downloaded more than 18 million times, making it one of the most downloaded free FTP programs ever. Its seamless integration with Firefox (currently supports Firefox 3.x) lets you keep your files in sync with the web server. FireFTP supports Mode Z file compression and IPv6. Managing files on the server is very easy using FireFTP as the user interface is very simple and has all the frequently used options right where you want them to be.
Latest Version: 1.0.10
Platforms: Windows XP, Windows Vista, Windows 7, Linux, Mac OSX
Image Credit: FireFTP
CrossFTP (4 out of 5)
CrossFTP has won the "Best File Transfer Software 2009" award among many other laurels. In addition to the basic features a FTP program should be having, CrossFTP provides support for Amazon S3 services. The turbo engine that comes with CrossFTP claims that it provides you with 40 times multi-threaded engine that lets you perform operations faster than many other FTP programs out there. One unique feature that CrossFTP offers is FXP site to site transfer. This feature lets you transfer files from one web server to another web server without downloading those files to the local machine. Thus, the work is done in half the time and in an efficient way.
Latest Version: 1.75a
Platforms: Windows XP, Windows Vista, Windows 7, Linux, Mac OSX
GoFTP (4 out of 5)
GoFTP comes in both paid and free versions. The free version is fully functional but adds advertisements on web pages. GoFTP, on its official website, claims that it is 314% faster than other multi-threaded FTP programs out there. GoFTP uses innovative technology for such high speed connections and claims "instant" connection to the server.
GoFTP is not only fast, it can resume uploads/downloads, which is the best feature of this FTP program. One more great feature of GoFTP is its ability to integrate with your favorite HTML editor. Thus you can code, upload and see how your website is when it goes live, all simultaneously as GoFTP is fast with its instant connection.
Latest Version: 2.1
Platforms: Windows OS.
cURL (3 out of 5)
cURL is entirely a command-line program. It supports multiple data transfer protocols like FTP, FTPS, GOPHER, IMAP, IMAPS, HTTP, HTTPS, etc. Since it is a command-line program, it is very robust but not widely used because it takes a lot of time for a person to learn how to work on cURL and therefore only organizations that have been using cURL for a long time will continue using cURL. Nevertheless the ability of cURL to support almost any operating system out there is something that no other free FTP program offers.
Latest Version: 7.21.4
Platforms: Windows XP, Windows Vista, Windows 7, Linux, Mac OSX and several other platforms.
References
1. FileZilla
2. FireFTP
3. CrossFTP
4. GoFTP
5. cURL