Top 10 Recipe Widgets for Blogs and Homepages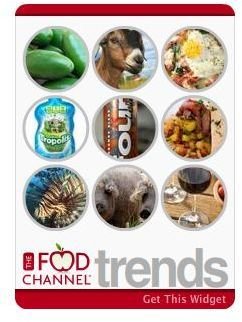 What is a Recipe Widget?
Thanks to the popularity of food-based websites, more and more people are engaging in home cooking. It might seem to many that there is only one way to crack an egg, but the real magic is in what you do with the egg once it is cracked – and that is the beauty of the current food renaissance that is taking the western world by storm.
Many food-based websites provide recipes that you can print out and have a go at cooking up yourself and the popularity of such sites has led them to provide recipe widgets for inclusion on blogs and personal pages of their readers. If you want to add one of these widgets to your site, here are ten great ones from which to choose.
Top Recipe Widgets for Websites and Blogs
There are so many good widgets available for use on personal blogs, provided by popular websites, food manufacturers and even celebrity chefs.
Note that for various reasons the majority of recipe widgets are not promoted by the sites that provide them, which means that some of the following widgets can be found at the same websites.
**
Fresh Trends – From The Food Channel comes this selection (pictured, right) of recipes described as "too tasty not to share." These recipes are the newest and most popular meals that The Food Channel expect to make an impact, and you can find code for this at www.foodchannel.com/articles/article/widgets
Kraft Recipe Assistant – Food manufacturers like Kraft are keen on widgets, realizing how promoting recipes featuring their products can enhance their image and encourage online evangelism. The Kraft Recipe Assistant – available from www.kraftrecipes.com/media/recipewidget.aspx - provides searchable access to their recipe database and a recipe of the day for helping out with dinner!
Family Recipe of the Day – Available from widgets.kaboose.com, this widget provides a daily selection of top recipes from www.kaboose.com's selection main courses, snacks and desserts.
Recipe of the Day – The title of this one is somewhat misleading, as you don't get one recipe of the day, but three! This useful widget provides recipes in different categories so you will be hard pushed to not find something useful. Get it from www.widgetbox.com/widget/recipe-of-the-day.
Meijer MealBox – The Mealbox widget brings the whole cookery and shopping experience into one easy to use widget, offering both recipes and a shopping list along with a search facility to find recipes that match the ingredients you already have. Get your free widget from www.widgetbox.com/widget/mealbox.
Food Wishes Video Recipes – Possibly the finest collection of video recipes available online, this widget (www.widgetbox.com/widget/food-wishes-video-recipes) provides a daily list of top ideas and then shows you how to make them.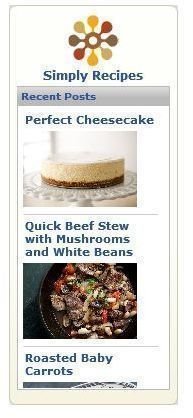 Simply Recipes – Forget supermarkets and corporate interests, Simply Recipes just wants you to eat healthy and wholesome food and with this widget (available from www.widgetbox.com/widget/simply-recipes-food-and-cooking-blog-widget, and pictured, right) they provide easy to use, step-by-step illustrated guides to making wonderful food.
Food Recipes & Calorie Counter Widget – Again focusing more on healthy eating, this widget (www.widgetbox.com/widget/food-recipe-widget-calorie-counter-widget) features 2500 chef-created recipes, all healthy and all with nutritional details listed!
BBQ Recipes and More – If the weather is right and you've got people you want to entertain, this widget provides a great selection of outdoor food options. Find it at www.widgetbox.com/widget/steak-and-other-great-recipes.
Chow Recipe of the Day – Finally, the Chow.com widget (www.widgetbox.com/widget/recipes-from-chowcom) offers a great daily selection of recipes form the popular food site. Even if you don't try the widget, there are plenty of great ideas and thoughts at Chow.com.
Finding and Installing Recipe Widgets
If none of the above appeal to you, then you should check out some of the main widget directories available online. Probably the most popular is www.widgetbox.com, where you can find widgets for a variety of purposes. The search function should allow you to find more specific recipes widgets, such as those only displaying BBQ ideas or cocktail drinks.
Any of these widgets can be installed on your website by copying the provided code and pasting it into a HTML page or template. Positioning of the widget will require you to wrap the code in tags, with either an ID given for reference in a CSS file or an HTML alignment command.
If you're using blog software, you will need to add the code for the widget into a particular space, commonly a configurable plain text element in the sidebar.This is usually straightforward and easy to do, and you should be able to preview how it looks before applying the change.
See How To Create A Free Widget For Your Blogger or WordPress Blog for more detail on how to do this.