Add Recipe Widgets to Your Site With These Easy-to-Use Options: No Coding Required!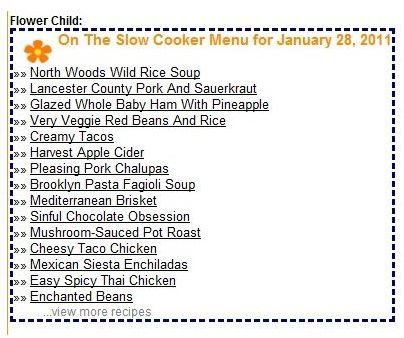 Recipe widgets can add a great flavor to your website and keep your visitors frequenting your site. Most recipe widgets are in HTML or JavasSript format, but no coding experience is needed to use them. The first step is to search for a recipe widget that suits your preferences, and then follow the simple procedure to add the widget to your site.
Resources for Free Recipe Widgets
Widgets are portable applications and code snippets that make it easy to add features to a website or blog. They add functionality and aesthetic value to your site, and may help increase repeat visitor counts. Many company websites offer recipe widgets for free download. You can find various kinds of recipe widgets including holiday recipes, 20 minute recipes, and even recipe widgets tailored for people with specific dietary restrictions.
There is a plethora of free recipe widgets to choose from:
CDKitchen Recipe Widget – You can quickly select your preferences for a CDKitchen recipe widget on their site, where you can choose from categories such as general, crock pot, chocolate recipes, kids' recipes, holiday recipes. You can even grab a widget designed to show cooking tips or cooking glossary terms. CDKitchen, which updates the widgets hourly, offers five visual styles to choose from.
Food Channel Recipe Widget - The Food Channel offers bright, colorful recipe widgets, as well food trend widgets. Although not customizable, the recipe widget comes in two sizes, and includes eight or nine colorful meal pictures in a short amount of space. Visitors will be attracted to the colors and the authority of the Food Channel recipes.
South Beach Diet Recipe Widget – Dieting recipe widgets are available as well, such as the South Beach recipe widget. Updated daily, the three-tabbed widget offers a recipe with photo, diet and healthy living tips, and a offer for a free diet profile.
Project Foodie Recipe Widget – Project Foodie offers a unique recipe widget that contains a recipe search box. There, your visitors can type in a keyword to search Project Foodie's database of recipes collected from books, newspapers, magazines, and television.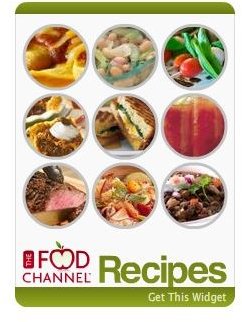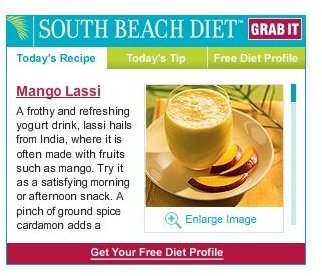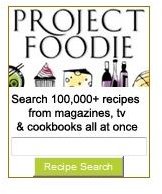 Add a Recipe Widget to Your Site
When you come across a great recipe widget you think will complement your website, first customize it on the provider's site, if that option is available.
Next, simply highlight and copy the widget code provided, and paste into the section of your website that suits your site's design. Unless the widget is a major focal point of your website, you might consider putting it in a sidebar. While a recipe widget serves as a helpful resource for your readers and improves the value of your site, you don't want to place too much emphasis on resources that will cause readers to prematurely click away from your site.