Fantastic Non-Blog Wordpress Themes Reviewed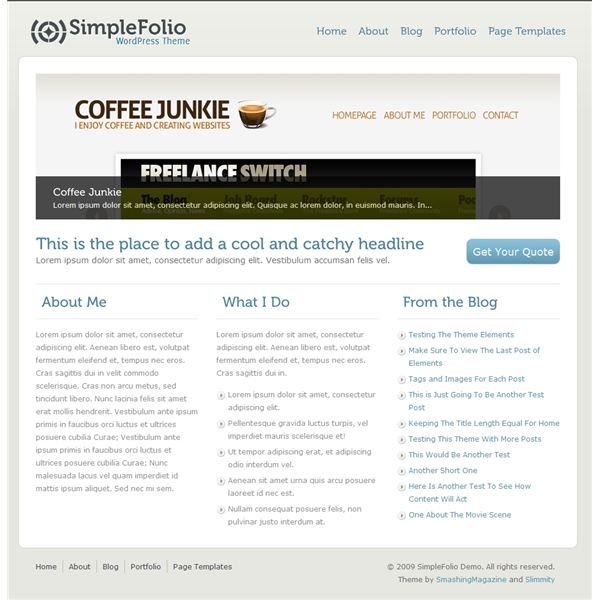 Introduction
Although originally designed as a blog platform, WordPress has become a true content management system, extending its functionality far beyond the blog. As a result, web designers and developers started developing non blog WordPress themes. These themes, as the name suggests, are aimed primarily for non-blog purposes, and although they do have a blog module, they are designed primarily for portfolios and business websites.
More specifically, they are designed for websites whose content is changed occasionally, or whose blog section is less important than the section which describes services and products. If searching for a high-quality non blog WordPress theme, you have come to the right place. Non blog WordPress themes described within this article are chosen from among hundreds available on the Internet.
SimpleFolio
The SimpleFolio WordPress theme is created by web designer and developer Omar Corrales. Originally created for Smashing Magazine and its readers, this theme features a big attractive slider on the main page, CSS-based layout, widgets and accustom admin panel. It is XHTML 1.0 Transitional valid and tested all the major browsers. Since this theme is released with a GPL (General Public License), it can be freely modified and used for any type of project at no cost.
SimpleFolio can be tested at https://demo.slimmity.com/simplefolio/ and downloaded here: https://www.slimmity.com/download/SimpleFolio-v1.5.zip.
Aurelius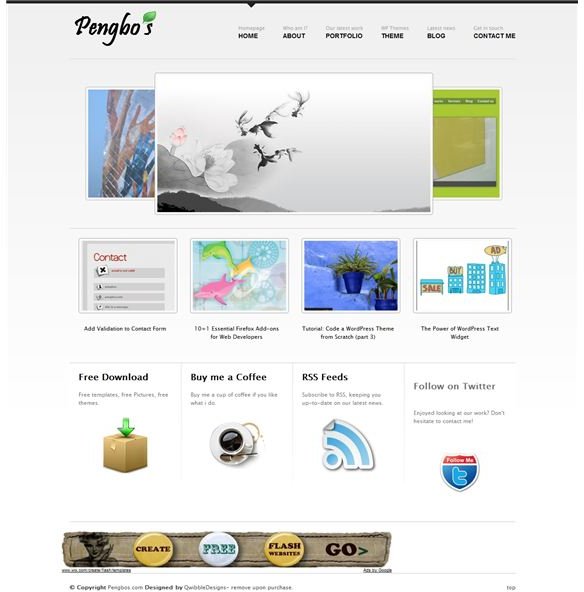 Another free WordPress theme is Aurelius, created by Matthew Corner. Highly customizable, Aurelius is suitable for both business and blog purposes. It features an easy and clean installation, jQuery image slider, custom fields, built-in contact form, theme options panel, and it is SEO friendly and compatible with all the major browsers and the latest WordPress versions.
Aurelius can be tested at https://pengbos.com/ and downloaded here: https://pengbos.com/?download=Aurelius-v0.2.zip.
Mansion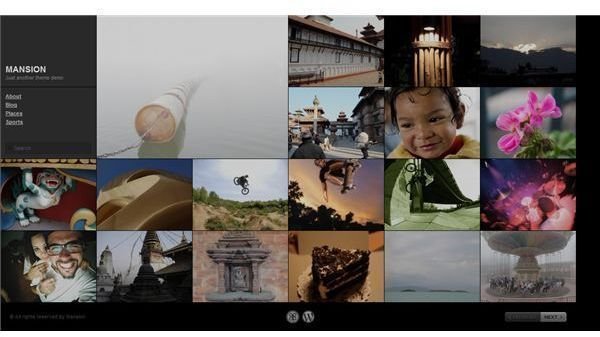 If you are interested in photography and are searching for a quality photo WordPress theme, Mansion might be a solution. The Mansion theme features a flexible-width thumbnail grid which supports both images and photo journal entries. Furthermore, it supports widgets, it has a built-in thumbnail editor (it allows uploading and cropping of the images) and it has a menu customization feature included.
In order to download the theme, it is required to sign up for a free membership account, which is something that can be performed at https://graphpaperpress.com/members/signup.php, while the theme demo is available here: https://demo.graphpaperpress.com/mansion/.
Fotofolio Landscape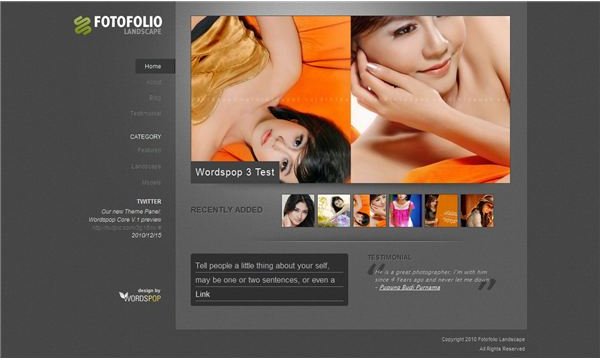 Another non blog WordPress theme suitable mainly for photographers, it features auto image resizing, theme widgets and a special theme panel portfolio. Fotofolio Landscape theme also includes portfolio, blog, testimonial, and slideshow templates. Finally, it also supports languages, shortcodes, SEO and comes with extensive documentation.
Fotofolio Landscape is available here: https://wordspop.com/wp-content/plugins/download-monitor/download.php?id=1, while the theme can be tested and previewed here: https://demo.wordspop.com/fotofolio-landscape/.
Kelontong
Kelontong is a fantastic WordPress e-Commerce theme, featuring a clean layout, integrated WP e-commerce WordPress module, JavaScript slideshow, while the theme is coded in 960.gs framework. Furthermore, it supports horizontal and vertical layouts, featured products, CAPTCHA-secured contact form, registration plugin, product search, widgets and the theme is CSS and XHTML valid. Therefore, if starting your online store, this is definitely a solution you might want to consider.
Kelontong theme can be directly downloaded here: https://portfolio.icreativelabs.com/wp-content/plugins/download-monitor/download.php?id=Kelontong+Freebie, while it can be seen in action on the following link: https://demo.icreativelabs.com/kelontong_free/.