Top 5 WordPress CAPTCHA Plugins Reviewed: Find the Perfect Plugin to Stop Spam on Your WordPress Blog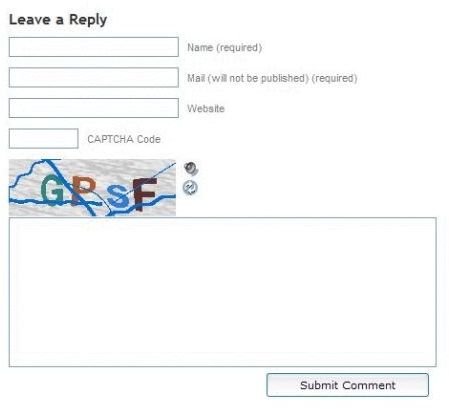 Introduction
CAPTCHA (Completely Automated Public Turing test to tell Computers and Humans Apart) is a frequently used method that can prevent spammers and bots from posting comment and e-mail spam. Most end users are not aware of the term, although they may use some sort of CAPTCHA while submitting comments or sending e-mail messages through various forms. This article deals with the most popular WordPress CAPTCHA plugins that protect sites from spammers on WordPress based blogs.
SI CAPTCHA Anti-Spam
According to the number of downloads on the official WordPress plugin website, SI CAPTCHA Anti-Spam is the most popular CAPTCHA solution. This solution can be implemented on comment, registration and login forms. It uses standard images where users must type the code which shows up on an image. SI CAPTCHA Anti-Spam features an admin panel, valid HTML code, allows both trackbacks and pingbacks and supports translations. If visitors are unable to read what's on an image, they can reload it.
SI CAPTCHA Anti-Spam supports WordPress standalone, MU and BuddyPress versions, and is available at https://wordpress.org/extend/plugins/si-captcha-for-wordpress/.
Really Simple CAPTCHA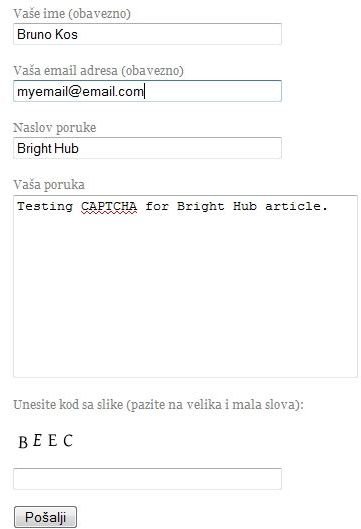 If you're using the Contact Form 7 plugin, you should definitely install the Really Simple CAPTCHA plugin which is specifically created for this contact form management WordPress plugin. Because of this, it cannot work as a standalone CAPTCHA plugin, but must be combined with some other plugins instead. As the name suggests, the implementation of this plugin is simple, but an author also put a note on the official plugin website that it is not "strongly secure." While imperfect, it provides very good protection.
Really Simple CAPTCHA can be downloaded at https://wordpress.org/extend/plugins/really-simple-captcha/.
WP Captcha-Free
WP Captcha-Free is a very interesting solution, automatically blocking comment spam. Actually, it does not use a CAPTCHA method, but stops spammers effectively using its own system. For blocking purposes, it uses several different parameters (such as validation of a hash based on time) and uses AJAX once the form is posted. If bots are trying to post, they will have an expired hash (or no hash at all) and as a result, their comments will be rejected. Since it uses AJAX technology, it is compatible with most plugins. It is also convenient that humans will not have to fill additional fields that other CAPTCHA solutions have.
WP Captcha-Free can be downloaded at https://wordpress.org/extend/plugins/wp-captcha-free/.
WP-reCAPTCHA
This plug-in provides comment, registration and e-mail protection against spammers and bots. Furthermore, this plugin uses combinations of different words, distorts them and eventually creates a CAPTCHA image. It is very interesting that by solving CAPTCHA tasks created by this plugin, a visitor is helping in the process of digitizing of books. The quality of this solution is proven by the fact that it is used by Facebook, Twitter, some U.S. government websites, etc.
In order to download this plugin and to find out how is it connected with digitizing books, visit the following link: https://wordpress.org/extend/plugins/wp-recaptcha/.
Ajax Fancy CAPTCHA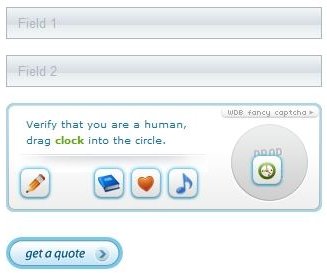 Definitely a most interesting (and attractive) solution among WordPress CAPTCHA plugins, Ajax Fancy CAPTCHA is different from traditional CAPTCHA solutions. Although it offers a medium protection, it is mainly designed to be highly attractive and interesting for the end user. In this solution, users don't have to type anything, but they have to drag a correct image into the corresponding box on the plugin interface.
Ajax Fancy CAPTCHA and the downloaded and tested here: https://www.webdesignbeach.com/beachbar/wordpress-plugin-ajax-fancy-captcha.