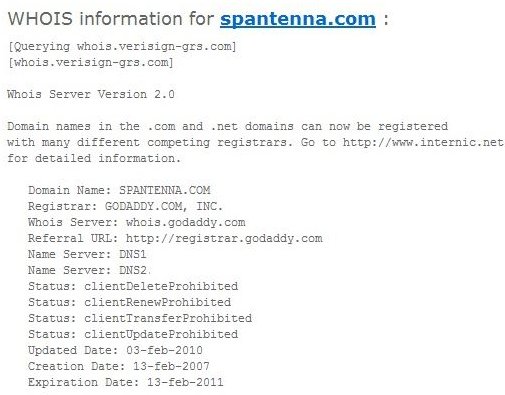 In the digital age, just about everyone has a website in some form or another, whether for business or personal, people use their website for personal expression about who they are, what they do, and what their business is about. For many, the purchase of a domain name helps to not only get them online, but established with an interesting and unique name that people will remember.
With all the work and money that may go into setting up and maintaining a website, being able to chose the domain name is something special and shouldn't be taken lightly. After all, you own it, right? Not necessarily. In this article, learn who owns domain names and you may be surprised to discover it isn't you.
Who Owns Domain Names?
When a person decides that they are going to start or build a website, the first thing they do is find a reputable web hosting provider that will store their website on servers and then allow it to be seen to those that are looking for a site with their same interests. Depending on which company a person goes with, they may be asked when setting up a website for the first time, that the individual chose a domain name.
A domain name is the name that you and others will type into an address bar, usually it is either related to you or that of your business. For example, Bright Hub's domain name is brighthub.com or google.com is the domain name for Google. Because there are so many websites on the World Wide Web, it is important that you not only chose a domain name that is unique, but also one that is not already in use by another website.
When you choose a domain name and it's available, you are actually being licensed for use of that name. Domain resellers, such as Go Daddy or Dream Host, are the people who actually own your domain name; they are just letting you use it via the contract that you receive when you first sign up with. Go Daddy, Dream Host, and other domain sellers or resellers are authorized by ICANN or the Internet Corporation for Assigned Names and Numbers. ICANN is a non-profit organization that basically keeps track of all of the names for websites on the Internet.
So how do you go about finding out who owns your website? There are several different websites that will list the behind the scenes
information about a person's website. The most popular is that of WhoIs, a website that will list the company that a domain name is registered to, as well as the creation and deletion date for that site. WhoIs is a very valuable tool as it can help determine if the domain name that you are interested in is available.
An example of finding the register (that is, the owner of the domain name), I went to WhoIs to find out who the owner of my website's domain name was. The first text box allows for you to put in the name of the website and then a drop down box allows you to choose whether the site is a .com, .net, .gov, or .org extension. What pulls up is the information regarding my site -
The domain name is spantenna
The register (owner) is Go Daddy
The DNS1 and DNS2 servers are being hosted by a local web hosting site (not shown)
SPANTENNA's renewal was last year and its expiration will be this year (if I chose not to renew the domain name)
Why is it important to discover who owns your domain name? In the event that you decide to move your website from the host provider, you will need to ask permission to keep that name, usually by switching the name over or by paying a fee to keep it.
Image content @ author via WhoIs