Great WordPress Auto Content Feeder Plugins Reviewed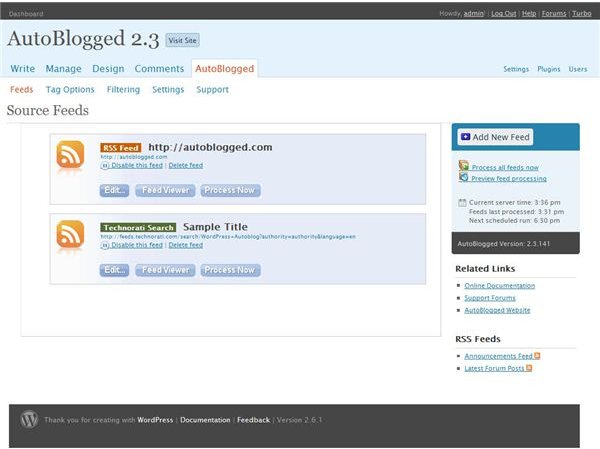 Introduction
WordPress auto content feeder plugins are becoming more and more popular. Considering what they offer, it is not a miracle; in order to have a blog with news collected from numerous websites, it is only required to install a WordPress-based website, choose a theme and install some auto content feeder plugin. More specifically, the purpose of this type of plugin is to create the blog posts automatically, whose content is usually pulled out from the RSS or Atom feed of a particular website. This article will not discuss legal issues of having website whose content is created in this way. Instead, it will discuss a few quality WordPress auto content feeder plugins.
AutoBlogged
AutoBlogged is one of the most popular solutions of this kind, although it is not free (single site license costs $59.95, while multisite edition costs $129.95). AutoBlogged automatically creates posts according the set RSS or Atom feeds. Some of its main features are support for both images and video, built in custom templates, tagging engine and automatic thumbnails creation.
Both editions can be purchased on the following link: https://autoblogged.com/
WP Robot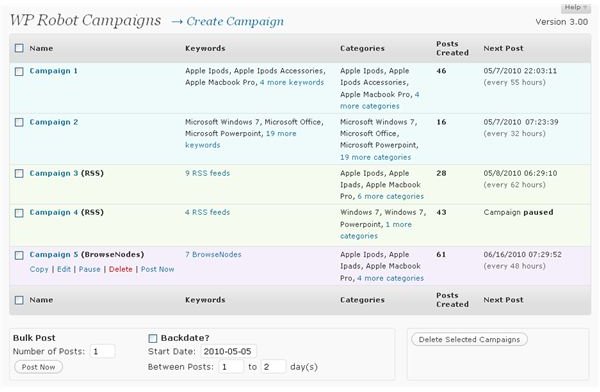 WP Robot is another very popular auto content feeder plugin, providing a wide range of different features. Authors of this solution state that its most important feature is randomization. What does this mean? Simply said, it means that this plugin will create post in order that it will look like posts on a website that uses WP Robot are created "naturally". In other words, while creating a post, WP Robot will randomize the sources, so one post will come for one source (website), the second post will come from another source and so on. Furthermore, it can create posts according different keywords simultaneously, keywords can be organized in campaigns, it has built-in error reporting, it can automatically rewrite posts, etc. WP Robot comes in three editions (Full, Developer and Custom), which differ according included core, modules, etc.
WP Robot can be purchased on the following link: https://wprobot.net/order/
Caffeinated Content for WordPress
Caffeinated Content is a commercial auto blogging solution (costs $77.00), which automatically creates posts according the selected keywords, while post comments are added as well. Users have an ability to choose a date range of the posts, and they can use the WordPress scheduling feature (posts can be published sometime in the future). Furthermore, Caffeinated Content adds images and videos to posts, while it can also rewrite posts and translate them to 12 languages. All of these features can be set within a simple interface, while post templates are included as well.
Caffeinated Content for WordPress can be purchased on the following link: https://kansieo.com/members/buynow/
Wordpress Article Automation
Wordpress Article Automation is actually a pack containing the following 3 plugins: WA Mass Article Poster, WA Autor RSS and WA Time Stamp Repeater. WA Mass Article Poster Plugin does exactly what it name suggests; posts a large number of articles automatically. Furthermore, WA Auto RSS creates posts according the RSS feds entered in the plugin settings. Finally, WA Time Stamp Repeater unfolds the "Time Stamp" tag just below the post box, so the user can decide when a single post will be published multiple times.
The complete package costs $27 and it can be downloaded at the following link: https://wparticleautomation.com/.
Image Credits
https://autoblogged.com/wordpress-autoblog-plugin/screenshots/
https://wprobot.net/screenshots/