Having Trouble Finding a Quality WordPress Newsletter Plugin?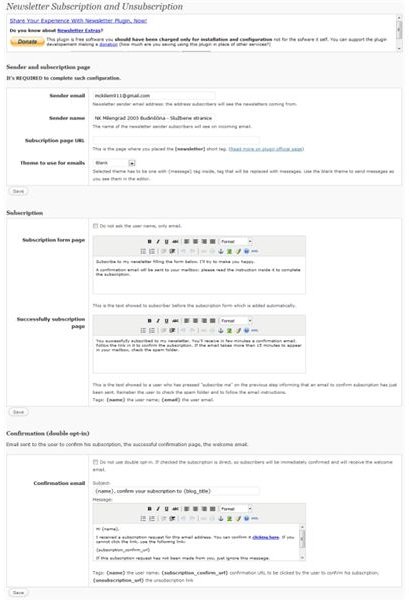 Introduction
In order to keep readers updated with the latest news, website owners have several possibilities. Probably the most popular solution is an RSS feed, which can be viewed with some popular RSS reader. Another popular method is using a newsletter, which is more suitable if news and updates on the website occur rarely. It is also a very simple solution; users only have to enter their e-mail address in the corresponding text box and click submit or subscribe. In order to implement a newsletter solution into a WordPress based website, some sort of a WordPress newsletter plugin should be used. This article reviews some of the most popular solutions of this kind.
Newsletter
The purpose of this plugin is to manage subscriptions and to create newsletters. The Newsletter plugin enables the blog owner to collect subscribers through either a single or double opt-in subscription method (the difference between these two is that if double opt-in method is used, a new subscriber must confirm the subscription). The plugin is highly configurable, while it also has a visual newsletter creator, where everything (text, images, subject, body, etc) can be set easily.
This plug-in can be downloaded here: https://WordPress.org/extend/plugins/newsletter/
MailPress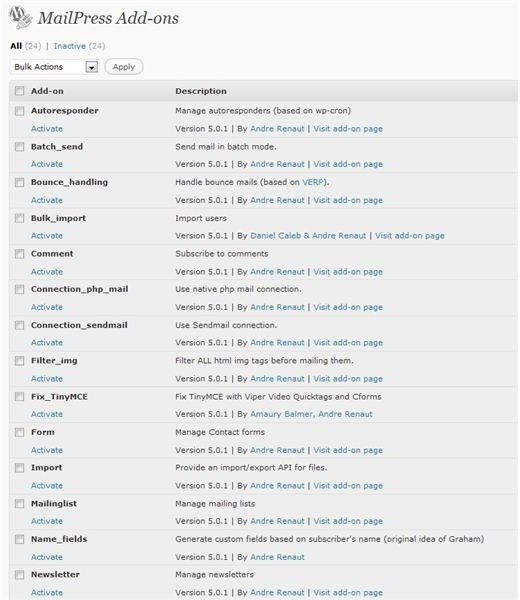 MailPress is a very popular WordPress newsletter solution, and as of this writing, the plugin has had more than 130,000 downloads. MailPress provide everything that is required for a successful newsletter campaign: styling of both HTML and plain text mails, newsletter templates, double opt-in subscription, newsletter and post notifications (on daily, weekly… basis), comment subscriptions, etc.
This plugin can be downloaded here: https://WordPress.org/extend/plugins/mailpress/
MailChimp List Subscribe Form
MailChimp is a renowned and popular email marketing service. With MailChimp, subscribers can easily create their own powerful HTML email campaigns. In order to implement this solution into a WordPress website, the MailChimp List Subscribe Form can be used since it allows quick and easy installation of the MailChimp sign-up form (comes as a widget). In order to use the benefits of this plugin, it is required to sign up for a free MailChimp account, which can handle up to 1000 subscribers (in order to get more, a paid subscription is required).
This plug-in can be downloaded here: https://WordPress.org/extend/plugins/mailchimp/
MeeNews
MeeNews is a WordPress newsletter plugin, available in both free and paid versions. It offers different kinds of themes and templates, statistic tools, subscriber management tools, header customization, user friendly interface, it is available in four languages and compatible with all e-mail clients and so on. A free version of this plugin can be used only for noncommercial purposes, it can be installed on only one blog, and the MeeNews logo is always displayed.
The free version does not include statistics nor a custom front end. Furthermore, there are also two commercial versions, where one version can be used on one blog (but includes all the features the free version does not have), and the other (more expensive) edition can be installed on an unlimited number of blogs.
This plugin can be downloaded (or bought) here: https://wp-newsletter.com/en/plugin.html