Great WordPress WYSIWYG Editors Reviewed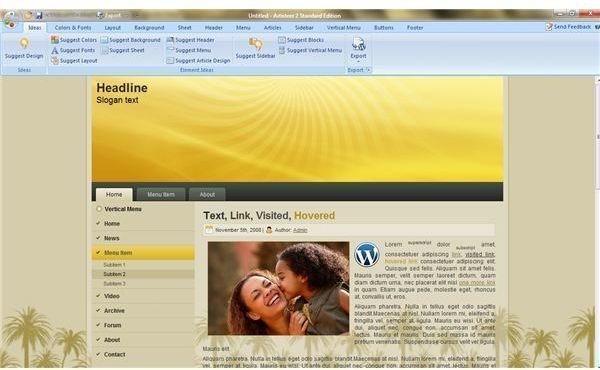 Introduction
The popularity of WordPress is increasing significantly. There are several reasons for this: a great user-friendly interface, easy theme development, and a wide variety of WordPress plugins. But the main reason is probably the fact that this great content management system is not used for blogs anymore. WordPress is being used more and more for magazines as well as for business and personal websites. In other words, it has extended its functionality far beyond the notion of a blog.
WordPress Theme Creation
Since more and more people are interested in having a website based on the WordPress CMS, and considering the fact that most websites have similar elements (header, footer, sidebar, etc), several quality WordPress WYSIWYG ("what you see is what you get") theme editors and theme frameworks have emerged. Some of them provide a set of images, colors, font schemes, etc, that can be used to generate a fully functional WordPress theme, while other editors are used to ease the process of converting a design to a functional WordPress theme. If in doubt which WordPress WYSIWYG editor to choose, feel free to consult our list of great and useful WordPress editors.
Artisteer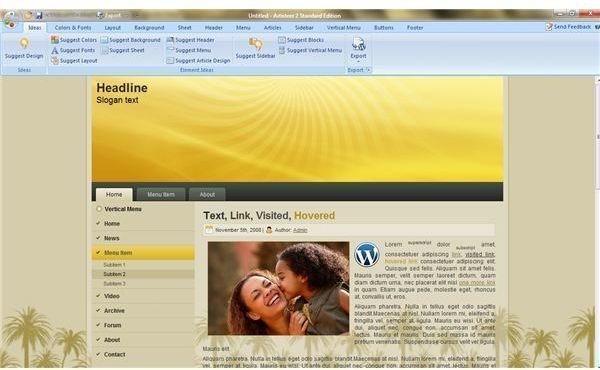 Artisteer is perhaps the most popular website and theme creation software. It has a rich gallery of predefined styles, images, colors, etc, and it can create themes compatible for WordPress, Joomla, Drupal, DotNetNuke and some other content management systems. Once the theme is exported, it is HTML and CSS valid, optimized for all web browsers, including Internet Explorer 6.
In order to create a WordPress (or any other) theme with this software, it is not required to know anything about coding and designing, since this product does it all. Furthermore, it supports several languages, while te software comes in two editions: "home" and "academic and standard." This software is not free or open source; the price for the home edition is $49.95, while the standard costs $129.95.
You can buy this product here: https://www.artisteer.com/?p=purchase
Divine
Divine is a Photoshop plugin, currently in beta status, that enables the conversion from Photoshop directly into a fully functional WordPress theme. Basically, this plugin uses a tagging method, where the elements of the website (header, navigation, etc.) are marked and named on the design itself. After the complete process of naming objects is finished, the plugin exports a design into the tableless markup, optimized for modern web design requirements and compatible with all browsers.
Since this fantastic solution is currently in beta status and such, it requires testing and development, everyone is encouraged to join the beta testing program.
This software can be downloaded at the following link: https://www.divine-project.com/
WordPress Theme Generator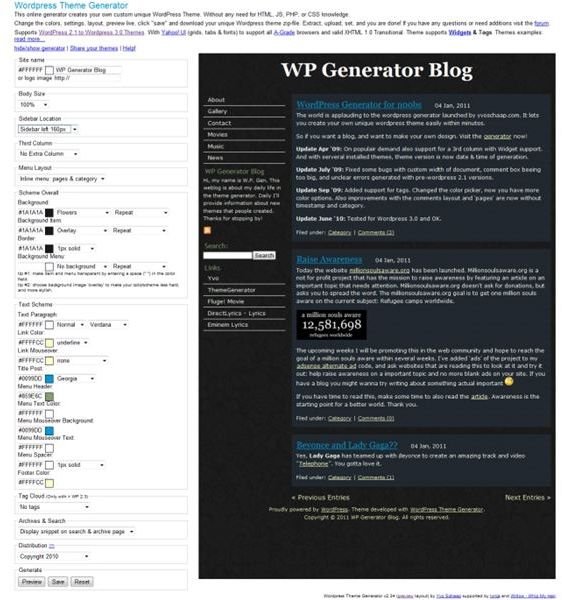 If you're seeking an online WordPress WYSIWYG editor, WordPress Theme Generator might be a great solution. It supports the creation of WordPress themes compatible up to the latest WordPress versions, while it does not require any HTML, CSS or PHP knowledge. With this great online tool, a developer can choose the layout type, colors, custom width, menu layouts and much more. This generator exports themes in the ZIP file ready for an upload, while it does not cost a cent.
WordPress Theme Generator is available here: https://www.yvoschaap.com/wpthemegen/