How to Install PHPBB on Your PC with Microsoft Web Platform Installer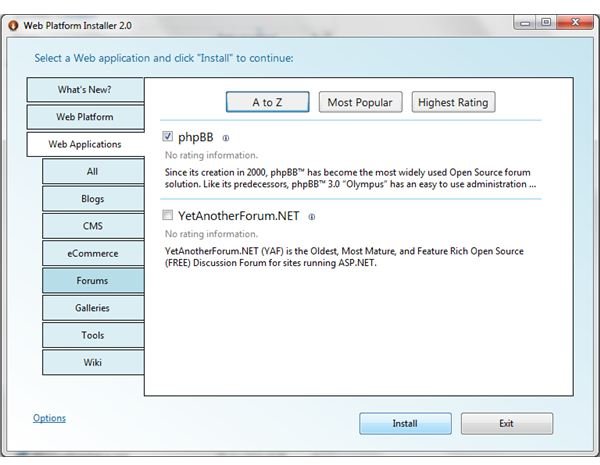 Advantages of a Local Install
Developing for and updating online forum or discussion board software can be difficult. The web application is typically installed remotely and applying updates to a live site can result in unscheduled downtime if you haven't prepared correctly—by making a backup of the database, for instance.
Therefore testing such changes—which might be the development of additional custom features or a new layout for the web application—must be done on a test site, and these can be difficult to manage effectively, especially for freelancers.
Using Microsoft Web Platform Installer changes all of this. With this free application you can download and install phpBB on your PC with the minimum of fuss and test all of your changes locally before applying them globally.
Download Microsoft Web Platform Installer
Microsoft Web Platform Installer offers dozens of popular web apps for installation within Windows and can be downloaded from www.microsoft.com/web/downloads/platform.aspx. Available free of charge, the utility supports the following operating systems: Windows 7, Windows Vista, Windows Vista SP1, Windows XP SP2+, Windows Server 2003 SP1+, Windows Server 2008, Windows Server 2008 R2.
Rather than being a specific application in its own right, Microsoft Web PI basically offers an index of web applications such as forum software, CMS and blog software to be downloaded and installed to your PC with all of the required framework components to allow them to run under Windows.
Choosing Your Components
The next step is to find the web application that you are installing – in this case phpBB. This bulletin board software also requires a database to be installed as well as PHP software.
Go to Web Applications > Forums and tick the box next to phpBB before clicking Install. In the next screen you will see a list of the components that will be downloaded. These will include phpBB, some PHP framework components for running PHP code on your local PC as well as Microsoft SQL Server Express.
This is unusual as typically phpBB is run in tandem with MySQL (which is also available in Microsoft Web PI) so the decision is likely due to improved reliability between phpBB and MS SQL Server Express.
Click I Accept to continue.
Install phpBB on Your PC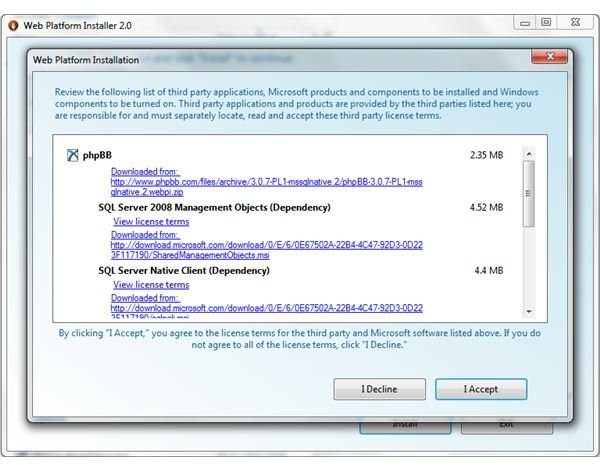 With the download of your required components about to commence, you need to make a quick decision on your SQL Server Express password. Microsoft Web PI will ask for you to select your authentication method:
Windows Integrated Authentication
Mixed Mode Authentication (recommended for application development)
If you choose recommended option, a password is required for the sa (SQL Administrator) account.
Once your decision is made, click Continue to begin downloading and installing SQL Server Express; following completion of this stage you will then need to configure the forum software installation.
This will involve you choosing to install the forum software as your Default Web Site and agreeing to the default settings or selecting New Web Site and setting a specific location for the data. With these choices made, click Continue to complete the installation.