Use Microsoft Web PI to Install Joomla on Your PC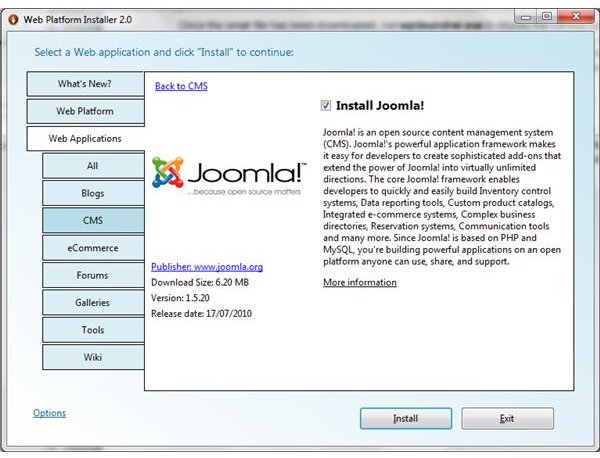 Develop Smarter: Develop Locally!
Developing and designing for the Joomla content management system can be tricky. Typically you might have a site set up on a cheap server or on an additional machine installed centrally in your organization; you might also have a virtual server running on your PC with MySQL and PHP installed.
While all of these solutions are find, nothing beats having Joomla installed locally on your PC or laptop, enabling fast checking of updates to the site's templates and CSS and any code you might have developed.
This can be achieved with Microsoft Web Platform Installer, a superb tool that can be downloaded free and is very easy to use.
Getting Started with Microsoft Web Platform Installer
Also known as Microsoft Web PI, this utility can be downloaded from www.microsoft.com/web/downloads/platform.aspx via the Download It Now link on the right.
Note the system requirements for Microsoft Web PI – the software will run under: Windows 7, Windows Vista, Windows Vista SP1, Windows XP SP2+, Windows Server 2003 SP1+, Windows Server 2008, Windows Server 2008 R2.
Once the small file has been downloaded, run wpilauncher.exe to display the various options. You will see that there is a choice of viewing recent additions under the What's New? menu, while you can select a specific web framework, tool or database in the Web Platform tab. Finally, the Web Applications tab is where you can find the web app you want to install on your PC for development (or even local intranet) purposes.
Install Joomla on Your PC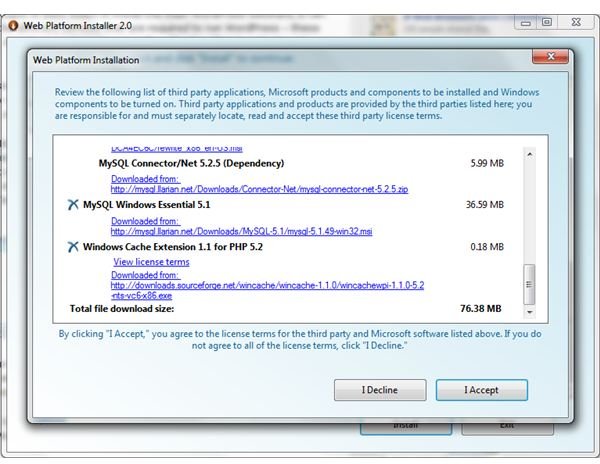 To get started with your Joomla PC install, go to Web Applications > CMS and scroll down to Joomla!.You can click the text to read the full description or tick the box to mark the software for installation. Click Install to begin this process – a confirmation screen will appear to list what you're installing, and you will need to Accept this to proceed.
(Additional software will be listed on the confirmation screen, including PHP framework components and MySQL, each of which is required for Joomla to run on your PC.)
Configure Joomla for PC Installation
After Microsoft Web PI downloads the PHP and MySQL components, you will need to specify a name and password for your MySQL database.
With this setup, you will then be required to choose where the software is to be installed. This might be a case of choosing the Default Web Site option, in which case you have the choice of entering a name for your web application and clicking Continue to proceed, or you might select New Web Site in order to instruct the installer to use a specific folder.
Click Continue to confirm the installation details. In the next screen you must choose from Create new database or Use existing database – perhaps the one you setup a few minutes earlier. You will also need to setup passwords for the Joomla site admin account as well as name your website. With all of these options entered, click Continue to complete installation.
Install Joomla! with Ease explains the steps needed to configure your Joomla! web application.