PC Tools Performance Toolkit 2011 Review
PC Tools Performance Toolkit 2011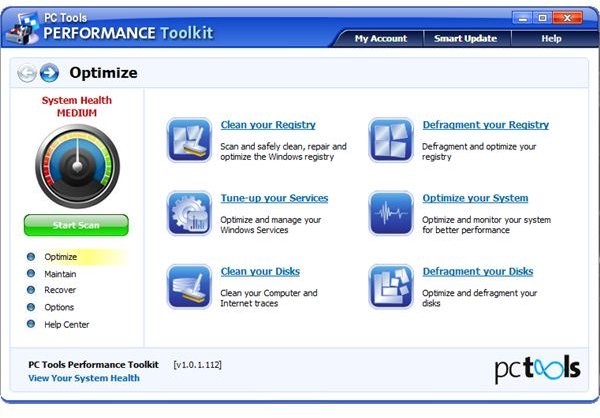 PC Tools is once again offering another utility for Windows. The PC Tools Performance Toolkit 2011 is a set of tools that should help optimize, tune up and maintain the computer. It's no secret that unnecessary files and registry entries remain in Windows because of frequent installation or removal of programs, or while browsing the Internet and downloading files. Learn how the new program by PC Tools can help the computer run smoothly by reading this PC Tools Performance Toolkit 2011 review.
Installation and System Requirements (4 out of 5)
Windows XP, Vista and Windows 7 users can install PC Tools Performance Toolkit 2011 and it does not require a system restart to start using the product. The install process is smooth but you have to ensure that there's an active Internet connection because it will check for updates after the install. The installation will also initiate a system scan after checking for updates. A startup item and 3 services will be added into Windows in addition to adding 2 system drivers.
The program will use 81.5 MB of hard disk space. Unfortunately, a restore point is not created in Windows before the program begins the install process. You may want to create a restore point manually.
Features and Options (5 out of 5)
I like the user interface of PC Tools Performance Toolkit 2011 because it's easy to use and navigate. The back and forth arrows in its UI surface helps when going back and forth to what I browsed within the program.
The toolkit from PC Tools is on the spot when checking for registry issues. It also put the computer in a safe state while it compacts the registry. The option to create a restore point is available when using critical actions, such as registry cleaner, and when compacting the registry. There is also an option to recover deleted files or registry entries within the program, if the user decides to not use a Windows system restore.
Below are some other features and uses of the PC Tools Performance Toolkit:
Defragment the registry or hard disk.
View health reports.
Shred files and clean/repair disks.
Startup and Services manager.
One click repair or scan.
Schedule a registry or privacy scan.
Recover deleted files.
Performance (4 out of 5)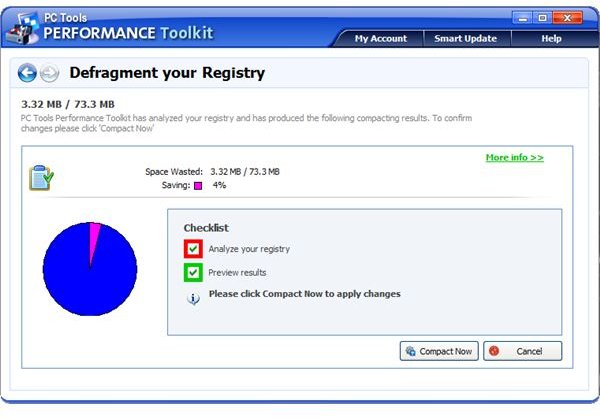 The performance of the PC Tools Performance Toolkit in Windows is good because it did not cause problems after allowing it to scan and repair what it finds. The privacy cleaning is not impressive though, because it failed to remove some temporary Internet files and search history in the Opera browser.
The test system in this PC Tools Performance Toolkit 2011 review has the Diskeeper program that automatically defrags the system. The PC Tools Performance Toolkit failed to detect that my hard disk does not require a hard disk defrag anymore. I also tested the defrag detection of Windows Live OneCare Safety Scanner, which was able to detect that my computer did not require a defrag.
The detection of the PC Tools registry cleaner for invalid and missing registry entries is correct and it was able to save around 3 MB of hard-disk space when I compacted the registry using its registry defragmenter.
I like its option to recover accidentally deleted photos or file and it works like a charm when I tested the feature. I deleted some test files and was able to recover them using the PC Tools File Recoverer that is included in the program.
Price to Value (4 out of 5)
At $39.99, the PC Tools Performance Toolkit is a good deal because the license is good for 1 year for up to 3 PCs. The price is cheaper over the competition: Iolo System Mechanic with a normal price of $49.95 for 3 PCs.
Conclusion
I do not recommend programs that will touch the Windows registry or that will remove files unless I personally test the software in clean and unclean Windows installations. The overall performance of PC Tools Performance Toolkit is good and it is worth using it if you need something to tune up, optimize and maintain your PC.
Before you commit though, you should check out the other registry cleaners for Windows 7.
References
Image credit: Screenshots taken by the author, courtesy of PC Tools.
This review is based off of PC Tools Performance Toolkit v1.0.1.112