ExifCleaner
Image or picture properties can display private or sensitive information to other users, such as, the author's name, modification and creation dates, the device used and other metadata. It is possible to also see the personal comments of a picture. The properties of an image file are useful to keep, only if you trust the people who will view or edit the image.
SuperUtils.com provides ExifCleaner program to remove metadata tags from digital photos. It can remove tags from exif, geo, Adobe XMP, PhotoShop IRB and IPTC and FlashPix. To remove properties and personal information in pictures and documents, just read this ExifCleaner review.
Installation and System Requirements (5 out of 5)

ExifCleaner runs on Windows XP, Vista and Windows 7. It supports several photographic metadata types which it can clean up for privacy purposes. Installing ExifCleaner is quite easy and there's nothing to worry about with its installer, because it will not bundle third-party software.
The program will install its Windows add-on as a context menu. This option allows end-users to process supported image files in a batch. ExifCleaner will only use 732 KB of hard disk space.
Features and Options (5 out of 5)
Scrubbing, removing or stripping metadata tags from pictures is the key feature of ExifCleaner, but below are some of the options and features in the program:
An option to strip the entire exchangeable image file format (Exif).
An option to only remove some tags in a picture e.g. image description, device make and model, date and time, GPS, thumbnail details and many more.
An option to automatically store the cleaned file to the same location of the source file and auto-rename it. This prevents the deletion of the original file.
An option to replace or remove the original file or save the cleaned file in a specified location.
ExifCleaner can find or search JFIF files and extensions.
It can remove Adobe XMP, Photoshop IRB including IPTC, FlashPix extensions and JPEG comment markers.
Quick Cleaning of single or multiple images.
Usage and Performance (5 out of 5)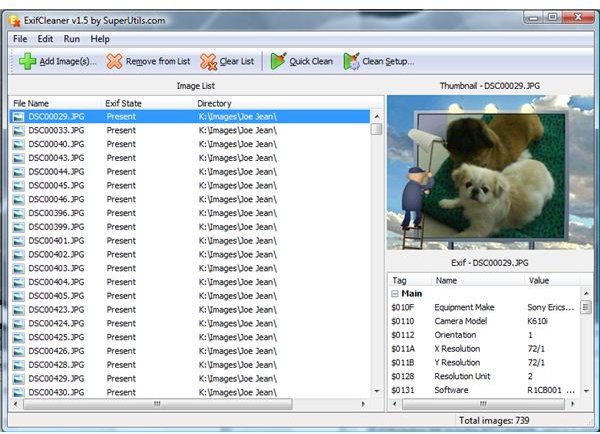 It's not only easy to install ExifCleaner on Windows but it is also easy to use. The user interface is simple to understand and it is quite useful for managing pictures' properties. Windows has a built-in utility to remove properties and personal information in pictures and documents, but ExifCleaner is much better, since you can process or clean-up image properties in a batch. People who send pictures to friends via e-mail, upload pictures to Facebook or post them to Photobucket should find ExifCleaner useful for protecting private details in the pictures.
The program will only use 4 to 10 MB of memory. The more photos you process, the higher the memory use is, but I did not see it use more than 10 MB when I let it process over 700 pictures.
Price to Value and Availability (5 out of 5)
ExifCleaner only costs $14.95 for a lifetime license. This means you can protect your private information in pictures for life. A single license can be used on 2 personal computers.
The program is available as shareware which means it has limitations while in trial mode, such as, not being allowed to process or handle more than 7 files at once.
Final Words
Protecting our privacy is important, and you have to defend your data and files from prying eyes. To easily do this, take advantage of programs that allow scrubbing or removing metadata tags. ExifCleaner is recommended if you prefer using a good exif tag remover in Windows. The price is right, anyway.
Do you want to scrub documents, as well? Try the free Doc Scrubber program.
References
Image credit: Screenshots taken by the author, courtesy of SuperUtils.com.
All information based on author's personal use, testing and review.
This ExifCleaner review is for version 1.5.7.104.