Available iPhone Virus Protection Software
Apple does not allow running software in an iPhone that isn't approved by them. The guidelines for iPhone application developers to follow are now a bit loose which means previously rejected apps by developers are encouraged to be resubmitted.
Because of the strict guidelines by Apple, there should be no chance for iPhone users to have malware infections, as others believe. Certification of an application is done by other operating vendors as well. However, just because an app is certified and approved for iPhone does not mean that the device, computer, operating systems and other applications are safe and secure.
iPhone Security Problems
Like any other operating system and networked-enabled device or computer, vulnerability in the Apple iOS were found and fixed by researchers and Apple, respectively. Apple iPhones have been jailbroken, allowing end-users to install unapproved applications for the device. Jailbroken iPhones are vulnerable to Internet worms, Trojans and other malware. Examples of these threats are iPhoneOS.Ikee and iPhoneOS.Ikee.B.
You can surf the Internet and can click on links in e-mail that can be a phishing message. iPhone does not show the URL if the text is hyperlinked, which means end-users who click on hyper-text links might see dodgy or phishing websites. The worst case scenario is if the link will open a PDF or file that exploits known vulnerabilities in the iOS or the browser.
iPhone Virus Protection
iPhone is quite popular in some countries and since it's a networked-enabled device, security vendors also provide protections for the Apple iPhone. Some iPhone users are actually looking for protection for their iPhone. An example query is posted in Sophos Antivirus free for Mac forums.
Below are some of the virus protection apps for iPhone: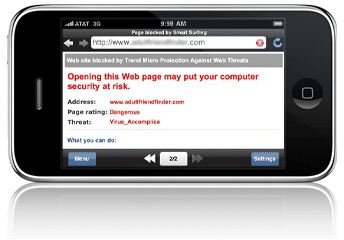 Trend Smart Surfing – A free secure browser with protection for iPhone by Trend Micro. The program is compatible with iPhone and iPod Touch devices, but the system requirement is iPhone software v2.1 or higher. Trend Smart Surfing is powered by Trend Micro Smart Protection Network, a cloud-based protection that can protect iPhone users from visiting malicious webpages that contains malicious content or intend to steal valuable and personal information. You can download Trend Smart Surfing via the iTunes store.
Symantec Mobile Management – Symantec will never skip providing security protection for popular operating systems or network-enabled devices. Symantec Mobile Management 7.0 is only for enterprise customers and the system requirement is iOS 2.5 and higher; iPhone 3G, 3GS, 4.0, 4.1.
Intego VirusBarrier X6 – This product will only work when the device is connected to a Mac computer. The program scans for malware on iPhone, iPad and iPod touch.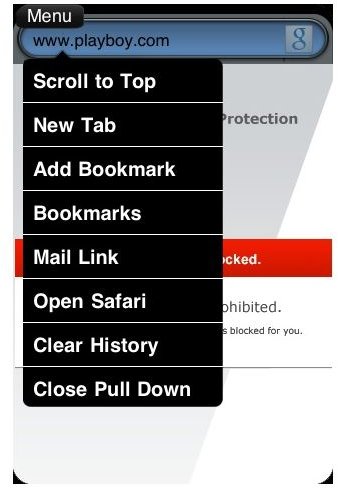 McAfee Family Protection for iPhone – Like Trend Micro, McAfee offers a secure browser for iPhone. It costs $19.99 per license to prevent your phone, credentials or other valuable information to be compromised by not allowing the visiting of malicious web pages. McAfee Family Protection is available for download at iTunes store, as well.
Final Words
Use any networked-enabled device by visiting safe webpages or by installing safe applications. If you are using your computer or devices, e.g. Mac, Windows, Linux, Nokia, iPhone, Blackberry, et al to surf the Internet or visit your online stock portfolio, online bank, Facebook, Twitter and other services with personal information, be mindful of avoiding threats of malware and identity theft. Also, keep the firmware and software up-to-date to take advantage of security and bug fixes that are known to exploit applications for computers and phone.