Does an Internet Better Business Bureau Help Consumers?

Internet and Online Shopping
Whether you go online to purchase software, subscribe to an online service or just shop, you should use the services of reputable companies and trustworthy websites. You should double-check the website, the company, the service or the software before you decide to purchase or use it. By doing so, you will prevent identity theft, stay safe from scammers and avoid wasting your hard-earned money. Using an Internet Better Business Bureau will protect you from buying software or subscribing to a service that is not satisfactory, offers poor customer service and support or puts your personal information at risk by not keeping the valuable data private.
An Internet Better Business Bureau
Many software vendors or companies promise to provide what you are looking for. When you are looking for anti-spyware, anti-virus, registry cleaner, data backup or any other software or online service, you expect the product to work, and if there's an issue, you also expect to receive proper support.
Some organization have set-up an Internet better business bureau by certifying companies or software. This helps consumers when buying from reputable software vendors and online services by giving them confidence and trust in the seller. At the same time, the organization guides businesses into building online trust by ensuring their services and software do not make their way onto an online blacklist.
Below are some of the organizations, companies and groups that either certify, check or review software packages and online companies before issuing an approval or certification:
TRUSTe - When it comes to checking the privacy policy in a website that provide subscriptions in any method e.g. selling software or providing online services for free or with subscription, TRUSTe will ensure that the carrier of their TRUSTe seal has passed the guidelines for protecting consumer information.
Better Business Bureau - This is one of the oldest Internet better business bureaus that exists. It helps consumers by providing alerts, free discussions and reports on unwanted and unacceptable services and companies. However, a problem that I find with BBB or BBBOnline is that they are providing a rating system that is not followed when the actual BBB issues a good rating or certification. An example of this is when BBB gave an A rating to the provider of RegCure software. There's a lot of complaints and negative feedback for the provider of RegCure, and yet the company behind it is allowed to use BBBs' seal.
Federal Trade Commission - The FTC does not rate a company, nor do they have a database of blacklisted and whitelisted companies but they attend to consumer complaints and feedback about any online service or software company. The FTC is quite good for attending to consumer complaints about online services and software companies.
If you are wondering what another other Trust seal is after seeing one on a website, check out the article, What are Trust Seals and are They Necessary?
Other Method to Protect Consumers on the Internet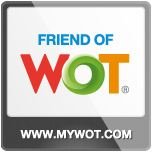 I actually find the consumers' feedback in any community discussion forum to be the easiest and best way to protect myself and other consumers. If you frequent discussion forums about software products or help forums, you are aware that many volunteers or regulars on those websites or forums are helping each other by alerting people on what to avoid and what to use instead. I think that there's nothing that can beat voluntary feedback from consumers with a mission to sincerely help fellow members in the community. If the majority of internet users in several discussion forums have the same feedback, it's easy for consumers to decide whether to buy or not buy an online service or software package.
There are also add-ons for web browsers that help you decide whether to trust or avoid a website or a company that provides bad service or does not have a good online reputation. Examples of these add-ons are Web of Trust, SiteAdvisor, LinkScanner or Finjan SecureBrowsing.
Image credits: TRUSTe logo https://www.truste.com/, WOT friend logo https://www.mywot.com/en/friends