Hack Hotmail Protection - Recovering a Hacked Hotmail Account and Resetting a Hotmail Password

About Windows Live Hotmail
Windows Live Hotmail continues to provide free web-based e-mail service to everyone. It has received a lot

of improvements, such as Microsoft SmartScreen which keeps out junk mail and can delete or block future e-mails from selected sender. Windows Live Hotmail now recognizes newsletters and displays a bar on top of the newsletter message with a link to unsubscribe. Marking unwanted e-mails as junk is also still an option in Hotmail.
Other features of Windows Live Hotmail include choosing your Hotmail e-mail theme, setting up the reading pane, creating a personal e-mail signature, bringing in your contacts from other e-mail services (also known as fetching your other e-mail account using Hotmail), adding friends from your preferred social network accounts and sorting the e-mails by date, sender, subject, size or conversation threading. Another cool option with Hotmail is the quick view feature that lets you view only the messages that you've categorized or filtered e.g. emails with photos, flagged messages, messages with office documents, shipping messages or just unread messages. Auto suggestion search (powered by Bing) is now in Hotmail to easily search the web or just emails.
There's also an option to sign in to Windows Live Hotmail using enhanced security (SSL), send up to 10 GB in attachments and access hotmail on a mobile device.
Hack Hotmail
There's plenty of websites that claim to teach how to hack a hotmail password but this is usually a trick by bad guys so they can hack your hotmail. Others will claim to provide software to crack and hack hotmail accounts but you will end up installing a Trojan or other type of malware. Hacked hotmail accounts will annoy the owners contacts, because the hacker will send out spam emails without your knowledge, so it is recommended that you check your hotmail account activity on a regular basis.
Scammers will also steal your hotmail password via phishing sites or by sending spoofed e-mails. Be very careful when you receive or view a link that pretends to be a Windows Live Hotmail website or messages supposedly from the Live ID support team.
When someone has hacked your Windows Live Hotmail password, immediately do the following steps to get back the compromised account:
If you still have access to the already hacked hotmail account, change your password, secret answer and update or change the alternate email address. Note: When changing the hotmail password, use Microsoft Password Checker to check the strength of your password.

If you no longer have access to the hacked hotmail account because the unauthorized person has changed your hotmail password, proceed to reset the hotmail password via [https://windowslivehelp.com/passwordreset.aspx
Please note that, according to Windows Live Team, a temporary Windows Live Solution account will be created for you. The temporary account means they will setup a private forum where you can discuss the compromised hotmail account with their support agent. Your answers to reset or recover the hacked hotmail password or account will be stored in the private forum. You can return to the forum to check the status of their investigation. It's basically just a support ticket through a temporary Windows Live Solution account.
If you have entered your mobile phone number in Hotmail, it can help you recover your compromised account, because only you have access to your Mobile PIN. If you want to change the PIN code, go to https://account.live.com/ChangeMobilePin.aspx. Updating your account information will also help to recover your hacked hotmail account because many people forget what they've entered in their account and this will slow down anyone trying to investigate or recover a compromised hotmail password. People who moved to another location should update the account information to help the Support team at Windows Live identify you. It's also an important part of securing your data when you continue to update your Windows Live Hotmail account or Windows Live account. If you've linked another Windows Live ID to your Windows Live account, make sure that both are accessible to you and that the passwords and account information are up-to-date.
To continue using a secure Hotmail account, never share your password with anyone, don't sign in on computers that you don't trust, especially public computers such as library, school or internet cafes that might have Trojans, keyloggers or another malware infection. Make sure the computer has an anti-virus program. If you have to access Hotmail using a public computer, login by clicking on "Get a single-use code to sign in with" so that Windows Live will send an SMS to your registered mobile phone number. If you have not registered a mobile phone number with Windows Live, you cannot use this option. Finally, remember to login to Windows Live services using SSL connection.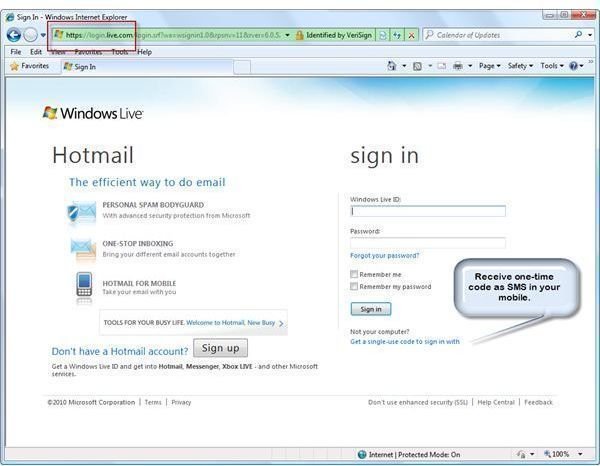 Image Credits: Screenshot taken by Donna Buenaventura, Windows Live Hotmail logo courtesy of https://www.windowslive.com/NewHotmail