Online Fraud Alerts - Don't Become a Victim of Internet Fraud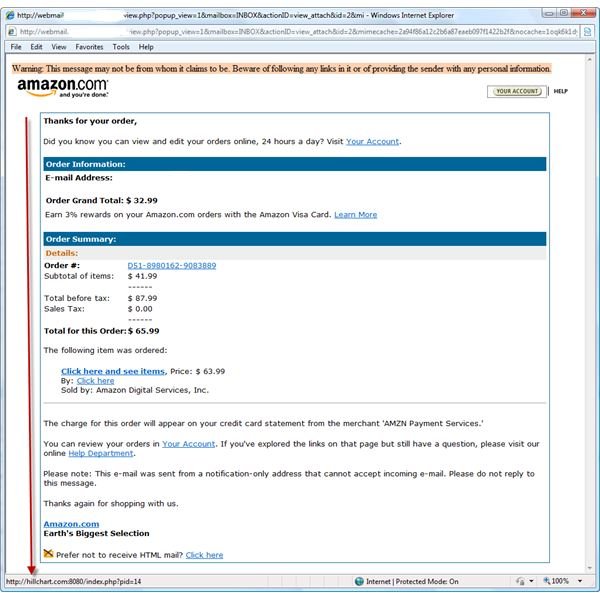 Methods Used by Fraudsters
Fraudsters use fake messages or websites to annoy and victimize people or businesses. An online or offline fraud is not only annoying but it can put your computer, personal and financial information at risk. Fraudsters are using different techniques to get your social security number, full name, credit card information, any online account name, password or any other personal information. Some even use advanced profiling or online research if they want to target a particular mark. Fortunately, there are online fraud alerts that we can use to report scammers and learn new scams.
Fraudsters also use several methods for getting someone to fall into their trap. The most widely used method is by sending fake messages in e-mail, social networking services such as Twitter or Facebook, instant messenger applications or in a private message in discussion forums. Other fraudsters will set-up a fake website which is known as a phishing website. The fake website is often created to look exactly the same as the legitimate institution's website.
The image at the left is an example of an e-mail message I received from a fraudster using an Amazon.com logo with a fake message. All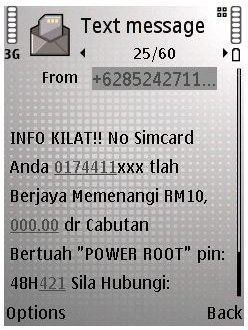 hyperlinked items in the message are obviously not from Amazon.com but a fake webpage that was set-up by the fraudster.
Other method used by fraudsters include sending a fake short text message to your mobile phone. The image at the right is an example of what I received a few weeks ago. You will notice that the message is not in English and was sent by a mobile number in Indonesia. The message from the fraudster says, I've won RM$10,000 from Power Root and was asked to call a number in Indonesia, to claim the price.
Fraudster do not only use fake short messaging, e-mail or phishing websites to victimize people. Some of them will make phone calls or send letters.
What to Do if You Become a Victim of Fraud?
Caution is recommended with any message or website that you see, because criminals are using the internet and networking devices to get new victims. If you become a victim, there is always help. The websites in the list below all offer online fraud alerts, services to report fraud and general information about Internet fraud:
Avoiding Fraudsters
Security software vendors are working hard to protect us from online fraud. Always enable the fraud protection in a browser and use a security protection program that will check a message or website for malicious content or fraud. You also need to be cautious before clicking a link in any message or website. Use a search engine service properly by configuring the settings to use safe search. If you are a business user, you might want to send your employees for free or paid fraud courses.