Online Fraud Statistics For 2009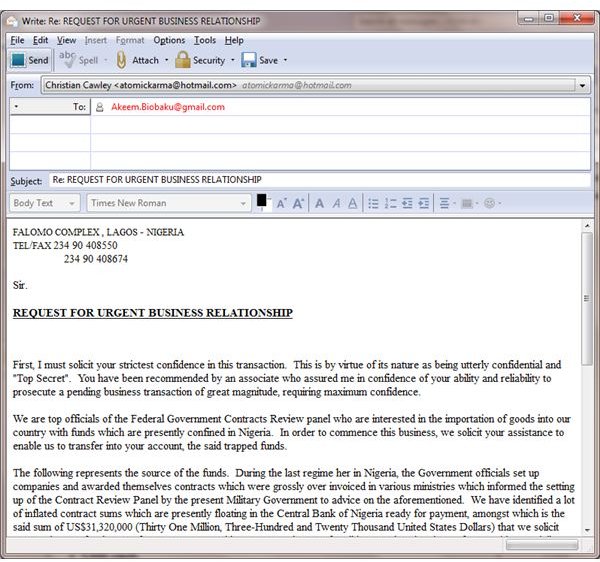 Measuring Fraud - the Reality
Online fraud is a massive risk to anyone who uses the Internet. Regardless of whether you have ever used a credit card online, as long as there is information about you on social networking sites, discussion boards or web-based email/chat account profiles, there is a risk of some sort of fraud.
Identity theft, card fraud, confidence trickery – all of these are popular methods among scammers for making money illegally. As use of the web has increased, so have reported cases of online fraud. The figures are astonishing.
For instance, in 2009, in reported cases of loss to the "Nigerian Letter Fraud" (where someone emails you to inform that they have a great deal of money to give), the average amount stolen was $5100. It seems that many online households have issues with trust. Sadly, just because you have a computer in your home, it doesn't mean that it won't try and rip you off.
Image Credit: Screenshot by Author
Other Online Fraud Statistics
Complaints to IC3 (an FBI project) can be made from anywhere in the world, and their statistics reveal that perpetrators are not based in third world countries, Asian hotbeds, Russian tenements or even South American islands.
In 2009, 66.1% of online fraud perpetrators were found to be operating in the USA, with a further 10.5% in the UK and 7.5% in Nigeria.
After looking at these online fraud statistics, it should be obvious that maintaining total control over your personal information is vital. If you want to avoid being a victim, you need to be careful where you shop online.
Failure to Deliver
Non-delivery of goods costs an average of $585 and constitutes 32% of online fraud cases. Again, trust is a key issue here. Just because an online shopper spots something that they're looking, doesn't mean that they should try to buy it from that website. The key here is to shop around. When making transactions (particularly on auction sites or when using Amazon third party sellers), look for feedback ratings. If none exists, steer clear.
On the subject of online auctions, fraud on these sites results in an average loss of $602. In 2008, 16.3% of reported online frauds were due to fraudulent sales on the web's most popular auction sites.
Online Credit Card Fraud
Usually, the types of online fraud we've looked at so far depend on the way we use the web. Some of us spend a lot of time on auction sites. Others spend a lot of time emailing and so are at risk to Nigerian letters. One type of fraud that is particularly threatening to everyone, however, is that which targets something that many people have - a credit card.
With credit card transactions, the opportunity for fraud increases. Your details could be cloned by the company taking your details, they might opt not to send your goods or the vendor might be completely trustworthy but run an insecure site.
Credit card fraud losses averaged $427.50 in 2009 – however this amounted to only 3.6% of reported cases. It is unfortunate that it is only possible to detect credit card fraud by checking bills and statements.
To the scammer's delight, many people don't.
This detailed account of one of the largest fraud cases in history should explain just how devastating such fraud can be.
References
IC3, https://www.ic3.gov
Internet scam statistics, https://www.consumerfraudreporting.org/internet_scam_statistics.htm