Online Anti Virus Tools: Finding and Removing Viruses with Online Tools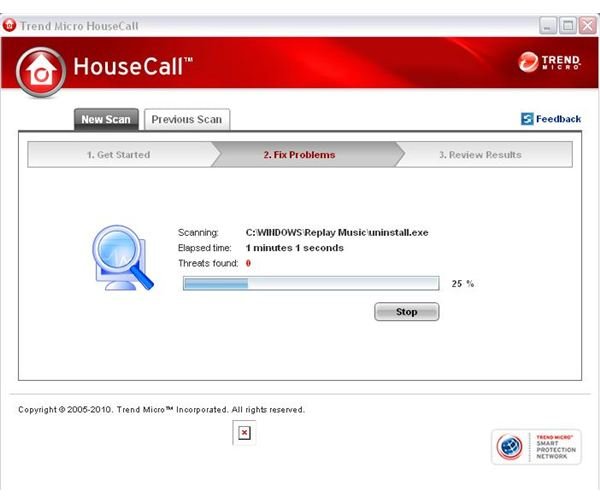 Introduction
In today's age of viruses, malware and root-kits, you should never take your PC's internet security lightly. With so many dedicated antivirus, anti-malware and firewall solutions available there's simply no excuse not to be protected against today's online threats. If you want a list of these, just check out our antivirus reviews.
But thanks to the ever-changing face of cybercrime with new strains of viruses and malware released on a daily basis, even using a dedicated internet security package to protect your PC isn't always enough and there is always the chance of infection from these new threats.
This article provides a brief overview of why PC users should use online anti-virus tools to help secure their computers against new and existing threats, and some of the available online tools with which to do so.
Why do I need extra protection from viruses and other internet threats?
While your current anti-virus solution might be able to detect and remove these new viruses, each internet security software vendor releases their newest anti-virus and anti-spyware definitions at various times – perhaps even days apart – meaning you run the risk of falling foul to any of the new breed of viruses, malware and other threats that your current solution might not detect yet!
Online antivirus tools provide a very basic level of protection and are typically free to use forever, for the life of the product. That said, they should never be used as a replacement for full anti-virus solutions; instead they should be used as a complementary product to tighten security around your PC.
Because they are designed for the sole purpose of virus detection and removal, there are very few configuration or setup options. This means that they are suitable for novices to use.
Symptoms of virus infestation
Some of the most common symptoms of PC infection by a virus include system slowdown, random lockups or crashes and installation of unwanted programs and files, among other symptoms. The most common cure is to update your anti-virus definitions and run a full scan of your PC in order to detect and remove the infection. But what happens if, after running a scan, your PC still displays signs of remaining infected?
This is where using online anti-virus tools comes in handy!
Providing any infection hasn't harmed your internet connection, you'll be able to find and remove a virus with online tools which provide a free virus scan. Many of the biggest names in internet security offer online anti-virus solutions to enable concerned PC users to scan their computers for infections that their desktop solution might have missed, and so fix online any virus infestation their computers might have.
Where do I find these online anti-virus tools?
Many of the top internet security vendors have developed online anti-virus scanners which PC users can download as complementary products to their existing desktop security products. Typically, these are on-demand products which involve the downloading of the core anti-virus scanning engine and require updating via the vendor's servers before use in the same way desktop anti-virus does.
However, as these tools are on-demand, they won't conflict with your existing anti-virus solution but operate in much the same way, but are usually unaffected by viruses which seek to disable desktop anti-virus scanners.
In addition to those online scanners provided by McAfee and Symantec, examples of popular downloadable anti-virus scanners include:
Trend Micro HouseCall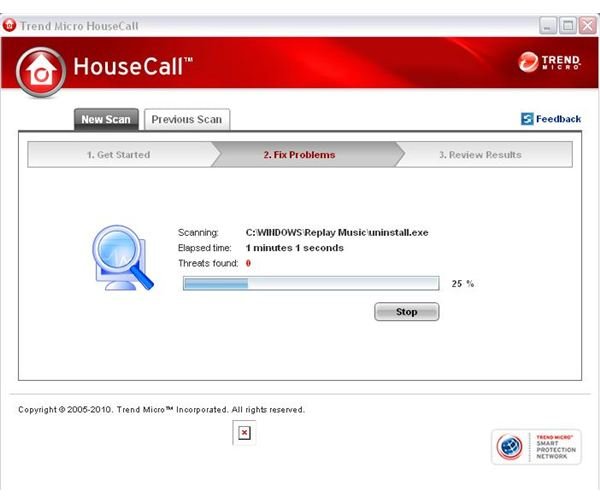 Trend Micro HouseCall is a hugely popular online antivirus scanner. It is a very capable product for identifying and removing viruses, Trojans and other internet security threats. It uses Trend Micro's Smart Protection Network – built on the cloud computing concept – to provide fast, resource-light scanning.
ESET Online Scanner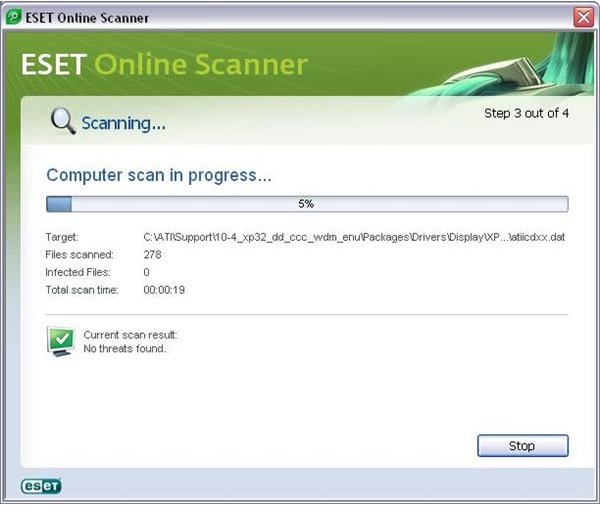 ESET Online Scanner plugs directly into Internet Explorer 8 and can be used to remove viruses and malware from any PC utilizing only the web browser, without having to install anti-virus software. ESET Online Scanner uses the same ThreatSense technology and signatures as ESET's full anti-virus products Smart Security and ESET NOD32 Antivirus and automatically updates the latest anti-virus definitions when activated.
Firefox and other browser users will be required to download an executable file in order to use ESET Online Scanner.
Panda Active Scan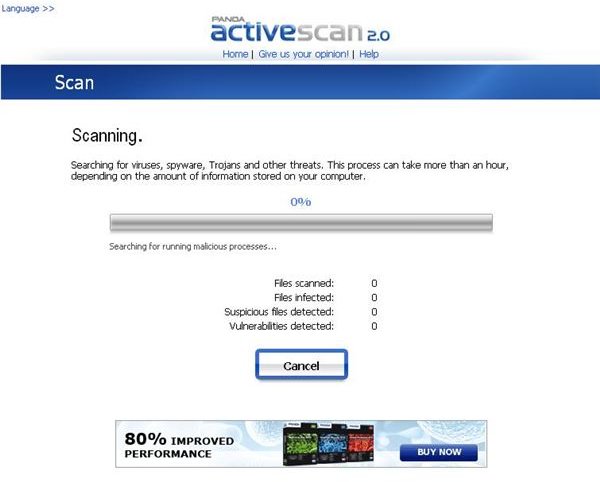 Panda's Active Scan online scanner requires users to download an Active X control which plugs into the users' internet browser. Active Scan is based on in-the-cloud scanning which provides fast, resource-light scanning and allows for real-time, proactive internet security from viruses and malware.
While there are other online antivirus scanners available, be aware that not all provide full disinfection or removal of infected files, and instead only report that such files exist. Make sure that whichever solution you choose provides the capability to not only detect viruses, but to remove them as well.