Can't Save IE Security Settings? Try Resetting Internet Explorer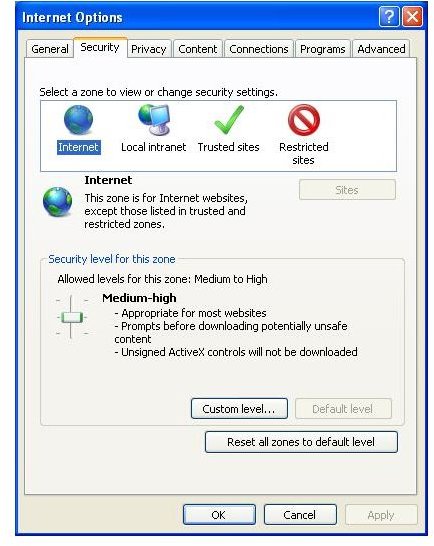 I Can't Save IE Security Settings!
Security issues can cause any number of problems with your PC – and these often start with your browser. After all, if someone wants to take control of your computer, they'll first take steps to ensure that if discovered you won't be able to easily prevent malicious installation of browser add-ins and revision of security settings.
Older versions of Internet Explorer are unfortunately prone to hijack, either by infection of some sort of malware or by intentional design through the installation of an add-in.
In most cases, if you can't save IE security settings, the browser needs to be reset. At this point, the browser is effectively no longer under your control. If your PC hasn't already been compromised yet, it soon will be.
Checking the Security Settings
Internet Explorer security settings can be found via the Tools menu. Choose Internet Options and select the Security tab for an overview. (This option is also available via the Control Panel.)
The Security tab allows users to alter security levels for different network zones – such as the Internet and a local intranet, as well as add a list of trusted and restricted sites.
If changes to these options cannot be saved, then it would seem likely that either malicious software is present on your PC, preventing these changes at registry level, or your system registry has been altered due to organization group policy. You might want to chat with your local IT administrator if you suspect it to be the latter.
Resetting Internet Explorer
Malicious software can only be combated using the right tools, such as your internet security suite or a tool such as Spybot Search & Destroy.
If you're using Internet Explorer 7 or 8 and find that you can't save IE security settings but have previously installed a browser add-in, it is possible that your security settings have been restricted by this. The first thing you should attempt in this situation is a browser reset.
To do this, in Internet Explorer go to Tools > Internet Options and choose Advanced. From here, select the Reset… button.
You will then be informed of the consequences – you should notice that resetting the browser results in privacy and security settings being reset. To restore your security settings to a safe state, you will need to use this option.
Upgrade or Change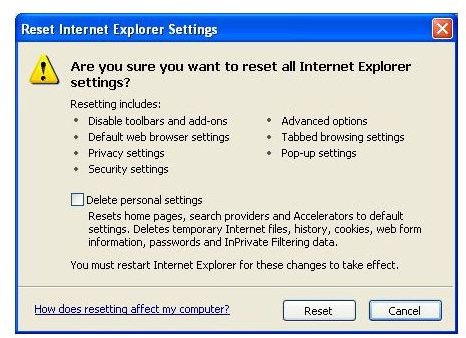 As we've seen, these issues tend to affect older versions of Internet Explorer, particularly IE 6. Ultimately, the best step you can take for resolution of this fault is to upgrade to the more secure Internet Explorer 7 or later. You can also switch browsers to a more secure product, such as Mozilla Firefox (available from www.mozilla.org), which comes equipped with much tighter access to your settings than the older versions of Internet Explorer.
The problems described in this article are due to issues with older versions of Microsoft's browser. Only by using up-to-date security software and regularly installing Windows Updates can you expect to avoid being affected in this way.