Why and How to Delete Internet History - Security Tips for Safety and Privacy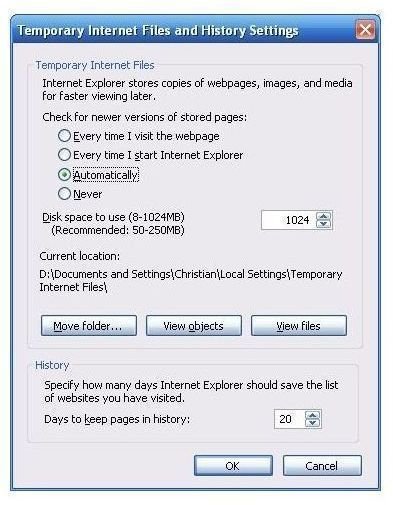 Your Internet History is an Autobiography
Would you willingly tell strangers – or even casual friends and acquaintances – where and how often you bank, how many credit cards you own, or when your house will be empty because you'll be on vacation?
In today's world, we use the Internet to obtain information about almost everything, whether it be managing personal finances, shopping for a birthday gift, planning trips, or researching treatments for medical conditions. While any of these facts alone may not tell a person much about you, they can paint a pretty decent picture about your life when they're all added together. And, if other people have access to your Internet history, they'll know a lot about you whether you want them to or not.
Even if you're not worried about these security issues, deleting Internet history is an important task for other reasons. In particular, cleaning out your history and other temporary files can speed up your computer and help fix slow browser problems. Most browsers have a default setting that only saves Internet history for a certain number of days, but even this interval may be too long if you spend a lot of time online.
The steps for deleting Internet history vary depending on which browser you use. We'll look at the specifics in the next section.
How to Delete Internet History
If you use multiple browsers or if you'd just like a more automated way to regularly delete Internet history, you may want to consider trying out a software application, such as SpeedUpMyPC or CCleaner, to help with the cleaning task. However, it isn't necessary to use a third-party utility. You can delete Internet history and modify how much of this information your browser saves in the first place by using the browser's own tools. The method for doing this varies by browser. Here are the instructions for some of the most common web browsers – namely, Internet Explorer, Firefox, Opera, Safari, and Google Chrome.
Internet Explorer: If you're predominantly an Internet Explorer user, you can delete Internet history and modify other history settings by following the steps described in How to Find and Check History in Internet Explorer.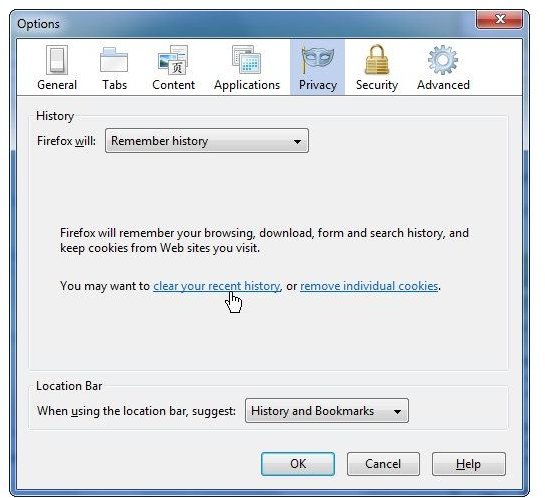 Firefox: It's also fairly easy to delete Internet history in Firefox. From the Tools menu, choose Options. When the Options window opens, click on Privacy. Next, click on the link for clear your recent history as shown in the screenshot to the left. (Click the image for a larger view.)
You'll then be asked for the time range you want to clear. From the drop down box, select Everything. Alternatively, you could just select the last hour or two if you only want to delete very recent history.
Note that you can also change how much history Firefox remembers on the Privacy tab. By default, Firefox will be set to remember history, but you can change this so that the browser never remembers history or only remembers based on custom settings you supply.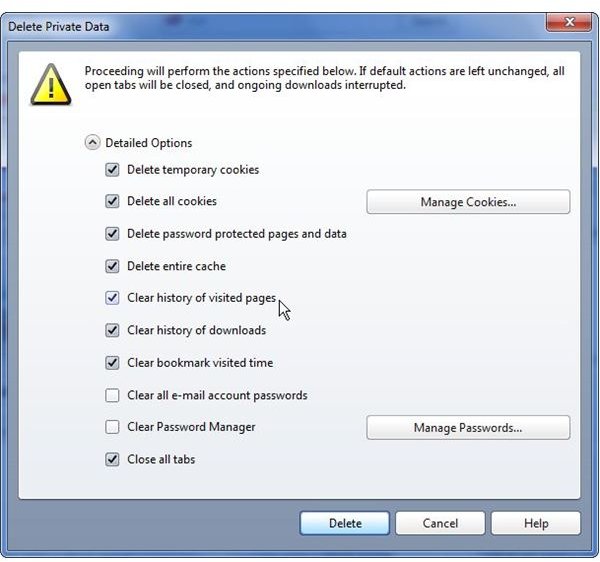 Opera: To clean Internet history in Opera, first select Delete Private Data from the Tools menu. In the window that opens, click on the down arrow next to Detailed Options to expand the list of selections. Make sure that there is a check in the box next to Clear history of visited pages as well as in any box next to other items that you want to delete. Finally, click the Delete button to get rid of your Internet history.
If you actually just want to view your Internet history, select History from the Tools menu instead.
Safari: If you're a Safari user, see How to Erase Your History and Cache from Safari - A Detailed Guide for complete instructions.
Chrome: To delete Internet history in Google Chrome, select Clear Browsing Data from the Tools menu (the menu denoted by an icon of a wrench) as shown below.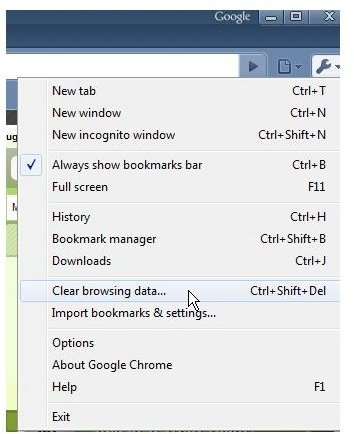 Then, make sure that there is a check in the box next to Clear browsing history. You can also select which other personal information you'd like to delete in this window. In the drop down box next to Clear data from this period, select Everything (or the time period from which you'd like to delete the information).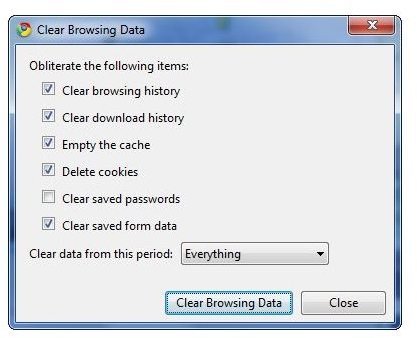 Finally, click the Clear Browsing Data button to delete the history.