Opera Browser Security and Privacy Options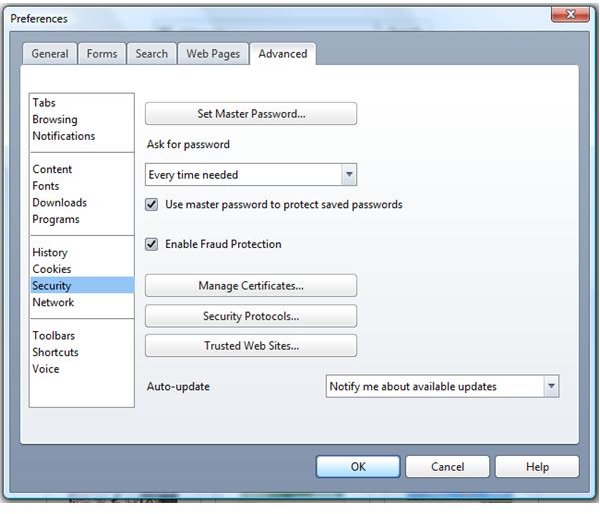 Opera Browser Security Settings
The Opera browser package features a fast web browser with internet suite. There are a number of security and privacy options in Opera that we will describe in this article. We'll also explain how to configure these settings.
Malware and Fraud Protection – This feature is enabled by default to help protect from scammers, phishers and malware. You can access the settings by going to Preferences > Advanced > Security and by unchecking/checking the box marked "Enable Fraud Protection." Opera is using the phishing blacklist by Netcraft and PhisTank and also using malware blacklists compiled by TRUSTe. If you are on a secure, safe or fraud site, you will see the status of the page on the right side of the address field. Known malware or phishing websites will not automatically load but will display a warning page on why the site has been blocked. Fraud and malware reporting is also possible when viewing a webpage: Press Alt + Enter or go to Tools > Advanced > Page Info.
Auto-update – Opera recently added an auto-update feature to help keep the browser up-to-date. You may configure Opera to automatically install updates, notify you of updates or to not install updates: Tools > Preferences > Select Security in the left pane > Auto-update.
Downloads and File Types – There is an option to let Opera determine the file's extension to decide which action to take when the MIME type is not reliable, but this is not its default nor recommended. The default setting is Opera will determine how to handle a file by its MIME type used by Web servers to identify files to browsers. You can also configure Opera to save, prompt to download or automatically use a particular plug-in whenever you click or visit a website. It's recommended to disable automatic usage of plug-ins for applications that have known vulnerabilities.
Encryption (E-mail and Browsing) – Sending and receiving information with the Opera browser uses the following security protocols: SSL 2, SSL 3, TLS 1.0, and TLS 1.1. The level of encryption is from 168 to 256-bit Advanced Encryption Standard. Opera will display a warning message about obsolete encryption methods if the offered key is shorter than 900 bits.
Certificates – Like other browsers, Opera lets you manage certificate issuers that you want to communicate. You may add your personal certificate, rejected or approved certificates, or modify existing certificates that the browser will allow for connection.
Blocking Ads or Contents – A built-in content manager is included in the Opera browser. This feature is quite useful if you want to block any ads or active contents on a webpage. While viewing a webpage, you may right-click in any area to block the content by holding the shift key on your keyboard.
Referrer Logging – Some websites will log other websites that referred you to theirs. You can configure Opera to not send referrer information: Tools > Preference > Select Network in the left pane > uncheck or check the box to send referrer information.
Cookies and Invalid Cookies – There are 5 available options when managing cookies using Opera: Accept cookies, block third-party cookies, refuse all cookies to be stored, delete new cookies when exiting the browser and prompt before accepting cookies. The cookies manager lets you edit when a cookie will expire, which is quite useful to get rid of persistent cookies. Invalid cookies are never accepted in Opera to prevent cookie theft, poisoning and cross-site cooking.
Private Data Cleaner – Opera includes tools to clean-up the entire cache, the history of visited pages and downloads, cookies, password protected pages and data, e-mail account passwords and your master password. This feature is useful to protect your privacy in addition to optimizing its performance.
Security & Privacy on a Shared Computer – You can also keep your privacy and take advantage of security features in Opera, if you are installing Opera in a public computer or you are sharing your PC to family members, friends or colleagues. Simply install Opera by choosing separate user directories during the installation process. When you login to another user account in Windows, you can configure the Opera browser security settings without affecting another user's profile settings.
Images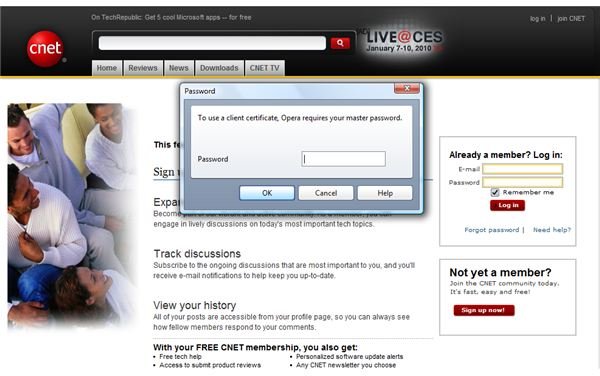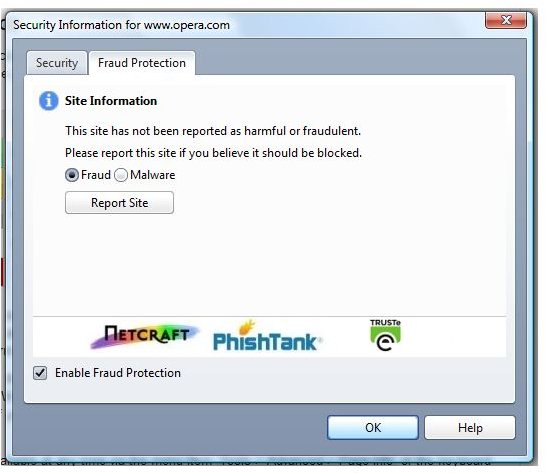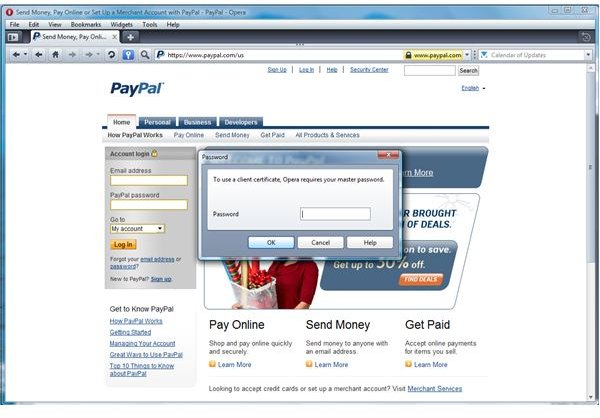 Known Vulnerabilities
At the time of this writing and according to Secunia's vulnerability database, Opera browser 10 has a total of 6 vulnerabilities while Firefox 3.5 and Internet Explorer 8 have 48 and 22 vulnerabilities respectively. Even the previous versions of Opera have a lesser number of vulnerabilities:
Opera 9 has 55 vulnerabilities with 1 un-patched; Opera 8 had 47.
Firefox 3 gained 144 vulnerabilities; Firefox 2 recorded 154 with 3 un-patched.
Internet Explorer 7 has 98 vulnerabilities with 10 un-patched; Internet Explorer 6 had 176 with 23 un-patched.
It's clear that the Opera browser's security is being tackled seriously by its vendor in addition to providing a product that is packed with security and privacy options when using the browser. The only concern that you might find in the Opera browser is the new feature Opera Unite that was introduced with v10.10. Opera Unite lets you share content with your family and friends without uploading the files to a server or website. Many end-users have disabled Opera Unite because they are not interested in making their browser a web server.