Which Version of Bitcoin Can I Run?

Bitcoin is the fascinating online credit system that eschews the usual imbalances and risks of managing money on a global scale in favor of something that is straightforward to use and tradable. Its popularity has snowballed in the past few years since the 2008 financial crisis, with more and more people beginning to consider it as a legitimate option for making and receiving payment for goods or services rendered.
Of course, there are many alternative payment types on offer today both online and offline, from traditional bartering to electronic methods such as PayPal and NoChex. Bitcoin is different, however, potentially offering a glimpse into the future of money and perhaps even an understanding of how a cashless world might work.
So if you were wondering about the benefits of Bitcoin, how long it takes to generate Bitcoins or which is the best operating system version to run Bitcoin on, we've got the answers you're looking for right here.
The Benefits of Bitcoin
This purely electronic credit exchange system has various benefits, not least the fact that it is extremely secure, taking advantage of public and private key cryptography to indicate to the recipient of the Bitcoin payment that you are who you say you are, that the Bitcoin belongs to you and that the transaction is legitimate.
While there are questions over the handling of disputes over Bitcoin transactions (something that will need to be resolved if the payment system is to ever reach the same mainstream use as something like PayPal), this is a system that is held in high esteem by its proponents.
Bitcoins can be used for all manner of transactions, from ordering food and staying in hotels to web design services, hosting, music, clothes, books, art and much more. A quick browse through the Bitcoin wiki reveals hundreds of businesses that will accept this payment method in exchange for goods. Once several such transactions have completed, these businesses will then be able to see their Bitcoins in exchange for a national currency, such as the US dollar.
Ultimately, Bitcoin is an online payment method that while secure, isn't devoid of fraud. Any system of monetary exchange is going to find itself exploited, but one would hope that Bitcoin's reliance on a community time line of transactions could save it long term rather than see it consigned to history as soon as a better, more secure and completely fraud proof system is introduced.
For more information on Bitcoin and more detail on the use of cryptographic monetary transactions, see How To Turn Bitcoins into Real Currency.
How Can I Use Bitcoin on My Computer?
In order to use Bitcoin, you must first download the client to your computer. So that the payment method can be used by anyone, there are different versions for different operating systems.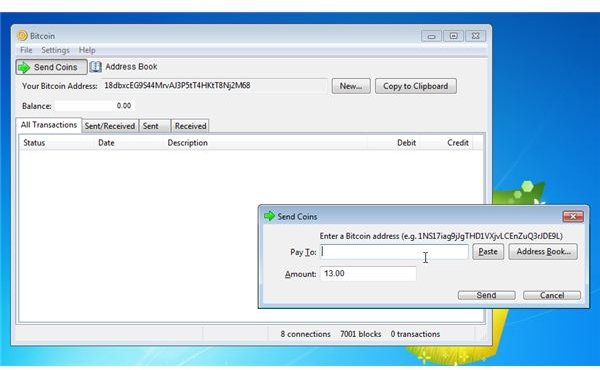 To get a version of Bitcoin for your computer, head to https://www.bitcoin.org where you will find downloads for Windows, Mac OS X and Linux. Once installed, you will have the Bitcoin software on your computer, ready to use.
In the example on the right, you can see the Windows version of the Bitcoin client. As soon as the application is launched for the first time, a Bitcoin address is generated and assigned, and this represents you (multiple addresses can be used, and these can be setup via Settings > Your receiving addresses).
To make a payment to an individual or business with Bitcoin, you would use the Send Coins button, enter an address in the Pay To field and then specify an amount. Clicking Send would then complete the transaction.
The main Bitcoin window displays a list of transactions split into different views, and you can also maintain an address book for regular contacts to save time entering addresses in the Send Coins window.
All in all it is a usable application that makes the business of exchanging Bitcoin credits very simple.
Generating Bitcoins and the Real World of Money
Another use for the Bitcoin app is to actually generate currency. This isn't as easy as it sounds, however - how long it takes to generate a single or group of Bitcoins might appear totally random at first, although in truth it has a heavy basis on the hardware components in your PC. For instance, you might use the standard method of putting your PC's CPU to work creating Bitcoins or take advantage of additional hardware such as your graphic card - ATI/AMD cards are particularly useful for this task.
WIth these components fitted you have a better chance of generating Bitcoins, but you can really take advantage of this by using a miner, a Bitcoin utility that is designed to work hard at performing the cryptographic calculations necessary for creating Bitcoins. You might even join a Mining Pool, which allows multiple users to benefit from the joint creation of Bitcoins at a much faster speed than normal.
Only on the Internet could something like Bitcoin be conceived and successfully executed. One only has to take a look at the Bitcoin markets to see the current real world value of this payment method and find places where you will be able to purchase Bitcoins for use on the websites that support them.
You may be interested to know that as a virtual currency that can be purchased and sold, Bitcoin has an exchange rate. This used to be quite strong but has crashed in recent months to a lower slightly more stable price.
References