Using Norton 360 Parental Controls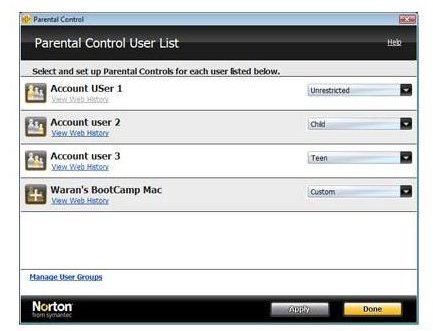 The Perils and Pitfalls of the Web
Anyone who has browsed the Internet knows very well just how much garbage is out there. With children as young as three years old now surfing the web more briskly than their parents do, the question is how to keep your kids away from the flood of smut and gore flowing through the Internet?
I don't care how liberated of a parent you think you are, I'm confident we can all agree that a kindergartener has no place in a live streaming adult site. MTV will get that to them soon enough. I say let them be kids for at least a little while, right?
Norton 360 As an Option
In this case, we can put the philosophical issues of playing Big Brother aside, and move forward on the task of protecting your kids from the more heinously objectionable material out there. While there are many browser filters available, this article will focus on the parental controls available within the Norton 360 anti-virus program. Do not bother with the Windows parental controls. They are so bug ridden and leaky that an 8-year-old could sneak in and disable them and you would be none the wiser. Norton will be able to fix these issues, as it is highly regarded as a competent anti-virus program well worth the cost.
How to Get Advanced Parental Controls
If you already are a Norton 360 user, you may be scratching your head as to the source of our recommendation, as the standard Norton 360 parental controls seem rather limited, considering they do not allow a time limit and only permit one juvenile user to be controlled. To get the advanced parental controls, you need to download the free Norton parental controls that you can find at this address https://onlinefamily.norton.com/familysafety/loginStart.fs?ULang=eng . If you need extra help getting them, you can read this article on Norton parental controls.
Once you have either installed the add-on, or configured a Norton family online account, the first step is to set your password. Guard this closely, because if your kids have access to it, then this entire procedure becomes a moot point. So first, open Norton 360 and configure your password.
Blocking Categories and Specific Sites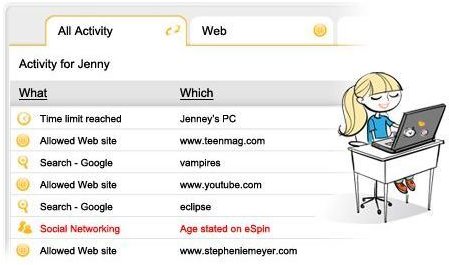 At this point, you probably are going to want to block the categories of web sites that you find objectionable for tender young eyes.
After entering your password, click "Advanced Settings," and choose "Blocked Sites List" from the drop down menu.
Under "Web site categories," simply check the categories you would like to block from your child's view. Once you have successfully completed your list of blockable material, click "OK," and then "Apply."
Now, the block by category filter can do too good a job, for example if you block too many categories you may inadvertently block sites that could help with your child's schoolwork, such as Wikipedia. You can solve this by permitting certain sites. The same feature lets you block individual sites as well. If you are the type of parent (like me!) who does not think a 9-year-old girl should be chatting and sharing photos with grown men, this feature lets you block Facebook.
Log in, and click "Advanced Settings" and choose "Permitted Sites List" to allow academically useful sites for the juvenile users, or "Blocked Sites List" to block Facebook and deprive legions of pervs of your daughter's digital company.
Enter the specific URL address of the site you would like to permit or block, and click ''Add''. Repeat until you have satisfied yourself that your kids will have a relatively clean web surfing experience.
If for some reason, your kids still cannot access a site that they must use for school, then you can always add an exception. Go to "Advanced Settings," click "Blocked Sites List," select "Add Exception," click "Add," and then enter the URL that you agree your child should have access to. Repeat until all sites are entered.
Effective Control Features
Norton 360 has some other useful features too. The Instant Messaging monitor lets you know who your kids are chatting to on the web. So if they keep chatting with "sexy40yearold," you know its time for a talk. In addition to that feature, you may log on from any computer connected to the Internet and monitor your child's Internet activity at any time. Norton lets you, the parent, contribute to the effectiveness of their parental control software. If, for example, the parental controls allow an objectionable site to get past the Norton security filters, you may email https://www.symantec.com/avcenter/cgi-bin/nisurl.cgi? the offending site's url, and they will see to it that it is added to their list of blocked sites for that category.
So, when all is said and done, a program such as Norton 360 returns the power to you, the parent. Just bear in mind you cannot shield them forever, and over time you should relax controls as they become mature enough to handle whatever they encounter on the web.
References
Source: Author's own experience with the program
Image Credits: Screenshots provided by the author