Tracks Eraser Pro 8.5 Review - A Good Option for Your Internet Eraser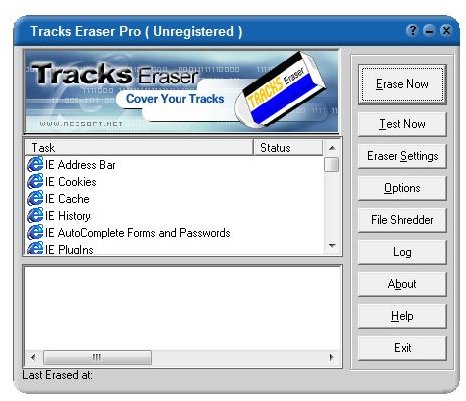 System Requirements & Setup (5 out of 5)
Tracks Eraser Pro is compatible with 32-bit and 64-bit Windows 7, Windows Vista, XP and legacy operating systems from Microsoft.
Starting the installer will bring up the setup wizard. After you accept the license agreement, you can modify or confirm the destination location, start menu folder, or desktop and quick launch icons. The last screen you see before the software is installed is a summary of your setup. Clicking Finish upon completion of the installation will start the program. A reboot was not required on my Windows 7 test system.
Features and Performance (5 out of 5)
The Internet eraser and history eraser delete traces from web site visits saved by your browser. The address bar history, temporary Internet files, cookies and auto form completion on IE are all purged when you click the Erase Now button. Tracks Eraser Pro can clean the history of Internet Explorer, Firefox, Chrome and Opera, including their plugins and add-ons where applicable - the available options depend on your browser.
The software furthermore erases tracks for over 100 applications, including for instance, Skype, Windows Media Player, various tool bars and many more. Please check out the Applications tab to see which plugins are currently installed and which you may want to download and import.
Using your Windows desktop operating system also creates numerous traces of usage and a history. Needless to say that the software eliminates them, too. Running this eraser cleans entries in the recent document list, Start/Search, run and open/save menus.
On top of that, the program will also handle the clipboard memory, temporary windows files, items in the Recycle Bin and information regarding previously connected removable storage devices.
Should you have a local mail client, like Outlook Express for example, then you can permanently delete entries from particular folders, like junk mail, thereby also gaining free disk space.
A secure file shredder is also included. It can be accessed via the Tracks Eraser Pro menu, or, even better, from the context menu (right-click) of the particular file or folder under consideration. The software can also clean free disk space on a partition level by means of overwriting the hard disk space so that deleted files cannot be recovered.
As you can see under Options, the software by default will even delete the page file upon shutdown of your PC, and it prevents your browser's home page settings from being hijacked. We really recommended you check out all configuration items.
Interface, Help &Support (4 out of 5)
The interface of Tracks Eraser Pro 8.5 is logically organized and allows for easy navigation. However, the look could be slightly improved. The GUI comes with an extensive integrated help file, and on the vendor's home page you can read their FAQ and contact support electronically.
Price to Value (5 out of 5)
A single license of this eraser has a price tag of $29.95. If you license more computers, the price comes down significantly.
If eradicating tracks of your Internet visits and use of your computer and applications is important to you, then Tracks Eraser Pro 8.5 is a very good choice.
Reference:
All screenshots and product information refer to Tracks Eraser Pro Version 8.5 build 1001
Official product page: https://www.acesoft.net/
Screenshot taken by the author