A Guide to Mac Computer Privacy Options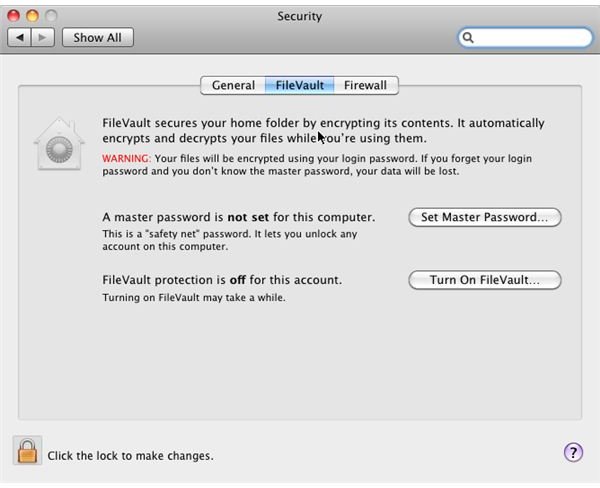 Control Your Privacy!
Retaining your privacy when online is an increasingly important aspiration for many computer users, although of course there are various offline settings that should also be used.
It is just as important to be aware of the threats of spyware and adware as it is to understand the risks of leaving your computer unlocked. Unauthorized persons might access your data physically, and this is a potentially greater risk to you than the basic online privacy settings that block cookies.
Various privacy options are available to Mac users that can help in providing protection against both of these types of threats.
Shoring up Your Mac – Configuring Physical Mac Privacy Options
Before spending time configuring your online privacy settings you should use the options in the System Preferences > Security screen, where you can Disable automatic login to require a password to be entered whenever you start your Mac, Require password after sleep or to gain entry to your computer when the screensaver is active, and even Require a password to unlock each System Preferences pane.
Also in System Preferences > Security you can access the FileVault, where you are able to Set Master Password… and Turn on FileVault…. FileVault applies encryption to your home folder, preventing anyone but the password holder from accessing the contents.
Physical security should always be your primary concern when looking for ways to enhance your computer privacy. While there are always threats online it is much easier for anyone wishing to access your personal files and folders to do so in person rather than across the Internet.
It is for this reason that file servers are kept in locked rooms, with access granted only to authorized personnel.
Configuring Mac Computer Online Privacy Options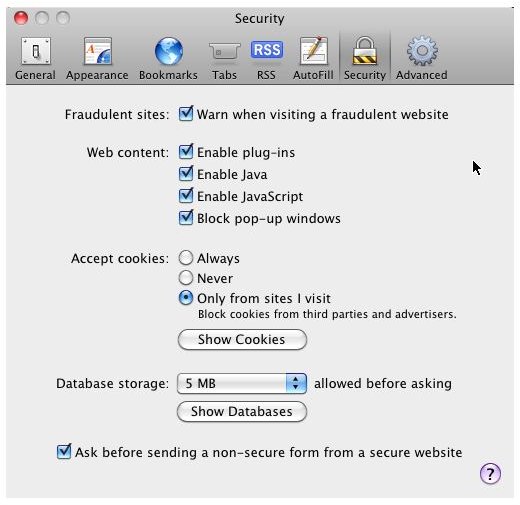 The first thing you should check when setting up your Mac online privacy options is the firewall. This can be found in System Preferences > Security > Firewall, and its activation is vital to safe and private online activities.
You can switch the Mac firewall on by clicking Start. You may have to click the lock in the lower left-hand corner of the window first to unlock the option.
Further security settings can be found in your browser, which naturally by default in OS X is Safari.
You can view and alter these settings via the Safari > Preferences > Security screen, where you can instruct Safari to advise you when a fraudulent website is visited, as well as specify how website cookies should be used.
Note that you can also use Private Browsing, activated from the Safari menu, to prevent a record of your recent browsing history from being viewed. This is ideal if you have concerns over who is aware of what websites you are visiting, but note that it is of no use in a corporate environment, where web servers are employed that record visits to websites.
When used in conjunction with passwords and your Mac OS X firewall, these Safari browser privacy tools can be used to great effect to protect your data from intrusion and maintain your privacy.
References
Source: Author's Own Experience
Screenshots provided by author