What is "My Life" / MyLife.Com?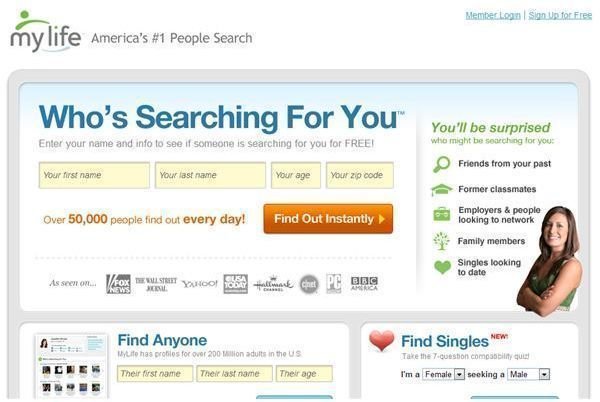 Editor's Note: The article below was originally written in March, 2011 and is focused on how MyLife gets your information and how to get that information removed_._ It does NOT discuss billing practices, as that was not the focus of the original author's research. Many commenters have complained that this ommission, coupled with the writer's objective approach to 'how' the data is aggregated, is tantamount to 'supporting' MyLife's practices. We do not find that to be the case and have kept the original information intact**,** adding Editor's notes with updated information where needed. Regarding MyLife's billing practices – Many people have contacted us with concerns that the company's billing practices are not legitimate. Several people complained of unapproved or unexpected charges. There are currently several of these complaints in progress at the Better Business Bureau. It should also be noted that the company's BBB accreditation was revoked in 2012. You can also read many other complaints about this company at consumeraffairs.com and ripoffreport.com.
How Do Sites Like This Gather Information?
As online privacy concerns go, finding your name on a website that you have not signed up to is pretty high. While services such as Friends Reunited and Facebook require genuine sign-ups to add individuals, others do not. From People Search to Friend Find, there are dozens of online services aiming to connect you with people you might have been to school with, worked with or attended a party alongside. These sites aggregate this data by collecting public information from various websites and county and national public databases. One such example is the MyLife website. There are several ways in which your personal details might appear on this site, displayed on a Public Profile for you. However, getting your information removed may not be as easy as finding it there.
What is the MyLife Website?
The My Life Website
Although the name may seem unfamiliar, MyLife has actually been around for some years, starting out in 2002 as Reunion.com, a site whose aim is to allow users to rediscover friends, relatives and old lovers. It had proved useful to many a genealogy project, helping family trees to be completed, as well as reuniting former partners after many years apart. While many of these aims seem to have been succeeded in recent years by more popular social networking services, MyLife is aimed at an older demographic than the university-originating Facebook. More specifically, however, MyLife combines Reunion.com with Wink, a people search engine, thereby allowing for powerful searching and contact of people for reunion purposes. If you had previously signed up for Reunion.com then this might explain why your details are on the MyLife website. Screenshot by author
MyLife and Wink: If You've Signed Up for a Social Network, They Will Find You
However, removing your details from MyLife might be a little more difficult than you thought. Thanks to the inclusion of Wink, MyLife features the ability to find pretty much anyone that has signed up to a social network. This is done by providing a search tool that scans Facebook, MySpace, LinkedIn and several other social networking sites, which might well explain how your name might appear on the MyLife website. Clearly the problem here is that MyLife is aggregating names from other services. While you might have signed up to LinkedIn, you probably didn't expect to find your details on MyLife. However, is there a real difference between this element of MyLife and, say, Google? After all, you can search Google and find your own personal pages at LinkedIn and Facebook in just a couple of moments (depending upon the privacy options of the latter). All that MyLife does - via the Wink people finder - is to collect multiple searches of these sites together. Editor's Note: In an interview with Huffington Post dated 7/22/2013, Jeff Tinsley, the CEO of MyLife.com stated that they currently aggregate information from Facebook, Twitter, LinkedIn, Gmail, Yahoo, Hotmail, AOL and Outlook, and that they were looking to add Instagram, Tumblr, Pinterest and Google+.
Removing Your Data from MyLife
Discovering that MyLife – or any other site – has information about you can come as some surprise. However note that removal of your details from MyLife will not remove your various personal data from other sites such as Facebook of MySpace. Therefore if you wish to make your data private on one site, you should probably consider making it private on any social networking services that you are signed up to. In order to remove your data from MyLife, you must find your public listing on the site and then find the 'Yes, This is Me!' button; from here you will be able to remove your details from the site. While MyLife.com has not been proven to be a scam, there are plenty of other scams out there. Follow this link for more information on protecting yourself against online scams. Editor's Note: In addition to claiming your information to remove it, MyLife.com has also posted an 800 number where you can speak to a customer service representative. You can find information on how to do both here. However, the exact wording from this FAQ on removing your information ends in: A service fee may apply. There are no details provided on what this means, nor does it clearly state whether this applies to the toll-free method only or if it applies to the 'claiming process' as well. This is likely contributing to the many questions that arise over MyLife's billing practices.
References