Top Internet Safety Games for Kids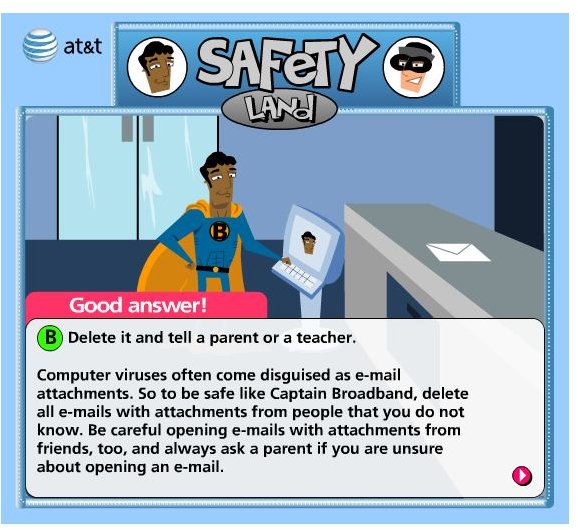 The Importance of Child Safety Online
The world is a dangerous place, and as the global village becomes more closely knitted together thanks to the Internet, those dangers can find themselves right in your own home.
This presents a problem – when your children reach a suitable age, they are likely to want to spend time on a computer, and probably go online.
Before you unleash your children on the Internet, however, it is vital that they understand the issues of safety that come with spending time online. While you might have these issues under control with some useful software such as Windows Live Family Safety there is no substitute for education – which is where Internet safety games for kids come in handy.
Where to Find Internet Safety Games for Kids
It isn't uncommon to hear of stories in the news that describe how a child was tricked into meeting someone they had spoken to online, or instances cyberbullying. As most adults know, there is a considerable amount of adult material available on the Internet, and all of these safety issues make unmonitored Internet access for children pretty foolish.
So, it should come as no surprise to find there are only a few Internet safety games for kids that are interactive and available on the Web. These range from interactive Flash games to basic quizzes, the best of which we've compiled below. All are free and can be found on the Web.
Top Internet Safety Games for Kids
Among the various Internet safety games for kids that can be found online are these two particularly interesting examples:
Safety Land (pictured) - This is a cross between an interactive Flash game and a quiz, where the aim is to rid Safety Land of an evil character sending horrible messages to people. This is done by selecting a building to flush the evil character from and then answering a dual-choice question on Internet safety.
Webonauts Internet Academy - A far more immersive experience is the Webonauts Internet Academy, where children can learn more advanced concepts such as the online behaviors of respect and observation.
Internet Safety Quizzes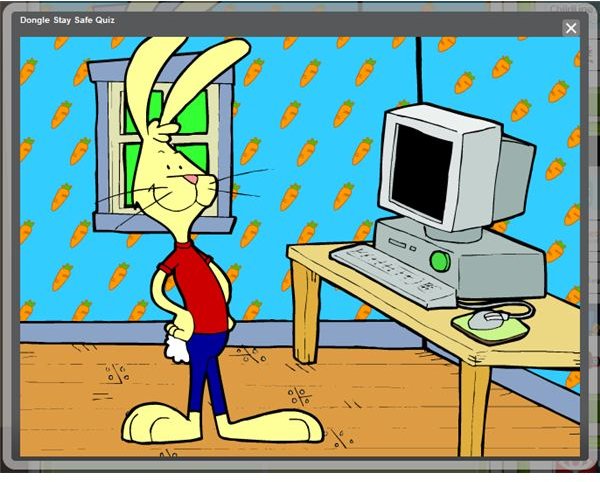 In addition to the Internet safety games above, several websites offer Internet safety quizzes, featuring multiple choice questions and answers to help children make the right choices online.
Internet Safety Game - This is a basic multiple choice quiz which follows an easy-to-read summary article to ensure that the reader has understood the quiz. This is pitched at the quite young, for 10 to 11-year olds.
Online Safety Quiz - Another multiple choice quiz, this is aimed at slightly older children.
Tips for Internet Safety Quiz - This is pretty much the same quiz as the Internet Safety Game, but with additional options.
Dongle's Stay Safe Quiz (pictured) - From the BBC comes Dongle's Stay Safe Quiz that offers a useful quiz and an interesting mascot character (a rabbit named "Dongle"); it also includes some useful additional material to teach kids Internet safety. This is by far the best of the Internet safety quizzes.
Website Information & Screenshots Courtesy Of:
AT&T Safety Land - https://www.att.com/Common/images/safety/game.html
PBS Webonauts - https://pbskids.org/webonauts/
Internet Safety Game - https://www.kidscomjr.com/games/safety/safety.html
Online Safety Quiz - https://www.safekids.com/quiz/index.html
Tips for Internet Safety Quiz - https://www.kidscom.com/games/isg/isg.html
Dongle's Stay Safe Quiz - https://www.bbc.co.uk/cbbc/help/web/besmart.shtml