Protecting Your Children Online on Windows & Mac
Letting your child surf freely is dangerous and like anything else in your child's life, they should be monitored and protected. Let's take a look at several excellent free Internet parental control software options that will help you make your child's Internet time as safe as possible.
Microsoft Windows Parental Controls
Most versions of Windows Vista, save the business edition, come with their own version of free Internet parental control software. Couple this with the control IE gives you over which sites your child visits and you can be confident your child is safe while using your Windows PC. The first thing you will want to do is create a separate user account for your child, following this you can access the parental controls via the Windows control panel. From here you can restrict which applications your child can use, limit the time they can use the computer as well as view an activity report which gives you detailed information on what your child has been up to during their time on the Windows PC.
Mac OS X Parental Controls
Mac OS X, like Windows, has a version of free Internet parental controls software built-in. These parental controls are more than adequate to protect your child while they are online. Again you will have to create a separate account for your child. Once this is done you can limit their access to certain applications, websites, chats and E-Mail with ease. For a full explanation of the Mac OS X free Internet parental control software please see "How to Setup Parental Controls for Mac OS X" also written by yours truly. This article will explain in more detail what you can and can't do with the Mac OS X parental controls as well as give instructions on how to enable and setup these controls.
Kidzui
Editor's Note: the link to Kidzui goes to a download page on CNET. The programs has mainly positive reviews but we cannot guarantee the safety of anything downloaded from the internet.
Kidzui is a browser specifically designed for use by kids. Once installed this browser runs full-screen, not allowing your child to access any other part of the OS (Operating System). The browser itself contains links to games, educational sites, video sites, etc that parents around the world have found appropriate for their kids. The content contained within Kidzui has been added only after collaboration by thousands of parents, teachers and then approved by the Kidzui editorial staff.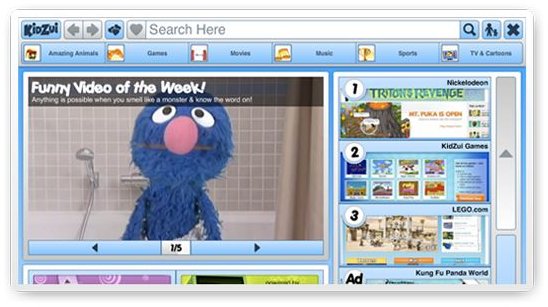 Kidzui lets your child search the Internet but only returns results deemed safe for kids. Your child can search for kids websites, pictures, videos and online games with no risk of the search returning any adult content or content considered above his or her age group. One fantastic feature of this kids browser is that it allows your children to watch Youtube videos, but again, only videos approved by the Kidzui editorial staff. Your child won't miss out on the Youtube revolution! Your child will however be protected from watching some of the more "adult" (and I use that term loosely) videos Youtube has to offer.
This is the perfect browser solution for the parent who wants to have control over what information their child has access to while online but does not want to be forced to be overly strict and limit their browsing to only when they, the parent, can constantly watch them. With Kidzui you can set it up and walk away while your child explores the wonderful online world safely and with limited risk.
More Options
References
Images: Michael Dougherty, Kidzui