Free Windows Spam Filter Round Up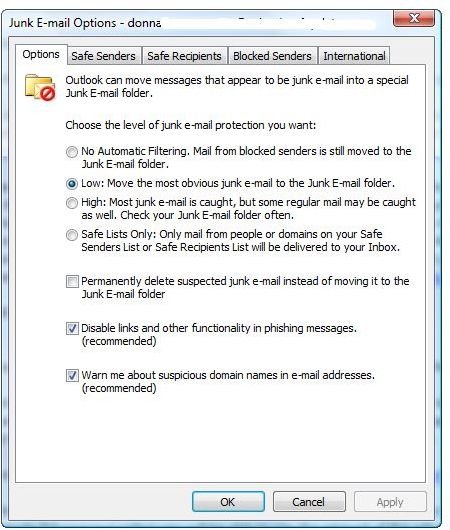 Junk Mail Filters
There are spam-filters built into most e-mail programs that help prevent unwanted messages such as phishing, malware or pharmacy spam and other types of junk messages. Some people prefer using a standalone anti-spam program so that they don't have to waste time and hard-disk space downloading unwanted e-mails before built-in filters can get to work. This is because most anti-spam programs let you view the message without having to download it from the server, which saves bandwidth as well.Below is the list of best free Windows spam filters that you can use or choose using.
Free and Built-in Spam Filters
If you are using an email client in Windows, Mac or Linux operating systems, you should take advantage of included junk mail filtering option. Thunderbird, Outlook, Windows Live Mail, and Postbox are some of the popular e-mail software that provides junk and malware spam filtering.
The advantage of turning on the free junk mail filtering in email client is you don't have to manually check each message - whether it's a good email or a spam. It's time consuming to read unwanted emails, and it is also risky to view emails especially if you read emails the way it was sent, instead of using plain text view in reading all messages. Riche-text or HTML spam e-mail is often embedded with malicious link or scripts. It can also call up a picture to display that can verify to spammers that your email address is active.
Using free Windows spam filtering has a disadvantage as well. It can move clean or good emails from the Inbox to the junk mail folder. However, the risk of losing an e-mail is low as long as you have configured the email client to not to automatically delete junk messages, and add important senders to accepted lists.
Note that some email clients allow installation of third-party email extensions that will filter spam messages or advertisements in emails e.g. Adblock Plus, ThunderBayes, etc.
Web-based Free Spam Filters
Using free web-based email accounts also include free spam filter service. Yahoo! Mail, Hotmail or Windows Live, Gmail are the top free email providers that not only sweep incoming spam messages but it also provide options to configure your own e-mail filters.
Reporting spam or unsolicited emails is possible using web-based email services directly from their website. It can't be done if you are forwarding that email to a local e-mail client.
Standalone and Free Windows Spam Filter
If you prefer checking your emails without downloading it you can view the messages from the server using free anti-spam programs. Using standalone anti-spam program will reduce the time, space, and bandwidth used downloading bad messages. You can try using free MailWasher and use DNS spam blacklist servers, Pop Peeper or ePrompter.
MailWasher - the free and paid editions of MailWasher have options to use DNS spam blacklist servers. Use this feature as Windows spam filtering. E-mail with malware or viruses are also flagged by MailWasher.
ePrompter and POP Peeper - Similar to MailWasher, ePrompter and POP Peeper programs can retrieve POP3 and web-based email accounts. These programs do not provide Windows spam filter functions but allow you to view messages without downloading them to your email program so that you can get rid of the unwanted emails from the server.
Free Windows Spam Filtering Using Security Software
Most antivirus programs and Internet security suites include an anti-spam module.Below are some virus protection software option that include spam filters: