Google Alternatives for Search, Webmail, Reader and Video
Experts consider Google's offerings as the best in search (Google), webmail (GMail), video sharing (YouTube), and feed readers (Google Reader). I should mention that Google Reader is going to be shut down on July 1, 2013, making an alternative even more necessary.
Although these industry-leading services make it easy for you to spend most of your time on the internet with Google, you don't have to. Alternatives are worth considering for those who want to avoid putting all their eggs in one basket, don't like the idea of Google owning all their data, or simply appreciate diversity. Those with such an independent streak are probably less interested in big name alternatives like Yahoo! Mail and Bing; this article highlights lesser known but still excellent services in these areas. These "underdog" alternatives to Google probably won't replace your use of YouTube, Google Reader, or Google Search, but they are all quality services that can complement Google's offerings.
Webmail: GMX or Zoho Mail (5 out of 5)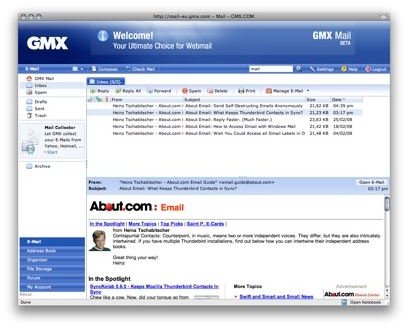 Most reviewers who look for alternatives to Gmail suggest other big names like Yahoo! Mail, but fail to take a look at lesser known options. This is a serious oversight, since those who take a more comprehensive approach tend to pick the underdog as the better service. WebUser's email reviews, which gets a 5-star rating from ConsumerSearch, awarded its Gold Medal for webmail to the ad-free and feature-filled upstart GMX, one of the few webmail services with free IMAP access. Softpedia also seems to think that GMX outclasses Gmail and other webmail services with its powerful features and slick interface.
I was impressed by GMX when I tried it, but unfortunately it's usable only in a couple browsers. For those using alternative browsers, I personally recommend Zoho, typically known for its excellent online office suite, but whose mail service is just as good. Zoho Mail, like GMX and Gmail, offers IMAP and the ability to collect multiple accounts into one place. Using either one of these services, you won't be missing much by avoiding Gmail, which is why they receive a five-star rating.
Video Sharing: Vimeo (4 out of 5)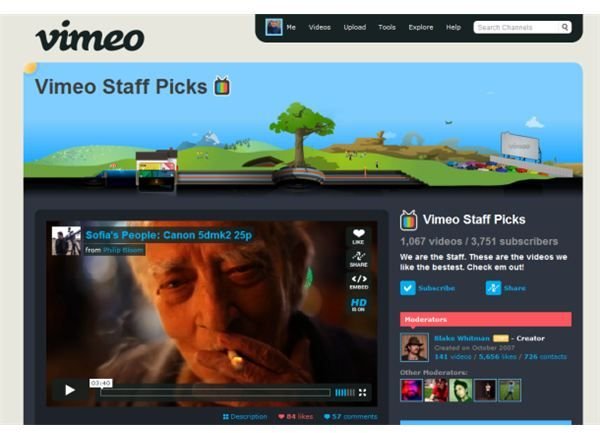 With video sharing, reviewers tend to focus on the site's features and traffic. Without a doubt, Google's YouTube trounces the competition in the latter, and nearly everyone, including CNET experts and tech-savvy Lifehacker readers, continues to pick it as the best video sharing site. However, Vimeo is a consistent runner up and tends to be noted for its more powerful array of features, which make it the better choice for those who aren't looking for YouTube's traffic.
Blip.tv and Dailymotion are other options, but do not do as well as Vimeo in CNET's testing or Lifehacker's survey. For more information on Vimeo, read our review.
Feed Reader: Good Noows (3 out of 5)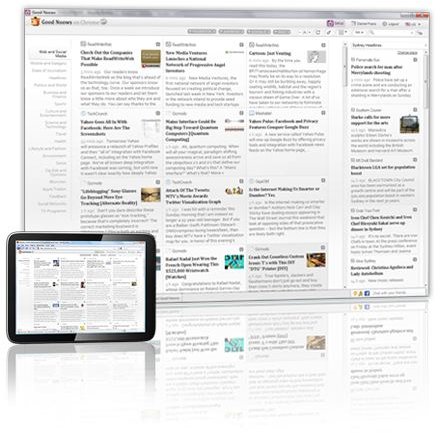 Suggested alternatives to the dominant Google Reader usually include Netvibes, a popular start page that can grab RSS feeds but does not offer the features of a dedicated reader, or the now venerable Bloglines, which has a nice Blackberry service but justifiably gets slammed in this ten-point comparison with Google Reader. Fortunately, there's a new kid on the block that's generating some buzz: Good Noows. Its graphical interface and integration with social media are huge advantages, but the inability to import feeds or read entire articles without visiting external sites limit my rating of it to three stars.
Search: Exalead (3 out of 5)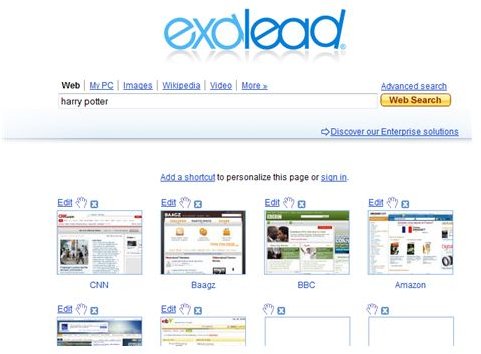 In contrast to webmail, where you'll hardly miss Gmail if you use GMX or Zoho, every search should start with Google. Some folks like using meta-search engines such as Dogpile. However, since Dogpile includes Google results, it's not much of an "alternative," and meta-search engines do not delve as deeply into search engine data bases as an actual search engine does.
You will get the best search results by using a combination of search engines. CrowdFlower showed that Google's results are not necessarily more relevant than those generated by Yahoo Search or Live (now Bing). These latter two search engines are the most obvious alternatives to Google, but studious assessments from both the UC Berkeley Library and librarian Phil Bradley recommend Exalead, a French search engine with a wide array of search-narrowing filters, tools, and cool experimental features.