Review of Google Earth Pro - Paid vs. Free Versions of Google Earth
What is Google Earth?
Google Earth is a mapping product which enables users to explore any place in the world without leaving the comfort of their homes. Unlike Google Maps, Google Earth is a desktop application which allows users to view 3D images of buildings, tourist destinations, canyons of the oceans and even galaxies in outerspace! (Another article has already discussed the difference between Google Earth and Google Maps).
Originally called EarthViewer 3D, Google Earth combines the satellite imagery and the search capabilities of Google. It allows users to tour the world as well as zoom from space to street level. It also shows driving directions and the locations of hotels, restaurants and many other establishments. Finding an address is now as easy as searching through Google.
Google Earth is a free download for personal use, but Google Earth Pro costs $400 for an annual subscription. Is Google Earth Pro really worth this substantial increase in price?
5 Things You Can Do With Both Free and Paid Versions of Google Earth
Here are the features shared by both the free and paid versions of Google Earth: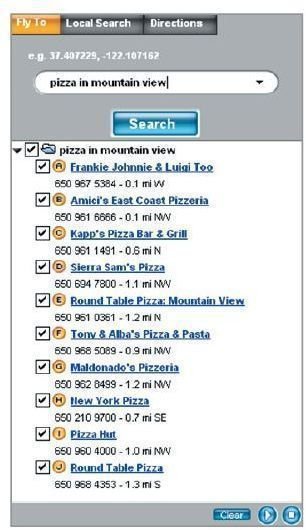 1. View an image of your home, school, workplace, or just about any place on Earth. To do this, all you need to do is click on Fly to, then enter the location you want to visit and click the search button. You will then get the search results on the Places panel. Just double click the location and Google Earth zooms in to the location of your choice. See the image on the left to get an idea how you can search for a location. (Click any image for a larger view.)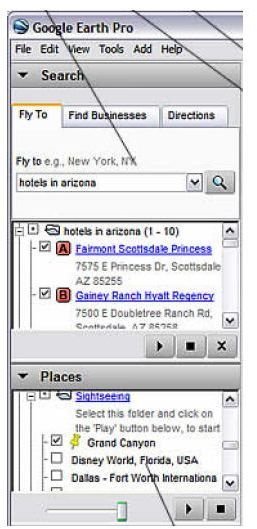 2. Go on a tour of the world. From the Places panel, put a mark on the Sightseeing folder and click on the play tour button. Learn more about this cool Google Earth feature from a previous article. The image on the right shows the places panel of Google Earth Pro.
3. Get driving directions from one place to another. You can also follow the route through Google Earth's flight simulator feature.
4. View locations and features marked by other Google Earth users.

5. View the 3D terrain of any location. This is especially helpful if you are looking for tourist destinations such as the Grand Canyon or the Eiffel Tower. Simply search for the location (see #1 above) and click on the location of your choice. Then, use the slider to tilt the terrain. The image on the left shows the tilt slider.
What's New With Google Earth Pro?

Subscribers of Google Earth Pro can get access to high resolution imagery of locations. It also supplies subscribers with tools which are designed especially for businesses. These includes:
High resolution printing
GIS/GPS data import and conversion to maps
Spreadsheet import tool which enables subscribers to map multiple addresses at once
Movie maker that allows subscribers to create video presentations for their clients.
Both free and paid versions of Google Earth use the same database of images so there are no changes in the locations when you view them with the desktop application. The main difference between these two applications is that the Pro version allows its users to print the locations at higher resolutions. Also, the tools described above provide enhanced productivity for their respective organizations.
In addition, the Pro version has no ads and users get email support for every subscription.
Do You Need the Pro Version?
Google Earth Pro can be used in a wide range of industries including:
Commercial Real Estate – Enables investors to inspect any site without getting on an airplane. Using Google's search function, it allows users to compare locations and existing sites,
Engineering – Google Earth Pro allows overlaying of data so it enables engineers and construction professionals to create proximity analysis for critical projects. The StreetView and road data allows users to have a better understanding of the locale.
Media – Create fly-throughs and perspectives which can be used for location contexts and fact checking.
Energy and Utilities – Create visualization of electricity transmission plans and water reservoirs.
State and Local – Create urban plans and help enhance plans for infrastructure maintenance.
Defense and Intelligence – Allows users to create situational analysis and can assist in gathering intelligence data.
Residential Real Estate – Allows realtors to inspect locations which will assist their buyers in choosing the perfect property.
Insurance – Enables insurance companies to determine risk patterns in a certain geographic area.
Federal – Used for environmental planning and resource management.
Architecture – Create overlays for site plans and inspect potential site locations
Homeland Security – Allows the government to create better emergency plans. It also shows possible entry/exit points for emergency response.
NGO and Non-profits – Monitor project results and drive public policy change through the use of compelling videos and presentations.
Should You Get Google Earth Pro? (3 out of 5)
Unless you're an architect, an engineer, or a real estate agent, there's very little advantage in purchasing Google Earth Pro. If you're just looking for a way you can explore the world, or you need driving directions to any destination, the free version of Google Earth should suffice.
Of course if you are a business owner, the ability to measure land/properties through GPS data is a definite advantage. It is cheaper for your venture since you won't need to travel to inspect the location. Also, this enables architects, engineers and urban planning professionals to create a fairly accurate plans of their own projects.