Copyright Search Engines - Search Copyrights Online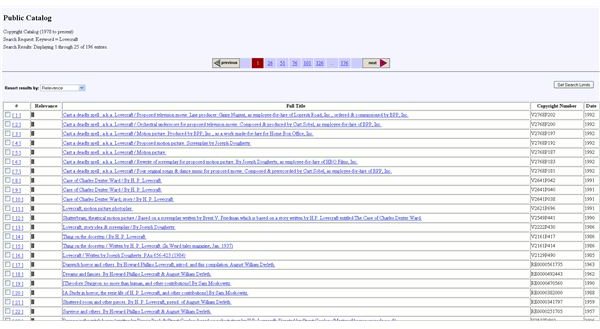 Copyrights - An Introduction
This article won't delve too deeply into the issue of copyrights and intellectual property. We already have a few great articles on copyright laws and the difference between a patent and a copyright.
In short, it's important that you understand copyrights if you are going to produce content of your own. It's good to be able to protect your own content and be sure that you aren't infringing on anyone else's rights. Even if you don't personally care, it's a good way to keep yourself protected against costly litigation. In order to do this, you will probably need to search copyrights, preferably online.
Unfortunately, things get a little odd with copyright laws. Unlike patents, there aren't many good online databases in effect for older patents. The United States copyright office has all copyrights filed after 1978 online, and a few other databases have older specialized listings, searching for other older copyrights online will get a little tricky.
Library of Congress - Search Copyrights
The United States Copyright Office (https://cocatalog.loc.gov/cgi-bin/Pwebrecon.cgi?DB=local&PAGE=First) has a full search engine for all works published after 1978. Just choose what type of term you want to search for (I assume most people will search for authors and keywords). The search will pull up standard Library of Congress card catalog listings for your term. It's a little rough around the edges, but you should be able to find what you need with the right terms and a little patience. Just read the titles and pull up the detailed logs to get the information that you need. Remember to write down the reference numbers for quicker searches in the future.
Note that this should contain information for all media with relevant copyright information. Hopefully it should be a one stop shop. If you just need some quick information about recent registrations, then you're done.
Stanford University - Search Copyright Renewals
The list is slightly expanded with the specialized databases covering copyright renewals for books from 1923-1964. The reason for this time period is that it represents a major change in copyright law. Anything before 1923 is generally going to be in the public domain, while anything renewed in this period is still active.
Stanford and Rutgers both offer a search engine for this period, although I found Stanford's to be much more user-friendly. You can search it by following this link https://collections.stanford.edu/copyrightrenewals/bin/page?forward=home. It's basically the same as the Library of Congress as far as format goes.
Searching Older Copyrights
Unfortunately, there just aren't that many options for searching for older copyrights. If you need information on something that was registered before 1978, then you will have to look for the official Copyright Card Catalog. The official copy is located at the Library of Congress, although copies of it are often maintained by other libraries. The basic records, or possibly speciality supplemental directories, may be on hand for direct copyright searches. Remember that college libraries may have a copy on hand if your local branch is understocked.
If you really need an in-depth copyright search, you can order a report from the clerks at the Copyright Card Catalog. You can find forms for this at https://www.copyright.gov/forms/search_estimate.html. The fee at the moment is $165 an hour with a two hour minimum, so this obviously isn't for casual searches.