DownThemAll Firefox Add-on; How to Install & Configure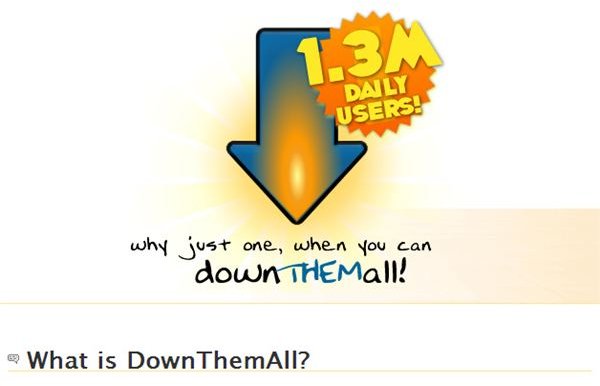 The DownThemAll Firefox addon equipped with a multipart download technique, is a powerful and probably the best Firefox web accelerator that can make your download speed almost 4 times faster. Multipart downloading techniques involve splitting files into multiple smaller sections, and downloading all these sections simultaneously. Also, for enhanced surfing speed, this web accelerator constantly keeps downloading all images and links embedded in a web page.
Install and Configure DownloadHelper DownThemAll for Firefox
This feature-rich Firefox addon is easy to install and configure, all you have to do is go to the DownThemAll download page, and click on "Add to Firefox." Once this web accelerator extension gets installed, Firefox must be restarted.
When using this addon for the first time, the user is required to define a default download folder in which all the downloaded files will be stored. To change download preferences, just select addons from the tools menu of Firefox, and browse to the extensions tab. Clicking on options under the DownThemAll addon will bring up a popup from where a maximum number of downloads, filters and privacy can be set.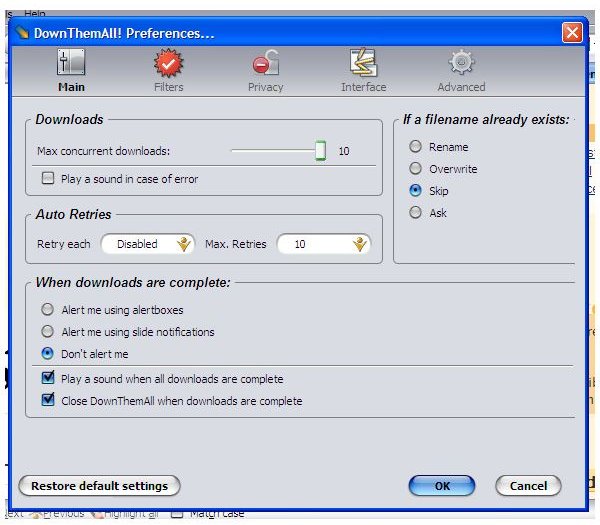 Features of DownThemAll Firefox Addon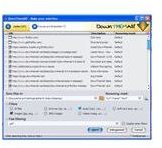 Features of the DownThemAll addon include:
This download helper, the latest version of which is completely compatible with Firefox 4 as well, is open source and completely free to use. Integrating this web accelerator into Firefox is very easy and involves just a few clicks. Accessing DownThemAll to tweak the settings or to use it is fairly easy and can be done through a right click anywhere on the web page. The control panel for this web accelerator is also user friendly and simple to use.
While this Firefox add-on does make a significant difference to the surfing speed - giving you a better browsing experience, what's most exciting is that downloading speed goes up by nearly four times. The pause and resume features are simply great as they allow downloads to be paused and restarted without any loss of data, unlike Firefox's built-in download manager.
Single click downloads are another feature that makes downloading multiple files from a single web page easier. All that the user has to do is to right-click on the web page and select "dTa OneClick." This will bring up a popup on the screen where the user can select the various links that need to be downloaded. This feature comes in handy when the user wants to download multiple images or other media files, the links for which are present on a single web page. This saves the user the effort to click on individual link to download them.
With the DownThemAll Firefox addon, the task of filtering also becomes very convenient. This makes it faster and easier to select the files to be downloaded by setting up personal filters. With the personal filters set up, the selected file types will get downloaded automatically.
DownThemAll also has an inbuilt auto-renaming feature, which allows the downloaded files to be renamed automatically by defining tags like download date and time, web address, link description, etc.
For all Firefox users who want to get higher browsing speed, and more control and speed for downloads, DownThemAll web accelerator makes for a great add-on.
All Screenshots By: Sidharth Thakur courtesy of DownThemAll.